Removal of Yoga, Ayurveda and hiking
Tres días con clases de yoga, yoga Nidra, técnicas de reducción de ansiedad, Ayurveda y nutrición y senderismo, en un paradisíaco rincón de Gredos. Es el retiro que conduce cada año con éxito Violeta Arribas. Del 3 de octubre al 1 de noviembre.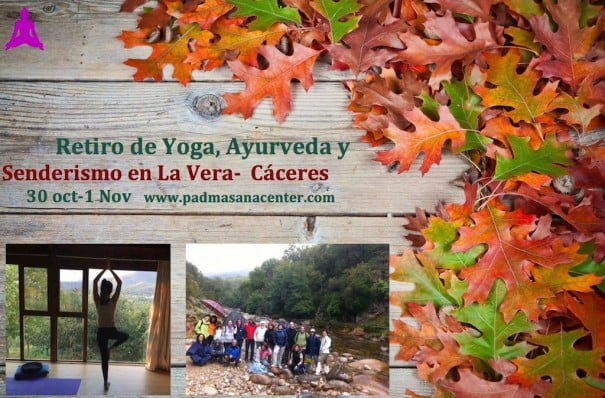 Alojamiento en La Hospedería del Silencio (Robledillo de la Vera) + clases yoga + talleres de Ayurveda y nutrición + excursiones + comidas, por 215 €
En estos días habrá tres talleres de yoga with a total of cinco horas de clase, práctica de asanas, pranayama, meditación y nidra yoga, técnicas todas de reequilibrio psicosomático, reducción de la ansiedad y prevención de muchas dolencias.
También se ofrecerán dos talleres de Ayurveda (4 horas), en los que se darán las claves para reconocer nuestra constitución dóshica y para aprender a cuidarnos con directrices de alimentación, purificación, ejercicio y hábitos saludables en general y adecuados a nuestro metabolismo (biotipo). Especialmente daremos pautas para la estación otoño-invierno y cómo abordar una desintoxicación profunda.
Se realizarán asimismo two excursions por los bellos bosques, gargantas y parajes otoñales de Gredos.
Está incluido el alojamiento de dos noches en bungalow con cocina y salón, con espectaculares vistas, en habitación compartida (opción de habitación individual, 250€), todas las comidas disfrutando de su sabrosa cocina ecológica, uso exclusivo para el grupo de una amplia sala de trabajo.
Ver entorno e instalaciones en: http://hospederiadelsilencio.com/…/yoga-ayurveda-y-senderi…/
Conduce el retiro: Violeta Arribas
(profesora de Hatha Yoga y meditación, formada personalmente por Ramiro Calle en España y en India por diferentes maestros y escuelas. Consultora de Salud Ayurveda por el Sivapriya Ayurvedic Hospital de Kerala (India). Directora de Padmasana Center Madrid .
More information

: info@padmasanacenter.com/ T 91 3822733 para reservas.