Interview with Swamini Danda: "my master I taught: transmits only what living"
Yoga-Zen teacher, will direct the removal of transformation of 40 days (intensive Yoga Zen teacher training), a very special experience in the Buddhist monastery Samye Dechi Ling, 40 days to live, live, learn, study and integrate the teachings ancient Yoga.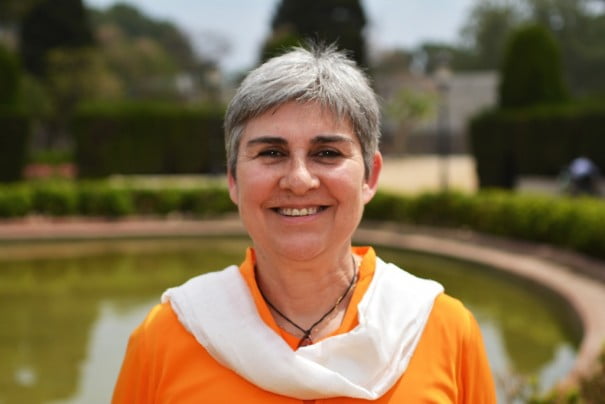 Swamini Danda Ananda Jaya Ma He is a master of Yoga-Zen. With thirteen receives his first book of yoga. He falls for yoga by its simplicity, depth and efficiency. Dedicated 40 years of his life to his research, study and practice, which continues to this day.
Author of the books"The apprentice of Yoga"and" apprenticed to master ", Swamini Danda conveys, with a language very close and practical, the ancient wisdom of yoga. His spiritual name defines it: Danda (which means "point of support", "stick") is a person that can be trusted, great intuition, generous and at the same time disciplined and demanding, demanding that it teaches you to see the potential that is within you.
Descendant of Kriya Yoga lineage of Swami Hariharananda, He lived for 15 years in the ashram of the master, and he spent long stays in the India. After attending several ashrams in Barcelona, Tarragona and Castellterçol, currently leads the Yoga Ashram Caldes de Montbui, where he teaches Hatha and Raja Yoga and is dedicated almost exclusively to the training of teachers.
It has been appointed member of honour of the World Yoga Council (World Yoga Council) and recognized by the Government of India for his dedication and contribution to the science of Yoga.
How would you define your conception of yoga, what are your guidelines?
I would define it as the art of creating harmony and live in harmony, both with yourself and with the environment. When you live thus, you feel part of a complex unit, which appears to you simple and transparent, where everything seems to come in due time.
This synchronicity is no coincidence. You're finding it with the time of practice, waiver of so many personal interests that we are dealing with and concern and personal freedom. You are open to the world.
What do you think are the objectives of the same practice of yoga, your interest for our lives?
Yoga is a school for life. The important thing is not so much what you do in a class, but how this practice will affect your daily life. I explain it as a workout that, at the time of the real test, you find strong, agile, lucid and concentrated to give the best of you.
Yoga has given me everything what it sought: medicine, psychology and spirituality.
As a teacher of Yoga-Zen, what points of meeting point between these two Sciences? Lessons or media would choose each, Yoga and Zen, to cope with everyday life?
Yoga is very Zen and Zen is very Yoga. Both break patterns and therefore barriers to true happiness, from the simple, even from what not you can get or under the name of Yoga or Zen because it is, simply, the living heritage.
As meeting points I would with the 3 "p":practica (the reality), perseverance (to be true) and patience (science of peace).
The truth is that any noble discipline, include others besides Yoga, If it is well managed and understood you agrees with life, you never depart from it.
Sometimes we carry much inks of the practice of physical yoga or Hatha yoga; other times, the mental part or Radja. What are the keys to apply what we learn of the yogic practices in everyday life?
The only secret is to practice. Practice means down to reality or to make real. Everything else will stay in the world of ideas, and by very beautiful they are, that does not change your breath, your digestion, or the reality of your life...
Today there are many self-help books that please and make us believe that we are better, but in reality, employers who tend to dominate us are still there and not only change with believing that we know it. Sooner or later we will return to the same.
My proposal is: practice and study, the two wings of the bird that allow you to fly. If one of the two fails, it will stay on Earth.
Is the path of yoga easy or hard? Is it simple or complex? Is it mundane or retired? Frequently we will find very opposing views...
The Sage Patanjali speaks of a "tireless effort" to achieve wisdom. If we understand this word well, understand that "tireless effort" is an effort that doesn't ever get tired and, although it may be a play on words, that means that must be nice, tailored to each person.
There will be people who will look for an exercise in yoga and you will find it; others who seek a time for relaxation and silence and you will find them; and others that delve into the meaning of life and also to find your answers.
The more people know about yoga, the better for the world. Although all have felt tempted to retire and spend everything, a good teacher will be about who need it most.
In August he will direct a significant retreat of Yoga-Zen, dedicated to the intensive training of teachers of Yoga, also called 'Removal of transformation of 40 days'. What attributes can stand out, with respect to other training courses for yoga teachers?
In these retreats are a privileged space for practice and study, accompanied by good professionals who take care of them at all times and in all aspects.
What lives in a "withdrawal of transformation" you life changing, positive course. Already it is never forgotten.
Integrates a discipline of work and study very difficult to achieve for yourself, as well as acquired a broad knowledge of Yoga in all aspects.
Do lessons or activities of this retreat believe that they are more important to learn so that future teachers and practitioners can autoaplicarse and transmit?
That life is to live it from Satyam - Shivam and Sundaram, or is the truth, goodness and beauty, and this puts you yet easy and makes you happy.
For prospective teachers I'll give you the key to what my teacher told me: "It is transmitted only from what you've experienced". And that requires a great commitment to one's self.
Why do the removal of 40 days in a Buddhist monastery?
We have chosen the Buddhist monastery of Santa Coloma de Farners by his energy and the treatment of the monks and nuns dispensing. This is an example that, although under different disciplines, We join in the cordiality and mutual aid.
In the monastery, we find the ideal space for experience a true retreat, in the midst of nature, interference-free and, while the investment may seem high, taking into account that you live, eat, sleep... learn... every person has to make their contribution and understand that it is an investment for life.
There will be a before and an after... and point followed... to infinity!
Intensive training of teachers of Yoga-Zen retreat

400 hours of study and practice

Dates: from August 10 to September 20

Where: Monastery Buddhist Samye Dechi Ling in Santa Coloma de Farners (Girona)

Address: Swamini Danda

To pursue the training should be started at the Kriya Yoga or to participate in the introductory course offered in the early days of the program.

Detailed information: http://www.yoga-ashram.es/hariom/que-es-un-retiro-yoga-zen