Interview with Javier García Campayo: "what did mindfulness is meditation handbooking"
This psychiatrist is one of the most renowned promoters of the mindfulness in Spain. Defines it as "concentrativa meditation", a simplified technique based on meditation, easy to learn and practice, to live with the present happiness. And devoid of any Hindu, Buddhist or religious connotation. It is an interview of Yoga network.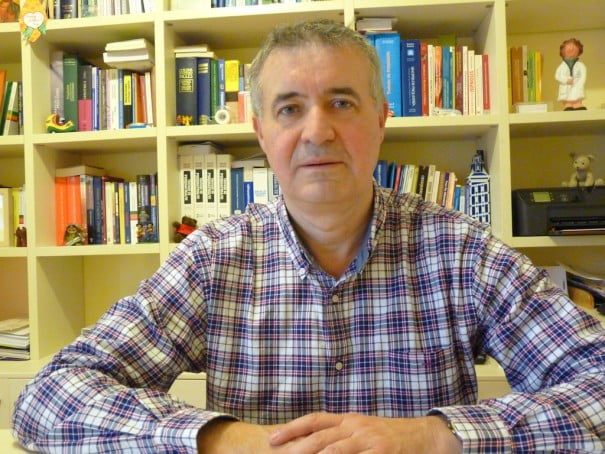 Psychiatrist of the Hospital Miguel Servet de Zaragoza, is also a Professor of Psychiatry and medical psychology at the University of this city. In his career he has specialized in anxiety, depression, psychosomatic disorders, chronic pain and fibromyalgia. It also is part of a group of research in primary care, which coordinates the area of mental health at the national level.
With 18 years he practiced Buddhist meditation and martial arts. He then began to study medicine and then Psychiatry and was six months training in Manchester and in Canada. There, running the year 1993, he met the mindfulness. The first thing I thought was: "This never will come to Spain".
What made you think that?
See doctors, psychiatrists and psychologists speak of meditation indicated a degree of openness absolutely unthinkable for the Spain of 20 years ago. Now in Spain seem normal things that were completely uncommon 20 years ago. A doctor who meditated was extraordinary.
Now it is still it, in general...
Yes, Yes, now simply is considered peculiar, but at that time there was the risk of total exclusion, could not say more than the closest friends within the profession. The mindfulness, I knew then, as devoid of all religious psychotherapy and converted into a scientific technique. I kept in touch with United States psychiatrists practicing mindfulness in those 90 years, but at that time was still difficult to think about introducing it in Spain, by possible isolation by part of the profession and the scientific community.
When you enter the mindfulness to your professional activities?
From the year 2000 mindfulness hatch began slowly in Spain. At the end of that decade, Vicent Simon begins to write some books on the subject, and some pioneers of the mindfulness in Spain, as Ausiàs onion in Valencia or Joaquim Soler in Barcelona, began to work on it. A group of friends that we agree about mindfulness formed a research team at the end of 2012. We investigate in mindfulness because we already had a powerful research track record on other issues, because si we would have engaged in research and teaching only in mindfulness, would have cost us much more work on this.
How do you define mindfulness?
Above all as concentrativa meditation. I.e., to focus the spotlight - may be in the body or the breath - and observe the mental phenomena. What did mindfulness is meditation, handbooking structuring it in seven or eight sessions of an hour and a half, and in group format, which is more efficient and cost-effective.
Mindfulness has dispensed with all the religious part of the meditation traditional, leaving only the technique, simplified and accessible to the Western, and that it can be done in a reasonable period of time. It is easy to learn and practice and you don't have any connotation of religious, or Buddhist or Hindu; i.e., it does not conflict with other ideas or previous beliefs of people.
Are how you applying minfulness now in your profession?
Five years ago I started work on it. We have created a Master of Mindfulness at the University of Zaragoza, It is the first that exist in Spain, at the moment. The research group that we have formed with Ausias onion and Joaquim Soler begins to be recognized at the international level. Our main goal is to introduce mindfulness in the health system, training doctors and nurses in this issue, because they start to be very interested.
Mindfulness comes in United States, within the private payment medicine, for people of high cultural level. It was not designed to apply to the European systems of universal and free primary care. Therefore, It should adapt it and implement it in the primary care setting, facilitating it and making more brief and simple techniques.
So it can be a therapy tailored to everyone and the circumstances we live...
Yes, the people who are stressed and spends it badly. Mindfulness can be used for many purposes, for anxiety and depression, and also for people that we don't have a specific pathology but we are stressed, tired, restless, or we are not well.
Do you like the translation of minfulness as mindfulness?
The truth is that it is difficult to find a good translation. Mindfulness is meditation; It is a State of consciousness that is achieved through meditation, that is not exactly the same. Mindfulness use it to avoid problems of translation, but it is an anglicism which would have to change.
What does research say about their effectiveness?
In only eight weeks to be areas of the frontal brain that reinforce one another and get start modular the insula, which is the part of the brain that regulates emotions. Or is that there is more aware of them, which don't let us catch them both, not make us suffer so much. There are changes that are seen in studies with neuroimaging in people who have made meditation, with only eight weeks of practice.
In just eight weeks will begin to perceive the effects?
Exactly, so much psychological as also the cerebral impact observed by means of neuroimaging; i.e., there is scientific evidence. Ahora lo que estamos viendo es cómo simplificarlo al máximo, cómo aumentar la eficacia, en qué situaciones o enfermedades va a ir mejor, a qué pacientes concretos les conviene más… Hay personas que tienen más dificultad para hacer meditación basada en el cuerpo y prefieren concentrarse en la respiración; otros que prefieren hacer más compasión, un tipo de meditación que se está desarrollando como terapia complementaria a mindfulness, y que es muy interesante.
Suele decirse que la meditación, en general, no es recomendable en casos de patologías de la mente…
That thought, but it is not exactly so. In the Group of patients that care be taken is in the psychotic, in schizophrenia, since they may tend to have more hallucinations or delusions. With other illnesses - depression, pain, anxiety, obsessive-compulsive disorders - can only be used meditation perfectly, that we insist more in some aspects than others. For example, in the anxiety is very important muscle relaxation because there is too much tension; in depression, in which the ruminations are very frequent (be thinking in the past, guilt, etc), we emphasize meditation on breathing. That is, is an adaptation to each pathology. Even for schizophrenia are are trying to do a very short meditations, more targeted, focused on a specific objective, but that should do it people with experience in such patients.
This eight-week therapy, what type of professionals apply?
There are two levels of training or application. When it is for healthy people, no need to have special medical or psychological training. Like this being used much the mindfulness in education, both in universities as schools; in companies, to avoid the "burn" or work-related stress, etc. Para eso no hace falta ser médico o psicólogo, sino que basta con una buena formación en mindfulness. Pero si se va a tratar a pacientes, es lógico que lo haga un médico, psiquiatra o psicólogo que tenga experiencia en ese tipo de pacientes y que se haya formado en mindfulness.
Es muy importante decir que, como toda práctica, exige un esfuerzo y constancia, consistencia…
Uno de los problemas que tenemos con el mindfulness son los abandonos. Al año, solo el 30% o el 40% sigue practicando. La gente se cansa, aunque compruebe los beneficios, porque exige un cambio de estilo de vida, de hábitos, y perseverar en ellos, como ocurre con la dieta sana o el ejercicio.
Y cuando uno tiene un mal día o está especialmente agitado, ¿mindfulness le sirve?
Sí, sí, en eso quiero insistir. Se dice que meditamos para no meditar. Es decir, hacemos meditación formal (dedicando algunos minutos al día de forma específica), para poderla utilizar en casi todos los momentos de la vida diaria: en momentos de estrés, de enfado, de tensión, etc.
Hay unas prácticas muy cortas -una se llama de "los tres minutos"- que pueden hacerse en cualquier ocasión y te relajan, y se pueden aplicar en la vida diaria, en situaciones de estrés o aprovechando situaciones rutinarias. Si estás esperando en la parada del autobús, en vez de despotricar porque el autobús llega tarde, puedes cerrar los ojos y hacer una meditación corta. O también cuando cocinas o cuando friegas los platos puedes aprovechar para hacer unos minutos de meditación. Solo con poner la atención en lo que estás haciendo, cambia la perspectiva. En vez de pensar "qué aburrido es fregar", si estás atento a todo lo que sucede en ese momento puede ser una meditación apasionante.
Eso es mindfulness para ser más felices, ¿no? O para disfrutar más de la vida que tenemos, que es tan corta.
Ese es el tema. Nosotros insistimos mucho en eso. Hay un aspecto de terapia en mindfulness, pero creemos que casi es más útil para cualquiera que quiera ser más feliz en su día a día y estar más en las cosas que está.
Sí, porque el gran problema es que con frecuencia vivimos ajemos a nosotros mismos…
Exacto, estamos haciendo una cosa y pensando en otra, y eso es una fuente de infelicidad porque no estamos en lo que estamos. Hay un estudio muy interesante publicado en Science en el que se preguntaba por teléfono a 7.000 personas lo que estaban haciendo en ese momento, qué estaban pensando, si eran felices en ese instante. Y la conclusión fue que solo era feliz el 40% de la gente, y que la mayoría de ese porcentaje estaba pensando en lo mismo que hacía. El otro 60% pensaba en otras cosas y no disfrutaba de lo que hacía, fuera lo que fuera.
Desde la atención plena, comer por ejemplo es apasionante, pero somos incapaces de comer solo comiendo, sin ver la televisión, hablar, etc. Por eso comemos de más y engordamos, porque no llegamos a percibir cuándo estamos llenos.
Se puede decir que mindulness nos ayuda a vivir más felices.
Sí, la gente lo dice en los cursos. En Estado Unidos hay un movimiento muy potente, el Mindful movement, para que la gente de la calle haga minfulness, porque cambia el clima social y aumenta la compasión. Y digo compasión no como se entiende en español, que parece denotar que el compasivo es superior al otro, sino como el deseo de que los demás sean felices y se liberen del sufrimiento, pero desde un sentimiento de igualdad. Mindfulness facilita esa compasión porque te conectas más contigo mismo, conectas más con el planeta y con todos los seres humanos. Eres más consciente del sufrimiento de los otros, pero no te vuelves pesimista, al contrario; te das cuenta de que merece la pena vivir pese a ese sufrimiento y tienes la sensación de querer ayudar a la gente y de sentirte unido a ella.
Tich Nhat Hanh habla de "interser", de sentirte un ser junto con toda la humanidad, lo que te da una sensación de felicidad y bienestar muy especial.
La compasión tiene mucho poder para cambiar la sociedad…
Sí, sí. Los que nos dedicamos al mindfulness pensamos que la gran revolución de la sociedad no vendrá por los políticos, sino cuando la gente practique mindfulness y compasión, y cambie su pequeño entorno. Si yo estoy bien, mi entorno estará bien, y eso se va expandiendo de forma progresiva , de forma que el mundo estará bien. Las sociedades vivirán y dejarán vivir, que es de lo que se trata.
¿Cómo relacionas yoga con mindfulness?
Las técnicas mente/cuerpo, como yoga, taichi, qigong, son mindfulness puro. Quien está haciendo yoga, está haciendo mindfulness. Lo que pasa a veces es que cuando estamos haciendo una de estas técnicas, en vez de disfrutar de las sensaciones corporales estamos pensando en que no lo hacemos todo lo bien que debemos , o peor que el de al lado; ahí ya hemos perdido mindfulness. Las técnicas mente/cuerpo son perfectas si logramos tener la actitud adecuada.
Más información sobre mindfulness y Javier García Campayo:
Mail: jgarcamp@gmail.com
Website: http://webmindfulness.com/
Facebook: webmindfulness