Book / yoga sequences. How to create yoga classes
The Syrian Publisher publishes this book by Mark Stephens, of more than 500 pages and 2,000 photos, in which any yoga teacher can support when it comes to giving lessons.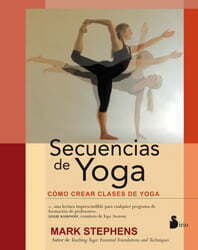 With this book, you will learn to design and teach classes that are accessible, that make sense and that are bearable. It includes 67 sequence of asanas divided by levels, explained step by step and illustrated with photographs of each position.
This book is the resource that most yoga teachers will appreciate in all likelihood. It includes 67 models of sequence of asanas, to cover a wide range of levels of students, including many for beginners, intermediate and advanced.
There are also proposals for sequences of yoga for children, teenagers and women in their different life cycles, as well as for practitioners of the third age; classes to relieve depression and anxiety; Special sequences for each of the major chakras and the various Ayurvedic constitutions.
With more than 2,000 photos, this essential reference book explores the relationship between the different asanas and seven families of asanas, including a useful appendix that will be a treasure for both teacher and student of yoga.
Mark Stephens He is Counselor of yoga and author of broad popularity. It has trained more than one thousand of yoga teachers, classes, workshops, retreats and trainings of teachers world-wide training heads. Stephens practiced yoga since 1991, has explored other complementary approaches including Ashtanga Vinyasa, Iyengar, Vinyasa Flow, tantra, yoga therapy, Anatomy and functional Kinesiology for yoga, traditional yogic philosophy and modern philosophies of being and consciousness.
Price: €36 / Pages: 504