Torpedoes away! Yoga pirate interview to Victor M. flowers
"It should be very domesticated mind or you end up believing what you're not. "Hence, yoga teachers are very selfish and conceited", says Víctor M. Flores. It is not either one character or one interviewer either. Two green dogs face to face? Judge for yourself... Or better, no; simply get carried away by the enjoyment. It is a nothing formal interview of Roberto Rodríguez Nogueira.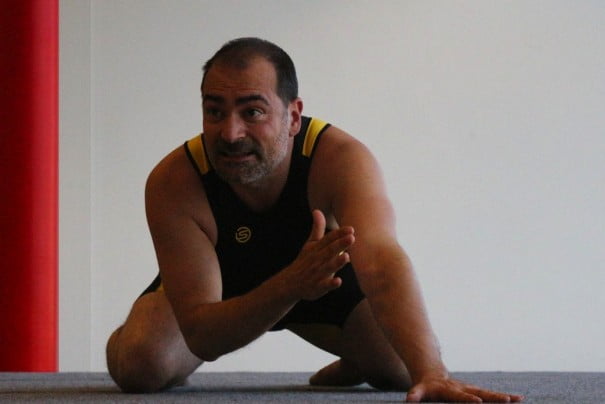 Features Víctor M. Flores, a member of your team in the Yoga Studies Institute, Belinda Christensen (Read the biography of Victor/Senge Dorje here).
"In 2008 I attended the II Congress of Yoga of the Costa del Sol in Marbella as a yoga practitioner more. The footballer promoter, Víctor M. Flores was first class. My feeling was as the ' return home for Christmas '. That Lord said he did not believe in gurus and that practicing yoga simply to put order in his chaotic life. What? There are others like me?, I wondered. Go, a green dog not wearing white...
The last day I went to thank him, and to make matters worse it seemed someone close. My admiration has not stopped growing since then, to be strengthening a friendship that I am very proud.
Victor has all the virtues and defects of a genius. He is passionate, irascible, extremely smart, unpredictable, considerate and (sometimes... maybe the most...) sweetly unbearable. "Does not support the routine and is innovative, a true search engine".
The interview
What makes you believe that you can give a yoga class?
I'm not kind, but I share my experiences and suggest to my colleagues that you find their limits, and I with them. I usually teach many positions that I can not do because I can not I based my limitations, I have them. Only I give classes in a Wellness Centre, O2, where I've already been seven years and where many of my students are still, so we have had a growth in parallel. I just train more than them, but it is very satisfying to see how have grown and evolved with you.
At the beginning, when I started, my ego was enormous and my way of teaching was just as ego, i.e. much rigged and believing that it could match that had been my teachers... Then I found a style, I freed myself represent a role to be who I really was, not only showing "virtuoso and know-it-all" appearance which, theoretically, every teacher has invested.
Before, when asked me advice on this or the other, academically responded type "notes and let it pass". Then I learned to be honest me and say: 'this happens to me the same thing. I don't have answers to your problem". I.e., I assumed and I understood why I was in yoga, and was because it was lost. A person lost in a forest may not help another missing person, but both if they can find the exit together.
Do you need to be original and transgressive? Is your ego or your essence? Where do you find humility as a teacher?
I don't need to be transgressive. The provocation is only on the other, is not in self. It is offending someone because others see it as such. Many people think of me I am because, simply, I label. Guide it your prejudice. If you see me at an upscale restaurant you will think: "Go yoga teacher", and if you see me in class to think: "this man is passed the day meditating". Neither one thing nor the other; Neti neti, as stated in the speech of the ancients.
The yoga certainly doesn't give you humility. On the contrary: gives an exaggerated ego. Work you know in which 40 pairs of eyes are fixed on you, feel admiration, love, you take as a model and you applaud at the end? And in addition cobras for it! You must be very domesticated mind or you end up believing what you're not. Hence mostly yoga teachers are very selfish and vain.
It should seek and find humility. Recognizes a teacher because her forehead is low, given that the door of wisdom is small. My reference are always the largest, which are the most humble and simple. Children are gods of neighborhood that talk about its prestige because they lack this.
What is the responsibility you assume as a teacher?
Open the tool box and find the most suitable for shattering the mind. So try that my class is always new, a reinvented, that my colleagues never know what they are going to do today and that any movement is automatic. I am seeking to confuse the mind, which is cunning, and convert the physical work in a continuous roller coaster. Reach the climax in a movement to immediately reset whole body collapsing into another opposite asana. I do not understand a class of yoga based on build asanas. My concept of physical yoga is one asana in continuous process: a posture gives way to the next until both are confused and we don't know what alpha and omega. And on this basis, make the body remind our potential.
The mind is then destroyed by itself and feel a burst of happiness, fullness, as if the chest could melt a glacier. It is similar to an orgasm.
There just my work. Then comes the great work of all my mates, which is extending those 50 minutes of fullness to the rest of the day. Then yoga begins and ends the tool box.
And now a book with Ramiro Calle. The defender of the "authentic yoga" and you on the same pages. Explain it to me, please.
Ramiro, good, is a being complex, creates philias and phobias with great speed. There's that know him for leave to be seduced by his mind, who is single, sudden and enlightened. And he is a free man: he says what he thinks, with reason or not, and stubbornly insists on it because, simply, he has nothing to lose... Our friendship is striking because he is an Orthodox classical and me all I'm worth, they say in Mexico.
What does the book Where to meditate the trees on a bookshelf so saturated? Why is it necessary to have it? Why what have you?
Essential is only Yoga, freedom, and immortality, Mircea Eliade, and the novels of Marguerite Yourcenar, the poetry of Neruda and Angel González. A saturated one is an ornament; the books are to read them, underline them and reread them, and possibly then lose them in a coffee shop, in the car of a train or a park bench.
I would have it because appear bright Ramiro responses to my concerns, which are those of a practitioner of yoga. It is an autobiography that starts from the moment in which Ramiro sick and announced me his imminent death until the day that we met. Many personal aspects that made me into the world of yoga, the disappointment I had with various gurus who crossed my path and some correspondences by sms and e-mail with the same Ramiro van is shelling between chapter and chapter. Between all of those pages of flash-back arise numerous questions I Ramiro it out, and that is the true spirit of where the trees meditating. It is a long dialogue maintained between Bhrigu and Viasa style in the Shiva Purana, but whose theme is freedom from the release, profane and divine sexuality, life immersed in the confusion, the hombre-masa...
Your students are bright, many of them are excellent teachers, others could be and all you respect and love you. A growth in freedom, without borders, atmosphere as all good sect of this 21st century, self-respecting would you have become what decline?
I don't know how much freedom there is in a cult. You've made a perfect description of my colleagues or I can consider them students because I believe that you learn more as I am. The selection of my teachers try to be very delicate. All are bilingual, because the area in which we work, the Costa del Sol, we live with a multitude of nationalities. We have Finnish teachers as Lori Sjomella, Swedish as Petra Lindros or Danish as the pedagogical Director, Belinda Christensen.
Every weekend we have training involves at least three teachers and each of them is from a different lineage. They come from Anusara, Iyengar, Ashtanga... I think that there is a yoga by each practitioner and that his style has to be personal. I limit myself to deploy them to a wide variety of styles and that they integrate what most vibrate in them. I teach, I am not convinced.
Respect to become what rejection is hard: you should see the character that has my team...
Of your hits: what is your brand, what would you like to convey to your students?
There is no absolute truth and that the teacher is walking stick but no feet.
From your mistakes: what samples more so your students don't say? Your best error is...
Just the opposite of the above. When I thought that it was the owner of absolute truth and allowed others to walk this path that runs in solitude for me.
Paint me, please, a beautiful image. In the words of Clint Eastwood, "Happy day".
The world is full of beautiful prints. A cosmic, transcendent, unique and very personal encounter remember one in particular...
I had spent about 15 hours in the Shiva Ganga Express, the train that divides in two the distance between the very model Delhi and the city inhabited the planet, Varanassi oldest. The 758 kilometers is not space, but temporary. It's travel from proudly colonial decline to a city that has not changed since its founding, and surrounded by villages still live in the Neolithic.
I arrived at the guest house of my friend branch. He already had 20 days in India, was covered with rona, stank to sweat and Red curry and walking barefoot on manure not caused me already no qualms. My senses were dull and continuous drunkenness of the India had seized me.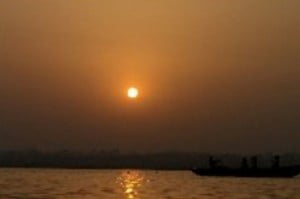 I ate, buy new clothes on nine, after dinner, I decided to get me drunk with sardai, a lassi, mixed with almonds, fennel, pepper, cardamom and cannabis. Mix the bhanga with fatigue prevented me from returning to the guest house. I woke up at dawn, in the Munsi ghat, as if would have slept a million years and next to a goat that I watched with some curiosity. It was new then. I want to say that it had seen the dawn, and I had slept on the streets of Varanassi on more than one occasion (some of them beside the sadhu Baba Sivananda, already stark) and had already tested the effects of the bhanga. But I felt that it was the first time that I watched the sunrise in the world on the Ganges. The sky is leaden, dense, dramatically murky, as if to the tongues of fire of Surya it cost you to go beyond the veil of darkness of a night that refused to withdraw. The waters were Golden and believers first dipped in the river for their ablutions, rites and throwing flowers and fruits. I had seen it many times but I felt that I had never seen this perfect field of fire that turned the Mirage in jungle, mangrove, coast and that, paradoxically, just with everything that wasn't his extraordinary vision.
I took this photograph that, when I see, I again refers to the time in which I discovered was the first dawn that the man observed.
By Roberto Rodríguez Nogueira