The yoga of the love of animals
My mother's name was Maria del Mar and she was a writer and yogi. She was my first teacher, and the first mantra I uttered, like every child, was "mom." She gave me to read the first books about India and took me for the first time to the yoga classes that a newcomer, Hindu, taught in Madrid.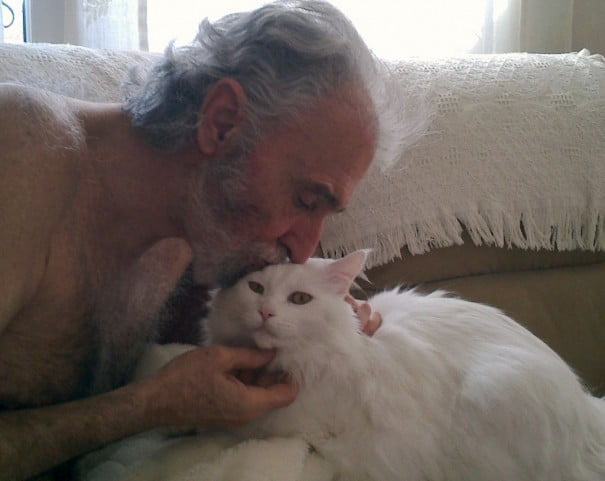 He was very animal-loving, as were his three children. When I practiced yoga at home when I was 17, I did it next to a wonderful St. Bernard breed dog. On the one hand, the satisfaction of executing the healthy yoga postures and, on the other, the closeness of the noble animal.
Today, as everything is called yoga, I think that if there is an elevated yoga it is that of "yoga of love to animals" and no one deserves more than them to be called yogis. If you have an animal at home, after practicing the yoga session at home you can then, as I do, spend a few minutes executing "the yoga of love of animals", trying to connect from soul to soul with the pet.
When we are more relaxed, the animals notice it, just as they perceive it if we are tense or upset or there are arguments in the house. My cat Emile helps me open my heart. He loves that I do yoga on the carpet on which he does Savasana (the yogi relaxation). From the inner silence we talked to each other because, as the great yogi said Ramana Maharshi, there is no language more eloquent than that of silence.
Pets are our best friends: they don't judge us, they don't compare us and they want us unconditionally. That's yoga: bonding. My brother Michelangelo poet and humanist, said in one of the books we wrote together: "They, the animals, may be the only ones to enter into that Eden promised to the clean of heart. They have already attained the promised peace and wisdom that humans have not yet been able to complete."
Calle Ramiro

More than 50 years has been Calle Ramiro teaching yoga. He began teaching at home and created an Academy of yoga correspondence for all Spain and Latin America. In January of l971 opened its Yoga Center Shadak, that have already passed more than half a million people. His 250 published works include more than fifty devoted to yoga and related disciplines. He has made Yoga the purpose and sense of his life, having traveled a hundred times to India, the homeland of yoga.