The yoga of the love of animals
Mi madre se llamaba María del Mar y era escritora y yoguini. Fue mi primera maestra, y el primer mantra que pronuncié, como todo niño, fue "mamá". Ella me dio a leer los primeros libros sobre la India y me llevó por primera vez a las clases de yoga que un hindú, recién llegado, impartía en Madrid.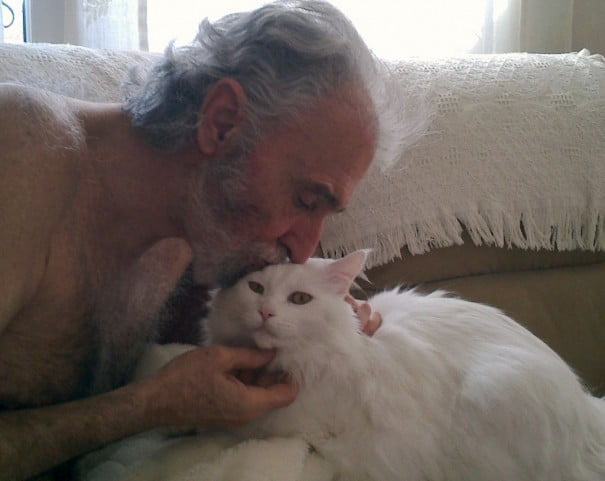 Era muy amante de los animales, como lo fuimos sus tres hijos. Cuando yo practicaba con 17 años yoga en casa, lo hacía al lado de una maravillosa perra de raza San Bernardo. Por un lado, la satisfacción de ejecutar las saludables posturas de yoga y, por otro, la cercanía del noble animal.
Hoy en día que a todo se le llama yoga, pienso que si hay un yoga elevado es el del "yoga del amor a los animales" y nadie se merece más que ellos ser denominados yoguis. Si uno tiene un animal en casa, tras practicar la sesión de yoga en el hogar puede después, como yo hago, dedicar unos minutos a ejecutar "el yoga del amor a los animales", tratando de conectar de alma a alma con la mascota.
Cuando estamos más relajados, los animales lo notan, igual que lo perciben si estamos tensos o disgustados o hay discusiones en la casa. Mi gato Emile me ayuda a abrir el corazón. Le encanta que yo haga yoga sobre la alfombra en la que él hace como nadie Savasana (la relajacion yóguica). Desde el silencio interior nos hablamos porque, como dijera el gran yogui Ramana Maharshi, no hay lenguaje más elocuente que el del silencio.
Las mascotas son nuestros mejores amigos: no nos juzgan, no nos comparan y nos quieren incondicionalmente. Eso es yoga: unión. Mi hermano Miguel Ángel, poeta y humanista, dijo en uno de los libros que escribimos juntos: "Ellos, los animales, tal vez sean los únicos en entrar en ese edén prometido a los limpios de corazón. Ellos ya han alcanzado la paz prometida y la sabiduría que los humanos no hemos sabido completar aún."
Calle Ramiro

More than 50 years has been Calle Ramiro teaching yoga. He began teaching at home and created an Academy of yoga correspondence for all Spain and Latin America. In January of l971 opened its Yoga Center Shadak, that have already passed more than half a million people. His 250 published works include more than fifty devoted to yoga and related disciplines. He has made Yoga the purpose and sense of his life, having traveled a hundred times to India, the homeland of yoga.