Yoga, a gift at Christmas, and now at a discount!
Sí, lo reconozco. Como decía Francisco Umbral, hoy he venido a hablar de mi libro (el más reciente de ellos):
Dominio de las técnicas específicas de yoga,
que con todo cariño, y con la colaboración de excelentes amigos, hemos editado y publicado en Málaga.
Joaquín G. Weil writes.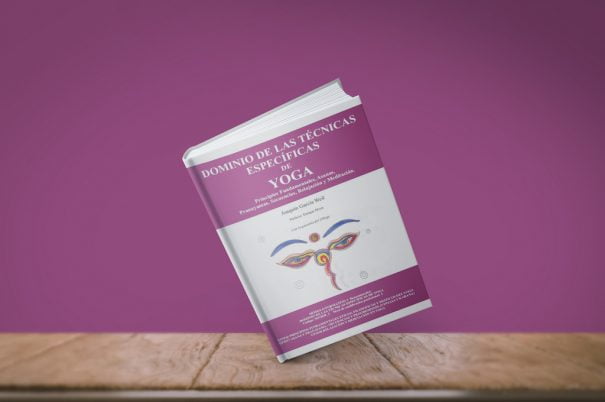 ¿Cuántas veces hemos recibido regalos totalmente superfluos por estas fechas? Y todavía más… ¿cuántas veces los hemos hecho nosotros mismos con el apremio de los compromisos y las circunstancias?
Claro que cuando nos otorgamos el tiempo y la calma suficiente atinamos a encontrar un regalo verdadero, de esos que se agradecen con una sonrisa en una época en que nos enfrentamos a los excesos gastronómicos y casi rogamos la vuelta a la rutina, a la concentración y al ejercicio… Un regalo que servirá y que será apreciado por unos buenos años, y al que se dedicarán un buen número de horas.
Cuántas veces he escrito y escribo en mis artículos acerca de los libros publicados por otros… Es casi por simpatía de gremio y familiar, pues provengo de un linaje de escritores, editores y libreros que se pierde en la memoria… y porque buena parte de los momentos más agradables de mi vida me los he pasado leyendo libros, por ejemplo, en una soleada mañana de invierno, al calor de un tazón humeante… o quizá antes o después de una buena sesión de asanas de yoga.
Respecto a mi libro, Dominio de las técnicas específicas de yoga, les diré que casi estoy más satisfecho de la edición que de la propia escritura: con los primorosos y expresivos dibujos de las asanas realizados por Olga Dominguez (tan diferentes de los consabidos "dummies"), y también las sencillas ilustraciones de Darma Star and the elegant and feminine designs of Carmen Peralto. How many hours we spent Álvaro, Inma, Andrea y yo quitando el mayor número posible de erratas en un libro complejo, lleno de citas y de términos extranjeros… Cuántos correos con el impresor Luís para pulir una vez más las maquetas… Al final, el agrado y el cariño con que se realizan las tareas acaban plasmándose de un modo casi mágico en el objeto…
The wise and weighted preface of the pioneer and veteran yoga master Enrique Moya pone la guinda al trabajo.
Por su parte, sobre el contenido del libro, uno siempre se muestra exigente, si bien algunos comentarios sirven más como estímulo para la planificación de nuevos proyectos que como gratificación por la labor ya realizada.
Mi empeño al realizarlo fue dotar de contenido al temario oficial de España, y, en la medida de lo posible, realizar un manual de consulta útil y, por lo tanto, resumido de los aspectos principales del yoga: su historia, su filosofía y sus prácticas. Existía ese hueco en la oferta editorial y habría que cubrirlo con esta obra que, a fecha de hoy, considero única en este aspecto.
Si lo hemos conseguido, el lector dirá. En cualquier caso, le sugiero que considere si puede tratarse de un buen regalo útil para personas cercanas, familiares o amigas, o para esa o ese profe de yoga de quien tanto hemos aprendido… O, como en el caso de esos padres que regalan a sus hijos esos bonitos juguetes con los que luego juegan ellos mismos, quizá tengas alguna persona tan cercana como para regalarle este libro de modo que lo disfrute ella y que tú también puedas echarle de vez en cuando un vistazo…
Para ponerlo más asequible para los lectores y suscriptores de YogaenRed, queremos ofreceros en diciembre y enero un descuento. Anota y pega este código a la hora de comprar el manual en nuestra tienda online:
Mastery of Specific Yoga Techniques
https://iayoga.org/servicios/manuales/
Cupón de descuentos lectores YogaenRed: X2BV522T
Descuento 10% para lectores de YogaenRed
Desde ahora hasta el 31 de enero
Gracias a todos y por todo, y felicidad en estas fechas.
Joaquin G Weil
fb: Yoga Sala Malaga @yogasala.malaga
IG y Tw: @yogamalaga