FisiomYoga 8/ Modification of Ardha Chandrasana
Esta sección, FisiomYoga, une la práctica de yoga con la fisioterapia y la osteopatía. En esta entrega os proponemos Ardha Chandrasana, la postura de la media luna, excelente para practicar el equilibrio, concentración y la tonificación abdominal.
They write Or Haleluiya and Alex Monastery.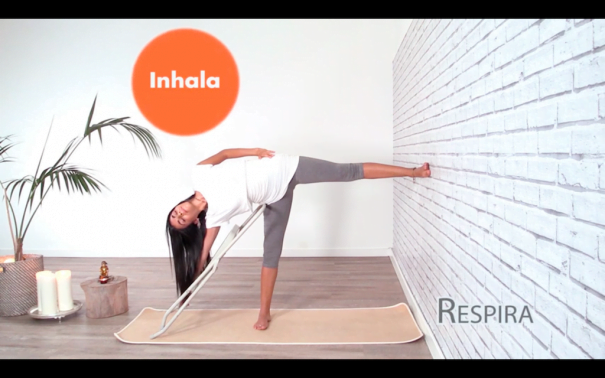 La postura de la media luna es excelente para practicar el equilibrio, estriar los isquiotibiales, aductores, tonificar los abdominales y flexibilizar la articulación de la cadera que a menudo está rígida por nuestra vida sedentaria.
Para facilitar su práctica y disfrutar de sus beneficios sólo necesitas una silla y una disposición a encontrar, perder y volver a encontrar el equilibrio.
Get ready
Con una silla plegable y cerrada, colócala en diagonal justamente en la cadera derecha. Asegúrate que la silla esté estable y aunque te permita apoyarte en ella, es importante que no lo hagas excesivamente.
Hold you
Mantén tu pierna derecha bien estable y la rodilla derecha mirando en la misma dirección que los dedos de los pies, eleva la pierna izquierda para apoyar el pie sobre la pared.
Extend yourself
Manteniendo las piernas bien extendidas y firmes, flexiona la cadera derecha, alarga la columna, rota tus hombros hacia atrás y mete los abdominales hacia adentro para alargar aún más la columna y llevar la palma de la mano lo más abajo que puedas sin forzarte.
Take a breath
Con los abdominales ligeramente hacia adentro para solicitarlos en su apoyo en mantenerte el equilibrio, inhala profundamente por debajo del ombligo para fomentar tu fuerza y concentración.
FisiomYoga es una disciplina destinada a coordinar el yoga con el mundo sanitario en el que, además de obtener mayores beneficios físicos para el practicante, potencia los dos sectores. Más información: https://yoga-terapeutico.com/