Mudras: Linga-mudra
Linga
es el término sánscrito para falo. El Linga mudra se llama así debido a que aumenta el calor del cuerpo, centrándose en el elemento del fuego en el interior del organismo.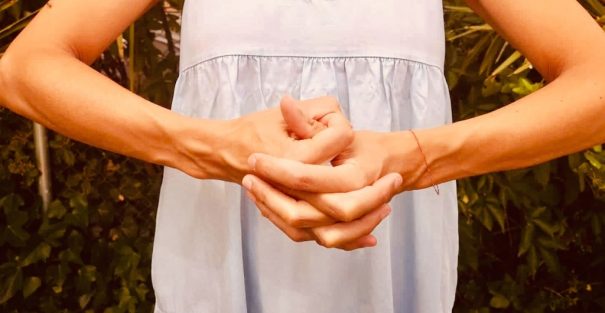 The palms of the hands together and cross your fingers, leaving a thumb upright; it surrounds the thumb with the forefinger and thumb of the other hand.
Use it as you need it or tres veces al día durante 15 minutos.
Esta posición de los dedos aumenta la resistencia contra la tos, los resfriados y las infecciones del pecho, y desprende la mucosidad que se ha formado en los pulmones. También es muy útil para las personas que tienen dificultades respiratorias cuando hay un cambio de tiempo. Asimismo aumenta la temperatura corporal y está especialmente indicado para los que nunca les sube la fiebre. La fiebre es muy importante, ya que muchas bacterias del cuerpo sólo se exterminan si se las somete a una cierta temperatura.
Benefits:
It speeds up the metabolism and, therefore, helps in weight loss.
It improves digestion
It helps in the fight against cold and cough
It relieves the symptoms of bronchial infection
It strengthens the lungs
It reduces the production of phlegm