Plans for a seemingly spring weekend
En plena primavera ya, la metereología no acaba de asentarse. Nada extraño, por otra parte: la inestabilidad es propia de esta estación, así que nos viene de perlas seguir afianzando nuestra práctica de yoga y meditación para equilibrar las energías. No te pierdas estas propuestas que con tanta ilusión han preparado sus organizadores.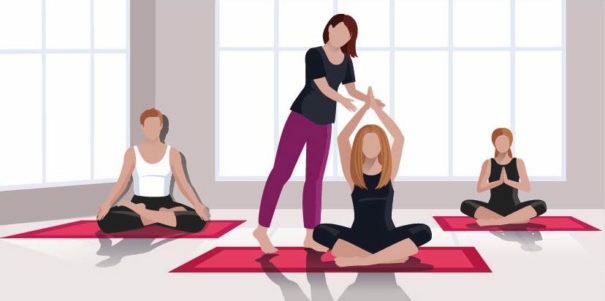 Friday, April 26
Special kind of Kundalini Yoga: Renaissance
Según las enseñanzas de Yogi Bhajan. Mediante la práctica de los kriyas y meditaciones que formaron parte de sus cursos originales de Rebirthing, tendrás la oportunidad de deshacerte de todo aquello que te está impidiendo vivir una vida plena. Son clases especialmente diseñadas para limpiar el subconsciente y eliminar los miedos y patrones heredados. Es una clase abierta a todo el mundo, pero ten en cuenta que es una práctica física bastante exigente.
Where: CDE Wutang, Travesía de la Pluma nº4, Leganés (Madrid)
It teaches: Prabhu Sangat Kaur, profesora de Kundalini Yoga certificada por AEKY y masajista sanadora según la técnica de Yogi Bhajan.
Conscious donation
Contact: 647 920 851 T
More information: https://prabhusangat.com/
Retiro "Los 5 revestimentos/ Koshas del ser humano"
26 al 28 de abril. Trabajaremos mediante asana, pranayama, y meditación, desde lo más denso a lo más sutil transitando por los diferentes planos de energía y consciencia para experimentar las diferentes dimensiones de nuestro Ser.
Where: Berriz (Bizkaia), en las faldas del monte Oiz
Contribution: 140€ (habitación compartida); 160€ (habitación individual). Alojamiento y pensión completa (normal o vegetariana a elegir) incluidos.
Inscriptions: Lasaibizi@hotmail.com / T 629252812
Saturday, April 27
Yoga & woman
Orientado a todas las mujeres que quieran re-conectar con su naturaleza cíclica y con su propia sabiduría interior a través del Yoga Integral, independientemente si han tenido contacto previo con el yYoga o no. En este taller veremos cómo sincronizarnos con nuestro ciclo menstrual, como aplicar las diferentes herramientas del yoga al momento y a la fase del ciclo que estemos viviendo con el fin de conectarnos y dar libre expresión a lo más elevado que hay en cada una de nosotras.
En él trabajaremos con el cuerpo, las emociones y la atención a través de diferentes prácticas del yoga orientadas al empoderamiento de la mujer, de forma accesible y adaptada al nivel de cada participante. Danza, asana, respiración y meditación como herramientas que nos ayuden en el proceso de sanación y trascendencia de las necesidades que las mujeres de hoy en día tenemos en busca de una igualdad real. Para la realización de este taller no es necesaria experiencia previa con el yoga.
La Escuela de Yoga Integral Mahashakti está inscrita como entidad de formación en FUNDAE (Fundación Estatal para la Formación en el Empleo, anteriormente denominda fundación tripartita) por lo que existe la posibilidad de bonificación del curso.
Cost: €80
Contact: mataji@escuelamahashakti.com / T 665 87 60 66
Where: Urban Yoga Studio. Calle Monasterio de la Oliva, 9 – Estudio nº 2. Pamplona
More information: https://www.escuelamahashakti.com/yoga-y-mujer/
Yoga Restaurativo – Formación Presencial en Madrid
Especialmente enfocado a instructores y profesores de yoga con títulos específicos de cualquier escuela o centro de Formación de Profesores de Yoga que desean obtener las herramientas para crear clases de Yoga Restaurativo, así como para obtener habilidades pedagógicas, instrucciones y pautas en esta especialización. Duración: 50 horas.
Where: Madrid
More information: https://www.escueladeyogaonline.com/especializacion-yoga-restaurativo/
Gong bath
Déjate envolver por la profundas vibraciones de los Gongs. Un baño de gong es una experiencia única, que no requiere de ninguna concentración especial. Cerrando los ojos y tumbándote sobre una esterilla será suficiente para que la vibración penetre en cada célula de tu ser. Plazas limitadas.
Where: Madrid Yoga Shala C/ Manuel Aleixandre 7 28045 Madrid
It teaches: Gong Samadhi
Price: €12
More information: https://gongsamadhi.es/eventos/
Sunday, April 28
Learning Yoga family
El Taller Aprendiendo Yoga en Familia va dirigido a madres, padres y niños/as de hasta 10 años. El domingo nos daremos cita en dos talleres: de 10 a 11h y de 11.15 a 12.15 h. Contacta con nosotros para ver que grupo se ajusta mejor a la edad de tu hijo/a. Ven a descubrir los secretos más ocultos del yoga de mano de los grandes dioses. Una aventura motora y sensorial para compartir en familia. Plazas limitadas. Necesario inscripción previa.
Where: Centro de Yoga Muladhara, Almería
More information: http://yogamuladhara.com/taller-yoga-familia-3/
Chant of mantras
Gauralila kirtan en Shri yoga estudio Imprescindible confirmar asistencia.
Contact: Pilar T 670 96 79 68
Where: C/ Doctor Calero 19 local 46. Majadahonda
More information: http://gauralila.com/es/