Yoga retreats in June 2017, updated
You can already book your retreat in June with this selection of inspiring proposals throughout the national territory. But if you're still thinking that you want to make a withdrawal in the days remaining this month, see the link Yoga retreats in may 2017. The magazine YogaenRed always keeps you updated!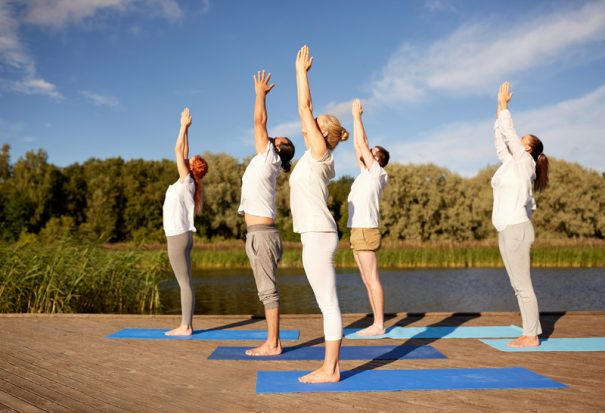 Inhabit paradise. An inner journey through Eros and Yoga
2-4 June
Where: Mallorca
Inhabit paradise is actively reflecting on how we have and we the existence. Eros include all the links which unite us with life and experience with the body, mind and emotions. Yoga crosses these boundaries, creating new links. The sum allows inhabiting the place from which we have and have us life, taking consciousness of up to what extent get caught / as in our stories.
The experience takes as a point of departure the garden metaphor well rooted in our culture, as it represents the body and the pleasures of paradise. This scenario allows you to create a subtle intimate link between l@s viaje@s and also with trees, seeds, flowers and fruits, elements that are slowly filling up of personal references. Over a weekend, our senses will be cause appropriate mood to inhabit the inner paradise.
Through poetic plays, reflection, conscious acts... each person portrays his inner paradise in your particular notebook of trips ("pillow book") that will help you to talk about his life in another way.
Contribution: €140 (€150 in double room). Ecovegetariana and lodging included
Registration: Info@yoga-mallorca.org
They offer:
Martha Zein. Filmmaker, writer and Communicator, you are passionate about disable the toxic stories that come from power. As coacher narrative taught to narrate the life and change it.
Nale stop. Degree in philosophy from the University of Barcelona (UB) and CAP (course of pedagogical Aptiud) from the same University. Yoga teacher and Director of the training of teachers of Yoga Association Yoga and philosophy.
More information: http://www.formacion-yoga.org/index.php/yoga/retiros-de-yoga-2012/2-uncategorised/204-habitar-el-paraiso.html
Removal of Yoga and Ayurveda
2-4 June
Where: Nayana Life Center, Arenas de San Pedro (Ávila)
This retreat is an ideal occasion to disconnect from the daily hustle and bustle, relax and deepen the knowledge of Yoga, Ayurvedic medicine and philosophy that share. Ayurveda literally means "knowledge of life". It is the name given to traditional medicine of the India and in this retreat we will introduce some of its fundamental pillars: discover what elements predominate in our Constitution and function of this habits and food are healthy for us and what harm us.
We discuss our philosophy sāṃkhya, source from which to drink both classical yoga and ayurveda. Through this philosophy we probe into the elements that produce us suffering in life and how to get rid of them. Enjoy yoga and meditation sessions and see how they complement to the ayurveda and are recommended for a healthy life and resources will be presented to apply them to our daily lives.
They offer:
Ruth de la Mano. Teacher of Yoga, painting and art. Provides regular classes of yoga Ahstanga Vinyasa and Yantra (Tibetan) and traditional Hatha Yoga. Thai Yoga Massage and treatments of Ayurvedic medicine available.
Montse Simon. A degree in philosophy. Degree in Sanskrit at the University of Varanasi. He is member and teacher of Yoga and philosophy practice Association. Yoga teacher
Price: €210 includes two nights accommodation in a shared room and full Board
Registration and reservation: retiroyogayayurveda@gmail.com / T 605 800 697 and 686-921-675
More information: https://www.facebook.com/biijayoga/
Yoga Party weekend
From 2 to 4 June
Where: Villa Artemis. El Casar (Guadalajara)
Spring and summer go hand in hand in June, which we celebrate with a weekend retreat. The venue is Villa Artemis, a dream in the marriage House. Only 40 minutes by car from Madrid (with option of travel by public transport to nearby towns) we find this villa arabe-ibicenca inspiration.
Weekend with yoga, in an atmosphere of peace, coexistence and cordiality, with all of the Yoga Party spirit. We will share a morning practice of meditation, pranayama and yoga ashtanga, which delve into the secrets of the alignment of postures, breathing, and movement. After breakfast we will give step to free time, open to many possibilities (Villa Artemis and his farm offer varied corners where lost and found, and is located in an area privileged in impressive surroundings - La Tejera Negra, reservoir) (Atazar, Patones, blacks peoples... with trails for walking and even transfer our yoga practice in nature). In the evening we will celebrate a session of yoga flow with music, to flow and enjoy the joy of yoga. In addition, we will explore different techniques of meditation.
Price: €165 (full Board and accommodation in shared rooms of four or seis.personas. All inclusive) to enter the bank account number that will be sent to you to answer you)
Reservations: info@yogaparty.es
Removal of yoga and emotional management
From 2 to 4 June
Where: Robledillo de la Vera, Cáceres
Discover yourself in a space of trust, nature and well-being in the hands of Jenifer and Miriam Edition XI of the removal of yoga and emotional management, which combines introspection with expression, silence with communication and laughter, immobility with dynamism, relaxation with activity, complementing the opposites, as it shows us life.
Activities: hatha yoga, nidra yoga, radja yoga (meditation), pranayama (breathing techniques), body-management emotional expression, laughter therapy and conscious regression.
Price: €220 in double room
Contact: 962 580 659 | 644 436 734 | retiros.yam.sankhalpa@gmail.com
More information: http://yamenergias.com/
Removal of Yoga - meditation - nature 'Disconnect'
9-11 June
Where: Bioespacio Tasta in natural park Alto Mijares (Castellón)
This weekend aims to relax and dedicate this time to disconnect from the routine and be with yourself. The program is suitable both if you start you in the practice of yoga as if you already play it. Meditation is a simple tool that has proved its effectiveness in scientific studies to reduce stress and help achieve the mental and emotional well-being which also affects positively the physical state.
We will have the opportunity to hear in live music at the hands of Carlos and Luka, founders of Amares. Vegetarian, delicious and nutritious food cooked with love and consciousness.
Tasta is a bioespacio unique and magical in the natural park, surrounded by mountains, where no trace of civilization, surrounded by 14 is not has forests of pines, junipers and junipers, a spring of water which flows into a beautiful natural swimming pool of pure water, a geodesic dome in an energy ideal for yoga classes, based on sacred geometry corners for the encounter with one's self. In short, a place to feel, discover and experience.
Registration: info@omdharayoga.com / 675 44 27 44 T
More information: https://www.omdharayoga.com/
Removal of Kundalini Yoga and meditation
9-11 June
Where: Permaculture sweet cane, Rio Grande, Coín (Málaga)
Under the influence and moon magic, we propose a retreat, in the paradise of Permaculture Reed sweet, devoted to meditation, calm and neutral action that helps us to live the present moment. Every full moon will enhance the positive or negative effects that we, dare to proyectarte Group towards the light and peace within you, letting go negative? Meditation is a treasure within the practice of Kundalini Yoga which leads us to positive States of consciousness and which gives us the opportunity to get acquainted with them. Come to meditate and fill your mind calm, giving green light to happiness and fullness!
They offer: Amarjit Kaur and Sotantar Kaur (Paloma Barriguete and Matricia wool)
Contact: matricialana@gmail.com | 607 63 29 37 T
More information: http://www.permaculturacanadulce.org/
Yoga Retreat in Ibiza
15-June 20
Where: Ibiza
Following the rhythm of an ashram, we will explore yoga in all its facets, to understand this ancient discipline and be able to create our own practice of yoga properly. Through Iyengar Yoga and therapeutic will adapt practice to our needs. We will practice Asanas and pranayama, meditation, Yoga nidra, Karma Yoga, meditation on the sacred texts of yoga or the Baghavad Gita and Patanjali's Yoga Sutras, and vibraremos singing Kirtan (devotional singing).
Surrounded by nature, we will stay in Organic Living, a family estate of organic farming in the North of the island.
It teaches: Delia, Professor graduate at the University of India in Ayurveda and Hatha Yoga. Specializing in yoga therapy (accredited by the IAYT Association Internaticional of Yoga therapy), and formed in Iyengar Yoga both in India and in Europe. Delia meditadora Vipassana, after 18 years of practice, its flame remains lit, learning and deepening steadily.
Price: €645
Contact: psicodeliaibiza@gmail.com / T 647 48 58 00
More information: http://psicodeliaibiza.blogspot.com.es/
Yoga and meditation weekend

16-18 June

Where: Finca Cortinal, Valencia de Alcántara (Caceres)

We propose you a weekend in which explore, in a friendly way, techniques for controlling stress and the culture of care. A weekend to relax, enjoy, share and take home methods that deal with everyday conflicts.

You have to see the photos to believe it: http://fincaelcortinal.com/

It has seven rooms of top level, a Lake, a beautiful Spa and an impressive library. All the delights of environment and services that offers a boutique hotel but at a very affordable price.

Price: €250 2 nights in double room with full Board (2 dinners, two breakfasts and two lunches) and Yoga and meditation classes.

More information:
http://fincaelcortinal.com/wp-content/uploads/2017/05/folleto_yoga.pdf
Personal growth in nature
16-18 June
Where: Errezil (Guipuzcoa)
A weekend of reflexivity, dynamics of activation, change, emotional and sensory development habit. This may be your first experience in your personal development or a stopover on your way already started beforehand. The group dynamics allow the energy to flow in a more positive way. But in Sukhena, activities that we allow at all times preserve the privacy and respect for each Member, with the result being just as effective.
During all the week-end will have accompaniment of two professionals of the team Sukhena, so you can make the most of this experience, and it is not in one workshop more. Our program includes: activities of self / reflectivity Dynamics / habit of meditation / silence and meditation space / detects your emotions and sensations / dynamics of activation to the conscious action... In addition to moments of sharing, relax, laugh, play, relax... In touch with nature at all times, an ideal place for our weekend, only for us, in the foothills of one of the most typical mountains of the Basque country, the mount Ernio.
Contact: hola@sukhena.es | T 605467741 | 615756226
More information: http://sukhena.es/experiencia-fin-semana-junio-2017
Yoga retreat for moms and babies
16-18 June
Where: CASSÀ de la Selva (Girona) |
A weekend dedicated to you and your (s) child (ren) aged 0-4. A space to celebrate motherhood and sharing with other moms, other children... Come and feel, celebrate and enjoy this wonderful moment. Sandra and Noelia will accompany the experience and respect surrounded by nature, beauty and tranquility in a loving, intimate atmosphere.
Contact: info@sansyoga.com / T 636301777
More information: http://www.sansyoga.com/es/mummyandme/
Yoga Retreat
16-18 June
Where: Villanueva de la Vera
This weekend retreat is ideal since it includes the perfect combination: yoga practice and a beautiful natural environment. What you'll find in this recall? Yoga: Workshops hatha yoga where we will work different asanas (yoga postures); exercises of breathing (pranayamas), relaxation techniques (yoga nidra), meditation and kirtan (singing of mantras). Nature: Free time to discover and enjoy the environment. We will do gentle walks in the surroundings to visit different natural gorges and take a swim. Accommodation: The beautiful, peaceful country house is on the outskirts of the town and has all the amenities. The House offers different areas where you can read, relax and enjoy the beautiful views. As always they are making improvements at home, this year also we will enjoy the pool. It is an ideal place for reflection, meditation and disconnect from the noisy city.
It organizes: Vrindayoga info@vrindayoga.es / T 615475750
More information: http://vrindayoga.es/
Removal of yoga, meditation, food and nature
18-June 22
Where: Tenerife
Join these 4 nights of retirement and vacation of yoga in the Canary Islands. This recall involves a blend of yoga, relaxation, nature and the powerful energy of the summer solstice in a wonderful location at the foot of Mount Teide volcano in the area of la Orotava. The place that we have chosen, a picturesque retreat on the nature center provide the perfect setting. Yoga and meditation classes are designed to revitalize your body and immune system, stimulate your senses and restore your confidence and balance internal. You can also enjoy our workshop many experiential moments with the harmonic sound of the Hang Drum and the Tibetan bowls and natural cuisine. Get ready for this unique experience!
Highlights in the retirement - two sessions of hatha yoga with pranayama daily exercise - a session of guided meditation and music therapy (musical journey) to the day - kirtan (singing of mantras) summer solstice ceremony - stay 4 nights and 3 days in a shared room of 4 people - food vegetarian home - nutrition and vegetarian cooking workshop - practice of Karma Yoga (Yoga in action - meditative work)
Price: €295
More information: http://www.estilo-verde.com/retiroyogatenerife/
National meeting of Yug Yoga
23-25 June
Where: Ashram of San Martín de Valdeiglesias (Madrid) the RedGFU
In the forest, during the weekend of the as part of events celebrating the world day of Yoga. Open to all, whether beginners or advanced, with attention for young people and families.
Collaborates actively in the events celebrating the Guru Armando Navarro, in Mexico, which also Nello Tonetto, will participate in the World Yoga day on June 21 that organizes the India Embassy in Madrid, as well as the Italian tantrista among others.
Centre education, culture and peace, Member of the Spanish Federation of UNESCO centres, supports the celebration of the world day of Yoga through the Association International of professors of Yug Yoga Yoghismo.
More information: http://yugyogaredgfuesp.weebly.com/proacuteximas-actividades.html
Conscious vacation; Yoga and hiking in Picos de Europa
23 to June 28
Where: Picos de Europa in Cantabria
The biodiversity of the Liébana Valley make it one of the favorite of the lovers of the nature spots, that combines the high mountain massif of the Picos de Europa, territory of bears, wolves and vultures, with forests of beeches, Oaks and holm-oaks, furrowed by streams of pure water, where they live among other roe deer, foxes, deer, grouse, various mustelids and a bird Court.
In this retreat of Yoga and nature will be time for leisure and fun. Included accommodation for 6 days - 5 nights in shared rooms type bunk bed and full Board with an organic and homemade vegetarian cuisine, in the lazy La nursing home, located in the village of Torices at the foot of Peña Sagra, with spectacular views of the Valley and the mountains. Also includes 7 Yoga workshops with a total of 14 hours of classes, which will join the psychophysical techniques of hatha yoga (pranayama, asanas, relaxation, etc) with the psycho-mental (meditation, Yoga nidra, mantras and yoga of sound), as well as addressing issues for the psychological and emotional improvement in the light of yoga.
He leads the removal: Violet Arribas, teacher of Hatha Yoga and meditation, ayurveda therapist, author of the book andOGA and Ayurveda, integral health anxiety. Director of Padmasana Center Madrid
Price: €315 in bunk room. Possibility of double room for €360. Leading the retreat. Registration and info a: Info@padmasanacenter.com or tlf: 91-3822733.
More information: http://www.padmasanacenter.com/
Removal of Yoga and nature in Ibiza
24 to 30 June
Where: Solara, Santa Eulalia, Ibiza House
Organized with love by Laura Ruiz inspired Yoga and Diego Tello. The dream vacation! A week on the island with more charisma in the Balearic Islands, in a beautiful and authentic retreat center located in the valle de Atzaró, northeast of the island, with the right balance of healthy and creative activities and free time to explore the beauty of the island at your own pace. It is a pleasure to offer you this retreat, with yoga, meditations to exit and the sunset, food healthy and vegetarian, excursions to secret places and time to relax, be with you and meet new friends in a magical setting.
Contact: Laura: laura@inspira-yoga.com | 656 68 29 25 T
More information: http://www.inspira-yoga.com/retiro-yoga-verano-2017-ibiza/