Weekend plans to welcome summer
What better than outdoor practice? All activities are "withdrawn" to nature, to enjoy this beginning of summer. But if you do not plan to leave the city, remember that in Madrid there is a Master Class in celebration of the International Yoga Day, within the official events, in IFEMA. And also a great Dhrupad concert with Yvan Trunzler.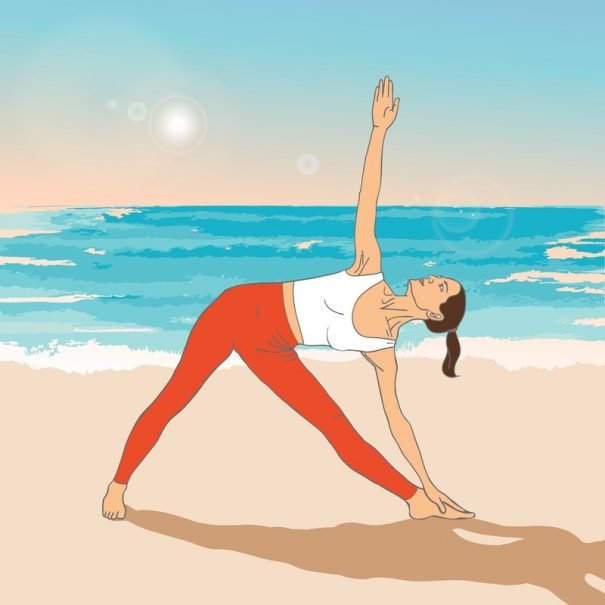 Friday, June 24
Dhrupad concert with Yvan Trunzler
Children's yoga training: Cuentiños
June 24-26. This practical-theoretical-creative workshop is the result of Lisa Howe's 28 years of experience (Harlal Kaur) working as a teacher with niñ@s, adolescents and adults, first as an English teacher, then as a primary and secondary teacher and finally as a yoga teacher. We know l@s niñ@s they are very creativ@s and very curios@s by nature but nowadays they receive many external stimuli and we give them everything chewed so their creativity and their innate curiosity go out.
The result is that they call for changes in activity and external supports to continue participating in a class throughout the school year. Considering these factors, Lisa began adapting stories to use in yoga classes and then ended up writing them herself. By practicing yoga and conscious relaxation through stories, integrating asanas into stories, he discovered that l@s niñ@s concentrate much better and his creativity and imagination are activated.
Where: Yogi Ji Center, Granada
More information: http://www.yogacuentos.com/?page_id=10
Functional Yoga
June 24-26. An ideal weekend to enjoy a comfortable stay, discover all the charms of nature, delving into the practice of Yoga.
Taught: Mihaela Veltan (monitorade yga) and Daniel Barrera Santos (personal trainer)
Where: Hostel of Bolico. Tenerife
More information: http://yogaya.es/retiro-yoga-yoga-funcional/
Yoga Retreat to Educate: 'Awakening Energy to Educate Consciousness'
June 24-26. The School Yoga Educa offers training on the application of Conscious and Creative Yoga in different educational contexts: family, school, social education, free time education, therapeutic care spaces.
This training is aimed at all people interested in the integral education of children and young people from the perspective of yoga and new pedagogies.
Taught: Lídia Serra López and Ramon Muntanyola Culebras. Organizes: Educational Yoga Training School
Where: Cala Morlanda. Majorca
Information and registrations: info@elyogaeduca.org / T 606 974 889
More information: http://www.elyogaeduca.org/es/formacion-el-yoga-educa-bloque-1-me-reencuentro-con-mi-ninonina-interior/?lang=es
Yoga retreat and emotional management
June 24-26. A retreat is a great opportunity to be with yourself, to take care of yourself on a physical, mental and emotional level, to learn new tools, to experience emotions like you have never done before, to perceive the natural environment as a gift that life gives you, to meet wonderful people who have in common more things than you imagine.
Whether you've ever been to retreats or your first time, we're waiting for you with open arms. We will practice hatha yoga to stretch and strengthen the body; meditation and mindfulness to calm the mind and learn to live here and now, fully and consciously; yoga nidra and regressive hypnosis, to allow what you need to know, and that is in your subconscious, to emerge to your conscious mind; risotherapy, to experience laughter in a conscious way, body expression, so that your emotions emerge from music, dance and movement.
Where: Quiet Hospitality. Robledillo de la Vera (Cáceres)
More information: https://www.facebook.com/events/260999600909220/
Intensive Yoga Training Course for Children
June 24-26. Learning all the techniques and tools to teach yoga to children, but above all it is an opening of the heart, it is a transformation on a personal level, it is a open to all kinds of emotions. there are many laughs in the courses, but also tears. And since being able to touch so many hearts that connect in the same goal, has no words or expression possible, you have to live it...
Taught: Cayetana Rodenas
Where: Yoga the Shed. Carrer de la Providéncia, 63. Badalona (Barcelona)
More information: http://www.yogakidsworld.es/calendario-de-cursos.html
Saturday, June 25
International Yoga Day Celebration with Master Class at IFEMA
The celebration of International Yoga Day at IFEMA will begin with a one-hour Master Class. During the first half hour, a video produced by the Government of India will be screened and practiced by all the millions of people who will celebrate this day in all countries.
The second half hour, different Yoga practices will be proposed by the organizing schools. At the end of this Master Class you will have the opportunity to obtain information about Yoga, know centers and schools, and enjoy different activities full of joy.
Program
10.00 – Reception of participants.
10.30 – Inauguration of international yoga day.
11.00 – 30-minute projection of the Master Yoga Class.
12.00 – The Schools representing the organization will then offer a class in the different areas of the pavilion; you can go to the class of your choice, find your school. You can also find training on Yoga and the different proposals of participating centers and schools, at the tables enabled within the Pavilion.
More information: http://diainternacionaldelyoga-madrid.es/
Retreat along the Camino de Santiago
June 25-30. Con yoga, meditación, silencio y técnicas de crecimiento personal. Seis días, para sentir los pasos andados, para conectar con caminos que ya fueron transitados por miles de peregrinos.
Ask yourself: What do you want to find on the Way? What's your purpose? Why is this the time to make the Way? What is being a pilgrim? Who was Santiago? These and other important questions arise when you start a pilgrimage journey. That is why the path of Santiago is mystical and magical, but this will be a different path because it will be a direct path inland through the cultivation of silence.
To do this we will use yoga, meditation and personal growth techniques to immerse ourselves in this silence throughout each stage. The connection with nature will also be an essential tool for this interiorization. You will also be well supported by professionals who will accompany you along your way. An opportunity for self-knowledge, so that you leave this journey, with other landscapes in your mind and soul.
Where: Roncesvalles (Navarra)
More information: http://www.santiyoga.es/
Sunday, June 26
Yoga Retreat in Nature
From June 26th to July 2nd. 7 days in grazalema Nature Reserve, Cadiz. With The Kingdom of Nita. Accommodation in a large Andalusian house with infinity gardens and three swimming pools in the middle of nature. Each room or apartment has its own terrace. Start your mornings with Ashtanga Yoga Mysore style combined with guided Ashtanga classes.
The Mysore style is the safest way to learn how to practice yoga or take your practice to another level, and you'll have three teachers in the room. This form of Yoga allows you to develop your practice individually in addition to being able to practice anywhere on your own. In addition every afternoon you will have various workshops from Thai massage, introduction to acroyoga, yoga between two, meditation with bad and guided or yin yoga among other activities.
Three vegetarian meals per day included (adaptable for vegans). Extra activities that you can do in free time: hiking, canoeing, climbing, rappelling, kayaking, aerodelta (not included in the price).
Where: Grazalema Nature Reserve (Cadiz)
Price: €895 per person
Contact: info@elreinodenita.com
More information: http://www.luciayoga.com/ashtanga-yoga-retreat-with-nita-june-south-spain/
Celebrate International Yoga Day: Master class + lunch
We join the celebration, it is so much what we owe to Yoga. Thank you wholeheartedly. There will be a generous and long sequence of well-chosen asanas, plenty of time to enjoy varied pranayamas and a deep and complete relaxation. Meditation resulting from natural stillness will crown practice. Music & Mantras, always... to sweeten the heart.
Free entry. Everyone is welcome. Come and enjoy. Bring lunch to share between yogis
Inscriptions: info@yogaartstudio.com / Eva Klimberg T 645584395
Where: Mangrove Park, C/ Lepanto, s/n. El Escorial (Madrid)
More information: http://www.yogaartstudio.com/