Plans for the weekend
As each Thursday, you bring the agenda charged of events: retreats of yoga in English, course of mindfulness, yoga nidra, yoga and nutrition, concert of Ravi Ramoneda, yoga in the nature, bath of sound, kundalini yoga and much more. On Saturday he also begins the course 'Integral Yoga and its paths'.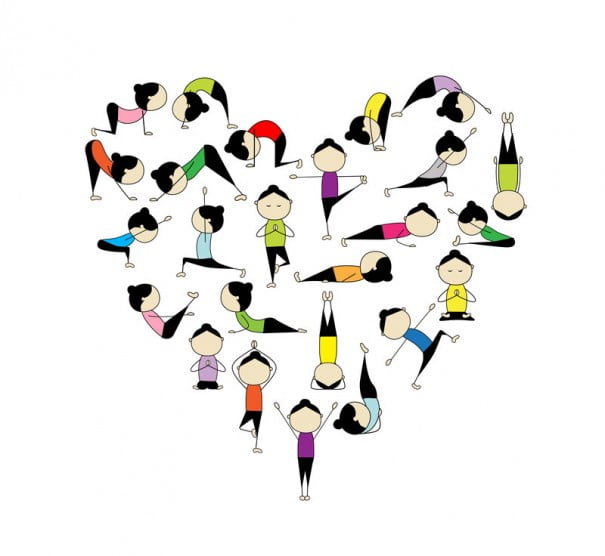 Friday 23 of October
Yoga Retreat in English
23 to the 25 of October. Immersion total. Friday afternoon, starting from 19:30 to Sunday afternoon at 17:00 and are our retreats. Is another way of practicing English, while you Relaxe. We will practice Hatha yoga, Kundalini yoga, meditation. Enjoy a spectacular setting, during a week of immersion in english where you can improve your language while you relax. Different accents. Native teachers of the Atlantic Group Academy. We recommend intermediate level of English. Not make lack that have practiced yoga or meditation before.
Price: 200 € (accommodation, all the meals home and vegetarian and all the activities in English included)
Reservations: info@yogamente.com
Where: House them Lilos. Pozancos (Guadalajara)
More information: http://www.yogamente.com/
Beginning Mindfulness course
Based on the stress reduction program developed by Jon Kabat-Zinn, in the clinic of stress reduction of the University of Massachusetts, applying the principles of Mindfulness-full consciousness meditation to stress, anxiety, and pain.
The program focuses on observation and acceptance of everything that comes to mind, whether they are thoughts and emotions such as feelings or sounds, without value judgments, rather than trying to change them, move them out of consciousness or ignore them. Which leads to a greater well-being, happiness and creativity. Entails improvements significant in the capacity of them participating to make facing the anxiety, the stress and the pain.
Opening hours: of the 23 of October to the 11 of December, from 11.00 to 13.00 / Friday, of the 5 of December to the 5 of February, from 19.30 to 21.30
It teaches: Mario Carrillo
Price: €160
Where: Yoga Anandamaya. C/Alcalá 68. Madrid
More information: http://www.retiroanandamaya.com/
Delve into the depths of your interior with Yoga Nidra
Relax you to level physical, mental and emotional with yoga nidra, a technical that carries centuries making is and that enjoys of large benefits for the health. It consists of a meditation in which you're being guided at all times. You'll find peace and quiet emotional, mental tranquility and physical relaxation. The subconscious level emerges to the conscious mind, allowing it to surface relevant information that can help you in these moments of your life.
Reservations: jenifer@yamenergias.com
Where: Alzentro, calle Alonso Heredia, 5, Diego de León, Madrid
More information: http://yamenergias.com/
2nd Edition of Yoga in the Plaza, in Malaga
In this 2nd Edition also YogaSala Malaga will collaborate in the Organization of Yoga on the square in Malaga. Friday 23 instead of in Calle Moreno Monroy, will be in the Plaza de la Merced. Also the Yoga for families organized by the IAYoga CIP: will be held also in the Plaza. A good opportunity to share your yoga with family, friends and colleagues of the Yoga. You can sign up here.
More information: http://yogasala.blogspot.com.es
Saturday 24 October
Start course the Yoga integral and their paths
He objective of this course is introduce to the students in it perspective holistic of the Yoga Integral, as was posed this discipline in their origins and developed from then until it today, as well as the perspectives of future that is open to the thread of their approaches, putting an emphasis special in the experimentation and application personal of them teachings. Propose so a course with a sense ciclico-evolutivo, working in each paragraph it connection yogic through an angle concrete and, at the same time, creating a development linear through which each step is supports in the previous:
In first place, will try of glimpse the ineffable experience of the silence mental to which alludes the Raja Yoga, presenting thus the attitude of Fund of which start and to which us headed in any practice meditative. This we will provide a frame theory, a horizon (based essentially in them) Yoga Sutras of Patanjali), as a system of common reference to understand the singular via proposed for each path.
Second, we will work within the framework of Hatha Yoga, which from a deep balance of the physical body and subtle energy work, allows us to purify us and settle with strength based on what we are (from most dense to the more subtle) to take any other route.
Thirdly, from the harmony of the body and safety of having glimpsed the horizon that guides us, we will implement in the acquisition and development of our faculty's wise discernment through Jñāna Yoga. · Fourthly, without getting lost in the maze of affections thanks to the purification and sharp insight attained in the previous paths, connect with the unconditional love and devotion through Bhakti Yoga. · In fifth and last place, applying the attitude balanced, meditative, discriminating and devotional developed in the rest of paths, we will apply in take the Yoga to all our actions, returning them aware and desapegadas of their fruits, in line with the spirit of the Karma Yoga.
Where: Aushadhi. Ride of the Delicias 47-51 (passage pedestrian). Madrid
More information: http://www.aushadhiyoga.com
Workshop of Yoga dynamic Xandranamaskar, the greeting to the Moon
The sequence of Xandranamaskar or Xandravinyasa is the basis of the method Yoga dynamic. From it through countless possible variations body can raise is and wake of efficiently and safely. During the workshop, explore of way practice and in depth all them components of the sequence for finally, coming to the same, to integrate it so can eventually convert is in the base of our practice personal.
The workshop is open to all those levels and is especially preferred for beginners absolute and for who is considered practitioners advanced.
It teaches: Sergio. Practitioner of yoga from them 10 years of age, Sergio made the training full of Professor of Hatha yoga of 560 hours in the school international of Yoga in Madrid. Then undertakes the complete formation of dynamic Yoga (Dynamic yoga) (500 hours) with its creator Godfrey Devereux. He currently resides in Paris where he teaches and is in charge of the Red Earth Centre, centre dedicated to the teaching of dynamic Yoga.
Opening hours: 15:30 to 19:00 hrs
Price: €30
Where: Dharamsala yoga, C / Albino Pérez Ayestarain 28, San Fernando de Henares (Madrid)
Registration and reservation: dharamsalayoga@gmail.com / T 617 77 37 03
Yoga and food vegetarian in the nature
I propose to honor to the autumn with a delicious day of practice and food vegetarian inspired in the goddess Greek Demetria. He has the mythology that Bernini was the Mother goddess who fed their children and it is worshipped in the collection of harvest (in Rome later is gave the name of Ceres, hence was born the name of cereal).
"The goddesses like autumn" is the name that we dedicate this day full of nature and love for yoga, good food and share the joy of abundance. In the workshop are welcome all levels and it is very important if you're going to come that inform us as soon as possible to tell with you and to nurture you as you deserve. Morning call energy powers great protective mother, Durga and her beautiful energy will accompany us in a dynamic and loving practice taught by Irene Antón and more. At noon María Zannia inspired by Bernini, mother of his native Greece we will conquer with a vegetarian menu.
Afternoon Pilar Gala offers us to open ourselves to the awakening of the abundance by invoking to Lakshmi, Goddess of love, beauty and abundance.
Price: 60 € workshops and food included. All levels welcome.
Reserve your place: T 670967968 676300162 irene@yogadurga.es /info.shriyogastudio@gmail.com
Where: Finca El reflection in Aldea del Fresno (Madrid)
More information: http://www.elreflejo.es/
Convert in the Basilica of the Pi of Ravi Ramoneda
A year after the emotional concert of Ravi Ramoneda in the Basilica del Pi in Barcelona, in which he stroked us soul gathering a team of musicians that had shared the path over the past years in the different stages of his versatile musical career and hosted more than 600 people, is back with a proposal that is more mature and deep.
Now, after expanding its message throughout the year by South America and Europe, and more consolidated as a group with Tara Walsh and Rafa Martínez, with his latest album, Joan Miró, producer and brilliant special collaborations with Maria Pace and Gonzalo Abarca again to accompany us through the sacred chant to a deep and intimate journey to the heart. In addition, enjoy an exceptional opening with Farran Sylvan James and David Sitges Sarda, the group "Bird Spirid", presenting exclusive parts of their new album. Look forward with enthusiasm to come to form part of this magic and powerful experience.
It organizes: Prana Ananda & Batec
Contact: batec.comunicacion@gmail.com / T 670 059 477-629 144 297
Where: Basilica of Santa Maria of the Pi. Placa del Pi (Barcelona)
Buy the ticket here.
Concert vibrational sound bath
Transformative experience, harmonize your body, mind and spirit. Experiencing the power of the vibration of the sound through the voice and various instruments: Gong, campaigns, bowls Tibetan, bowls of quartz, Shruti Box, Tam Drum, flute native, tambourine shamanic, stick of rain, tambourine oceanic.
Where: Center of Yoga Namaskar Av. of the father Piquer, 39 Madrid
More information: http://www.namaskarmadrid.es/
Workshop of Kundalini yoga
Kundalini Yoga is the art of stimulate, manage and direct your own energy, of experience that flow of energy inexhaustible, of being aware of your potential. Will work the stimulation, strengthening and cleaning of the organs related with the station of autumn: lungs, intestine thickness and skin.
Opening hours: 10:00-13:00 hrs
Contribution: €25 no is required previous experience
Contact: 944 41 83 93 t / info@kundaliniyogabilbao.com / T teacher: 650-481-845 (Hari Atma Singh)
Where: C / hurtado de Amezaga, 27 - 2º Bilbao
More information: http://kundaliniyogabilbao.com/
Start annual course of Vedanta
It course regular of Vedanta is a program full that combines classes online weekly during 12 months and meetings face-to-face where the student can expose is to the knowledge traditional of them vedas, the recitation of mantras, the philosophy and the style of life of the yoga, the meditation, the language Sanskrit and them ritual Vedic. Online and meetings face-to-face.
He gives: Oscar Montero. See Video
More information: http://vedanta.academy/curso-anual-de-vedanta/
Workshop the woman and those centers Lunar
24 and 25 in October. Istri Chand is a workshop for women, about the Lunar centers, woman's cycle taught by Yogi Bhajan in Kundalini Yoga techniques. The ancient wisdom Yoga teaches that a woman has 11 centres Lunar, that are located in different parts of the body and related with qualities and emotions specific.
During the workshop we will work with them centers Lunar, from the space theoretical until the part more practice through kriyas and meditations of kundalini yoga; In addition, spaces of self-observation and creativity.
It teaches: Jai Hari Kaur
Price: €100.
Contact: Lola houses T 626 731 952 / 659 47 95 60
Where: Cartagena (Murcia)
Sunday 25 of October
Inside the libertarian naturalistic days yoga workshop
He man as part entirely, of the cosmos, of the nature, experience changes depending on the station of the year that is found. Propose a session of asanas and pranayama designed to balance the body and your emotions in this time of the year. Aid for the renovation, the internalization and rooting.
It teaches: Alicia Velasco, yoga teacher
Where: Street Add. Madrid
More information: https://asamlibertariacarabanchel.wordpress.com
Start of Integral Yoga teacher training
A complete training as teacher / to of Yoga Integral that is developed in two years, with a total of 450 hours teaching face-to-face. A training integrated and deep that promotes it improves and promotes the self-realization of the future teacher / to, facilitating that exit the master that each one carries inside. This training is recognized by the Asociación de Profesores de Yoga Integral, which regulates the professional teaching of the Integral Yoga, which is integrated into FEDEFY (Spanish Federation of Yoga schools-forming).
The training complies with it provisions in the Real Decree 1034 / 2011 that regulates the qualification professional as teacher of Yoga. Also complies with the provisions of the Royal Decree 1076 / 2012-13 July regulating the certification of professionalism of instruction of Yoga.
Contact: T 948 05 07 05-650 060 065
Where: Center Setnamasol. C / battle of Belchite 5, area delights. Madrid
More information: http://escuelamahashakti.com/