Book / the heart of the Yoga Sutras
Esta guía esencial de la filosofía del yoga es el testamento espiritual de uno de los más grandes maestros del yoga. Una obra ineludible tanto para practicantes de yoga como interesados en la espiritualidad hindú. Traducción de Elsa Gómez. Edita Kairós. Precio: 20 €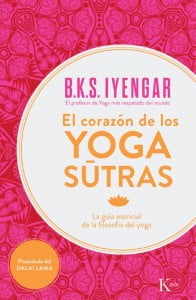 The heart of the Yoga Sutras It is a study of the philosophical essence of yoga: the Yoga Sutras of Patañjali, 196 aforismos, concisos e ilustrativos, que constituyen el fundamento de la ancestral filosofía del yoga. El maestro Iyengar it accompanies them brilliant comments and explanations so that the reader and the writer modern understand to what extent the practice of yoga can transform the mind, body and spirit.
Esta magnífica introducción a la filosofía espiritual, fundamento de la práctica yóguica, es una guía completa e instructiva, útil tanto para los neófitos como para los profesores de yoga.
The author
B.K.S. Iyengarr ha sido durante décadas el profesor de yoga más respetado del mundo. Se le reconoce como el hombre que más hizo por introducir el yoga en Occidente, y su enseñanza ha tenido una influencia decisiva en el mundo entero durante años. Es autor, entre muchos otros títulos, de Luz sobre el Yoga, El árbol de Yoga, Luz sobre los Yoga-Sûtras de Patañjali o Luz sobre la Vida.