Interview with Swami Gyan Dharma: "your life is your practice"
It would love to conocierais to this great nomadic Yogi, who has traveled the world teaching yoga. That you preguntarais for his life at the ashram by Satyananda, by that India wild before the start to Westernize, by how he sees it the way. And above all, that you feel his presence. Interview Eva Espeita (Swamini Radhananda).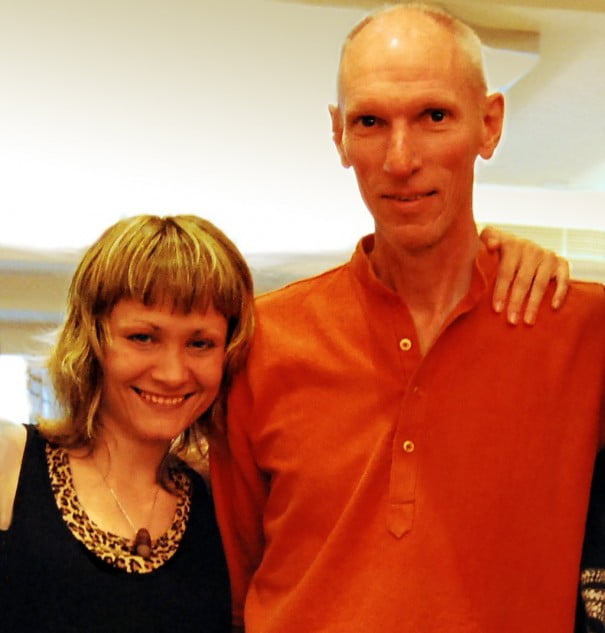 I met to Swami Gyan Dharma on a long trip to China where we were invited to teach yoga. Lived many hours with it in airports, planes, cars, boats, hotels... and finally in the yoga retreat that we should go together. It was a pleasure to share life with him during those weeks and listen to their silence and their words which taught me many important things.
Swami Gyan Dharma, born in Denmark, is a direct disciple of Swami Satyananda, that convivo with him many years. It is a great friend of Swami Nishchalananda and Swami Muktidharma, also disciples direct of Satyananda and great disseminator of this tradition in the West.
Born in Copenhagen (Denmark), Gyan Dharma introduced in the practice of yoga at the age of 23. Two years later, at the end of the 1970s, he went to live in India with his teacher Swami Satyananda Saraswati and already never returned to their country of origin. During the following ten years, he lived in his ashram, the Bihar School of Yoga (Munger), which was initiated by the own Satyananda, in 1984, in the tradition of Sannyas. Since the withdrawal of Satyananda to Rikhia, abandoned Munger and spent many years traveling and practicing yoga in India, especially at the foot of the Himalayas.
In the first three years after his return to Europe, Gyan Dharma divided her time between living in a cave on the Greek island of Crete and teach yoga for the continent. The next fifteen years were spent retired in Spain, practicing an extensive set of yogic sadhanas. In 2005, he left Spain, from which has been teaching yoga in different parts of the world, including the direction of the ashram of Swami Nischalananda (Mandala Yoga Ashram), Wales (United Kingdom) and the Ashram of Swami Muktidharma (Anahata Yoga Retreat), in New Zealand.
If you had to sum it up in a few words, what is for you the fundamental teaching of yoga?
The main objective of the teachings of the yoga is to lead us to the understanding that life is good as it is, showing us that happiness and fullness are not anywhere else or at another time. Our life is our practice, and all we need for our spiritual growth is always here with us, every step of the way.
About ten years you lived with Swami Satyananda in the ashram of the Bihar School of Yoga. Could you tell us something about it?, what it was like in person?, how was his way of conveying the yoga?
During the years that I lived in the BSY, Swami Satyananda was to most of us as a paternal figure. At that time, he was at the head of a rather large 'family', comprising between 40 and 50 swamis, as well as other residents through most of the 1980s.
Satyananda was a kind and tolerant man, but at the same time with a fairly strict discipline, a little military. Always had a great love emanating from it, and that's what kept us so long there to most of us.
He had a unique ability to encourage us to face and transcend the difficulties of life and of our minds, he was always willing to support us when we were struggling to overcome our old and deep-rooted mental and emotional patterns. His energy and wisdom working in a mysterious way; your energy levels in his presence seemed to increase, your mind became clear and, little by little, through the process of living in your company, your own inherent wisdom began to grow and flourish.
Could you talk of ashram life is like and the sense for you?
Life ashram with your guru is a great blessing, has an immense beauty, and there is many things that can be compared to it. The ashram is a place where the entire life is directed towards the spiritual realization. Don't have to worry about anything except by paying attention to your growth process. A unique opportunity to consciously work the process of spiritual evolution is, therefore.
Of course, every day you have your daily tasks, but Karma Yoga at the ashram is a joyful activity, and connects you with great force, in a spiritual sense, with all the life that surrounds you, constantly forces you to stay in the present moment, and thus encourages you to take things as they are. Karma Yoga helps us to live in reality, rather than in fantasy.
Do differences you find between the operation and the environment of the Bihar School of Yoga when you lived in it for more than twenty years and its current drift?
I really don't know the current BSY. A long time ago that I'm not back there. My connection was with SW. Satyananda, and at the time they left I also I left. Since then, return incentives have never been very big for me.
When I lived in the BSY, the main practice was Karma Yoga. We were in full construction of the Ganga Dharshan Ashram, which was a very large project that occupied most of our time and energy. We used to work from sunrise to sunset, and at night colapsábamos of exhaustion. We used to go to bed at ten in the evening and then, three o'clock in the morning, we came back to back on its feet. We work, eat and sleep, often seven days a week, little by little, rolling back by exhaustion, our deepest karmas and samskaras.
Wisdom is a natural part of what we are; only our noisy minds prevent us from accessing this wisdom. Through Karma Yoga emotional and mental noise is calm, then we can begin to rely on our own inherent wisdom; This is what I experienced throughout those years living with my guru in the Bihar School of Yoga.
In the middle of may, in a forest of Gredos, you are going to co-direct with Swamini Radhananda a retreat called "Living in care". What will encourages you to carry out this withdrawal and what are you going to work on it?
I want to get to Spain, I have a strong connection to this land and their way of life, since I spent almost ten years living there. I am always happy to share the tradition of yoga, and for all those who come, it will be a good opportunity to get fully into the present moment, freeing itself from the past and the future for a few days, savoring the taste of the eternal time present, through the practice of asana, chant mantras and kirtan, meditation, satsang...
'Living in care' removal
When: from the 15 to the 18 de mayo
Where: The sky of the Vera)http://elcielodelavera.es/Llegar.htm)
–Teaching and complete stay from Thursday to Sunday (all inclusive): from €240 (for details consult Aushadhi School of Yoga)
-Full stay from Friday to Sunday (all inclusive): from €185 (for details consult Aushadhi School of Yoga)
Registration
Payment of the stay shall be paid directly in the heaven of La Vera, on arrival, Thursday 15 or may 16.
The payment of teaching: €150 from Thursday to Sunday or €125 Friday-domimgo (adding €15 more for external Aushadhi students) will be performed in cash in advance in Aushadhi, or by transfer (specifying name and concept well): or bank transfer to Eva Espeita left 1465 0100 92 2019973138 (before April 25)
The reservation data a: contacto@aushadhiyoga.com by specifying full name, email and phone.
Upon request, certificates of attendance will be awarded.
Organized by:
Aushadhi Yoga school
Paseo de las Delicias 47-51 (pedestrian passage) 915391669 - 615986339
28045 Madrid
More information: http://www.aushadhiyoga.com/