Pedagogy of the Yoga 3: the three levels of guidelines in yoga
When we perform our own practice or when we are in a class, whether individual or group, teachers give us guidelines to properly execute postures and exercises of breathing or concentration. Often the inexperienced teacher may be giving over guidelines or, perhaps, insufficient for the understanding of the exercise. By Julian Peragón (Arjuna).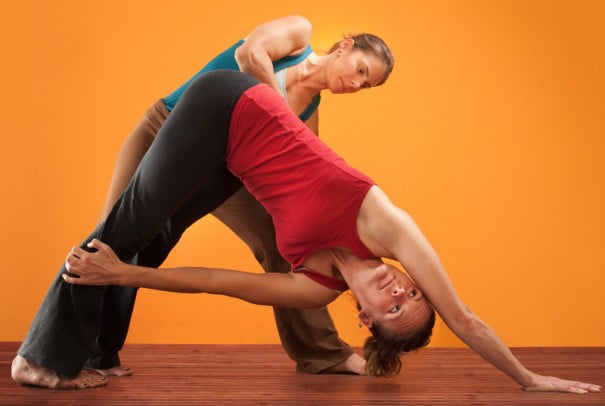 It is true that the guidelines have to adapt to the student's level, and should be progressive. Therefore, it is logical to think that first we should go by the postural patterns that ensure the stability of the position and slowly introduce other more subtle experience or the own mystique of yoga.
When we learned to drive, we first learned to coordinate with the corresponding reverse clutch. Later, over the years, the basic learning became a routine and many learned to enjoy driving. Different levels of guidelines will help us to this, that our work is increasingly more subtle and which help us to gain presence.
Postural patterns
Mark the first level of guidelines those basic guidelines which affect postural bases. They are collected with sufficient precision the points of posture, the basculaciones, projections and alignments. It is at all times that the different body segments are aligned so there is less suffering to level joint or muscle.
Also indicated here, if posture is made dynamically, the rhythm and the coordination of the movement with respiration. It is clear that there are positions of opening to inspiration and others closing favouring the exhalation.
Media regulators that adjust the position to our limits also require this type of precise guidelines to establish the position of solid form. These means regulators can be internal, our body's own as bend the legs or do an abduction with the pelvis, but also external, to properly handle the tape, pad, blanket or anything that we serve as a support for our practice.
As well as stability in the position we are looking for there is no locking points and energy and respiration to flow properly. When indicated as teachers we have to open the legs, turn the right foot 45 degree, climb on antepulsion arms to inspire and make a bending forward while keeping your back straight, for example, are guiding through these postural patterns so the person does not hurt and focuses on postural work.
Experience-based guidelines
If we merely left in postural patterns, yoga become a gymnastics, mild or intense, and benefits would go mainly to a healthy, physical level to the body. But we must not forget that in addition to body, we also have a mind.
Once we have the structure, there are now inhabit it, just as you would with a House: after the architect will have to come the Interior Designer. Once we are installed in the position we have to feel it, we have to listen to what happens inside of it. To give another example, one thing will be coming to forest through the indications that we have in the map and another, very different, feel forest, Breeze, the sounds, the light sifted through the leaves.
In this sense, the first thing we need to do are tours body to know where are the points of tension, the shortenings, insensitive areas, areas which do not "breathe" and spaces where energy does not flow. Through this deep listening we become surveyors that trace the map of tensions.
Este mapa es nuestra realidad, nos guste o no nos guste, y es a partir de ahí que podemos caminar con total seguridad. Las pautas vivenciales nos ayudan a reconocer esta realidad y a aceptarla. Nuestro cuerpo absorbe nuestras tensiones, somatizamos las emociones y nuestra fijaciones mentales. Como esponja el cuerpo absorbe pacientemente y se adapta pero reserva la tensión parcial excesiva que no puede liberar.
¿Qué podemos hacer? Podemos respirar nuestras tensiones, llevar amorosamente nuestra atención y sensibilizar aquellas zonas que hemos negado desde nuestra actitud. Podemos reconocer nuestros límites y dialogar con ellos sin empujarlos violentamente y sin huir pavorosamente. Nuestros limites nos enseñan mucho acerca de nosotros mismos; nos dicen, por ejemplo, que necesitamos protección pero que demasiada nos encarcela y apaga la pasión de vida que llevamos dentro.
Estas pautas vivenciales nos ayudan a sentir y permiten una relajación profunda. Las pautas posturales nos aleccionan sobre el buen hacer, en este caso sobre el cuerpo; éstas, más vivenciales, nos ayudan a comprender el no-hacer, a saber soltar, abandonar y entregarse. Son el yang y el yin de la vida, complementarias como son la actitud masculina y la femenina.
Cuando nosotros como profesores indicamos que hay que encontrar el equilibrio sthita-sukha, tal como rezan los Yogasûtras, We are developing this type of experiential patterns. Indicate a body tour, focus area to feel it, "breathe" the inherent pain of stretch, loosen a joint from the inside or relax the muscles not directly involved in the position will be guidelines to deepen this feel, in this new discovery of our body.
Patterns of significance
Well, now we need a leap of level, beyond the strictly postural and connect with the soul of yoga, whose main objective is the lifting of consciousness. The previous guidelines, the achievement of the structure and the increased sensitivity, are based on conquer more health and energy, on one side, and more listening and personal maturity, on the other. Here we must remember that we are body and mind, but also spirit. And that body-mind integration has to give way to a larger: the integration of the individual in all, call is what is called where, by the way, is the understanding that the "I" is wrapped in illusion.
All yoga, one way or another, looking for presence. La verdadera presencia es espacio luminoso de la conciencia, es decir, sin límite. Esa presencia es la abolición de toda dualidad, por eso cuando estamos en la postura, hay un momento para sentir que estamos en una postura pero que somos también el aire que nos roza, el sonido que reverbera, el espacio que nos contiene, la luz que nos alumbra. Todo forma parte de una rueda que gira y nosotros, el ser que somos, está al fondo, en quietud, sin alteración, viendo las formas que cambian que en este momento y se concretan en Uttanâsana o Sarvangâsana.
Just remember the gist, indicate that we must listen to the silence, to be present at every moment, feel the life and energy without having to conceptualize them with our thoughts. The Hindus say satcitananda; We, the expression of the self that we are.
Who is

Julián Peragón, Arjuna, formador of teachers, directs the school Yoga synthesis in Barcelona