Chair Yoga
Fortunately ancient yoga has survived to the present day because it has been adapted to each culture, age and needs. This flexibility in the adaptation and persistence in time are two treasures that we must not lose sight of in the world of yoga. Writes Julian Peragón Arjuna. Photo: Guirostudio.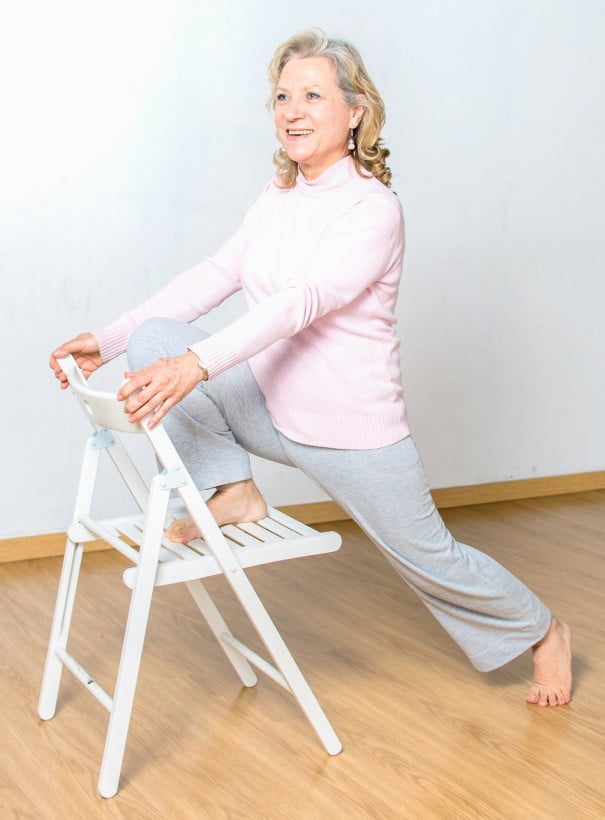 There cannot be an effective yoga there are no listening in depth about the limitations, bodily or mental, that we face, and if we didn't have the right tools to act on them. We could say that yoga is never an imposition of a technique but a regulation on that, anything we can do to move progressively towards a desirable end, without overexertion.
Still remember the time in which my mother, already major, needed an adapter to the toilet bowl, at the same time that my daughter, still small, his needed to sit and do your needs. We could say that in the immensity of life we need to be finding our place, our shape, our limit; in this way life is digested best. Yoga is a great method for live our lives with fewer limitations and better develop our potentialities. Chair yoga comes to give us support to facilitate our daily practice of yoga.
Everywhere Chair
A detail, almost without importance, which must be taken into account is that the Chair is something that we have close at hand in any home or office, and always find some kind of seat in public places. And this has a greater relevance of what we think because, in part, personal yoga practice usually fail because we do it in a given site from our home and also have to clear a space at home to place the mat, among other elements of family organization. On the other hand, the availability Chair is immediate, even often find yourself as sitting on it having some time ahead.
However, where Chair yoga becomes more and more necessary is to facilitate a broad position register to persons who by their physical limitations cannot do yoga lying on a mat. The vast majority of older people, people who have a disability in lower joint, or simply people with a spinal cord injury that go in a wheelchair, all of them require the proper support of a Chair.
Anatomical level, it should be remembered also that the position of sitting on the floor, with his legs crossed or stretched, it is not easy to the ordinary mortals. Our sedentary society, always well halucinating, has made us the posterior muscles of the legs, the hamstrings are, mostly, shortened. These prevent that the bones be placed vertical on the ground doing that the pelvis is in a position of abduction, i.e. doing belly is closed, preventing the proper expansion of the diaphragm. Almost never carry hip joint to the limit of its natural movement and tends, more and more, to suffer a retraction of the ligaments and suffer, ultimately, of osteoarthritis. With this I come to say that even for the vast majority of people, doing yoga in a wheelchair can be advantageous.
More accurate settings
Since the horizontal seat of a Chair is extraordinarily easy to find the vertical position by placing the bones of the pelvis properly seated on the seat. It is clear that we must work without support of the back on the backrest. From here, the movements of flexion and extension, lateral inclination and torsion of the spine, as well as the decompression of this are very easy to do without compromising the intervertebral disc. The girdle is free and the neck are good placement to make all movements that cervical tension release.
So far we have seen that we can do a yoga in easy chair for people with great difficulties, but we can also practice with the Chair even if you are already a regular practitioner for adjust accurately the movements of the asanas. And we might even add that the Chair can serve us as an element of intensification in certain advanced exercises yoga such as investments, the extensions column, twist, etc.
It seems that yoga practiced on a Chair distances us from the exotic image of Yogi on his tiger skin, but it is clear that these images are left unused and have increasingly less motivation ability. We need to find a Yoga for the 21st century not be an imitation of an ancient yoga but to add more and more possibilities of action to reach more people who still cannot be on a mat. Yoga, do not forget, also is compassion.
Who is

Julián Peragón, Arjuna, formador of teachers, directs the school Yoga synthesis in Barcelona