Stories to share: the light of being
Ramiro Calle shares his recent visit to the monastery of Silos, where he talked with the monk Víctor Márquez Pailos, practitioner, reader of his books and author of The holiness of everyday life and Conversations in Silos.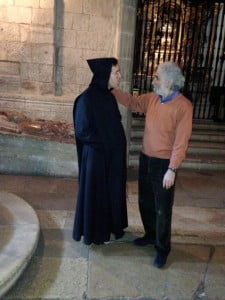 I want to share a story with the readers of Yoga network. In 1974 I went out through the streets of Madrid with a mobile unit national radio to go asking various pedestrians what was yoga. All were perplexed, as they had not ever heard that term. But behold, one of them, after hearing it, ventured to ask: "Does a soccer player?".
Since those times the yoga has been acquiring citizenship card across the West, where surely much more than is practiced in their country of origin: the India. Yoga is practiced in specialized centers, classrooms and centres for the elderly, schools, gyms and a long etcetera. It is appreciated and practiced by people of all professions: doctors, psychotherapists, musicians... and even religious.
And this is the case that I am telling you today. Promised you my good friend, monk of Silos for many years, Victor Marquez Pailos, take my hatha yoga DVD, as it comes practicing it years ago and has interest in deepening it. He is fascinated by my novel In search of the Fakir, and now it has begun to read another novel titled my The Yogi. We talked about all this on a sunny day. My advanced student and extraordinary friend Antonio García Martínez, Attorney and avid reader of psychological and spiritual issues has accompanied me.
We speak of the Excellencies of yoga and meditation. Victor gave us his newly published work, The holiness of everyday life. You already have other published works and myself prologué you Conversations in Silos, where has Jesús Fonseca as co-author. In this beautiful book, as indicated, the humble truths of a monk of Silos are collected.
I put to the current Victor how a table of asanas should be planned and that combinations are very numerous, so go noting what report you most. Certainly, in that place so silent and peaceful you can get all your strength inspiring yoga.
We also talked about the need, as we are told so many great Yogis and zen monks, go beyond ordinary thinking, of pure intellect, based on the suffocating dynamics of concepts, for connect with life itself without labels, judgments or useless rationalizations. In this sense how much introspection and meditation techniques can help us because, as the ancient yoga instruction: "When thought stops, turns the light of being".
Calle Ramiro