Take the position: tactical vinyasa
In the words of Edward Clark (Cirque du soleil of one man, founder of the shocking Tripsichore): "the essence of this generation of Yogis contribution is the vinyasa". Writes Robert Rodríguez Nogueira.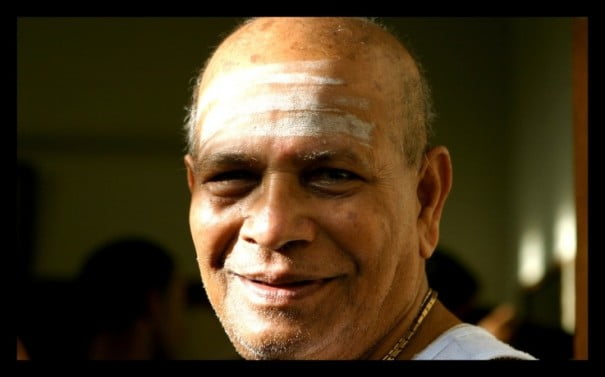 In the words of Galilean: "Eppur if muove": the Earth is not fixed in time and space." In the approximate words of someone I do not remember (Oscar Wilde?): "the best place is deadly if you remain in it long enough".
In yoga physical, vinyasa is the integration sensible of breathing and movement that builds and dissolves postures in a flow that can, or not, stop is (rather hold is) at some moments. "Choreography" can be synonymous with excellent.
Vinyasa, Pattabhi Jois, T. Krishnamacharya, Ashtanga vinyasa yoga. Immense, inseparable, names that I invite you to study in depth if you don't know them. Here I put this not step to what I want to happen, but you can not speak of vinyasa Ashtanga unsaid. Was there before the Ashtanga vinyasa? Of course. In the West also? Of course, but the Ashtanga Vinyasa is a system so deep at all levels, so exquisitely refined, so visually stunning, which prompted a revolution similar to that, with thorough yogic biomechanics, caused B.K.S. Iyengar Since the middle of the s. XX. Little people learn today a single posture classic, a single breath in which Iyengar not has state before days, months whole and not has squeezed and explained to the limit. And any vinyasa you learn will be soaked by the concepts developed by Ashtanga: breathing, eyes, internal control, technical correction, heat and a necessary order.
Iyengar and Ashtanga must not be mixed thoroughly because the result is the creation of a cruel, intolerable and physically destructive system for most. But the following generations are mixed things in a different way. I hope that not is anyone practicing "Ashtangar" as says the formidable David Swenson: the Ashtanga series with Iyengar alignment. That makes pupa.
Being a woman (if you are male) hurts
It can develop vinyasas with refined alignment to facilitate that Western student (distinct from the Eastern tradition: flexible and light Indian child of 12 years which stay celibate occupying his hands and his manas (mind) in alternative activities) provide a safe, challenging, intellectually brilliant, aesthetically beautiful, practical physiologically purificadora, physically invigorating... A workout that awakens the deeper sensitivity and calmness. There is a book by writing about the Western student of Yoga, which is woman or is going to be it.
Put a point and apart because the phrase above me has been of anthology. I'm even going to put another.
And it is that it is true. Ved to Meghan Currie in any of your wonderful videos of vinyasa yoga. If you are a man and try to imitate it you'll discover that being a woman (if you're a man) hurts. The men have one greater muscular endurance, which endangers more joints in radical manipulations. Lift weights to the gross doesn't hurt to the weights, but pull toe toe to rise, straight leg, up to the height of the eyes... If done to the gross can damage anything to the length and breadth of the whole body. The girls also, but being able to exert less pressure on the joints and having to overcome less resistance, and (usually) having more flexibility and less need to be the strongest man of the class, risk less... usually... (despite what many believe, the burreria is not a male privilege).
Said my Secretary Gertrudis Soldevilla in a previous article: "Pull the eggs to be like flowers". I think it is the best way to explain to a man the internal control of the body, and the proper mental and emotional attitude while he practiced vinyasa yoga. Years ago I read - Gertru also, I suspect - an article of Richard Freeman that it pointed in your style poetic and accurate, although to the translate the idea main to the Spanish loses both things: "not grabbing the cocoon with the fist closed" (as translator of images sublime give disgust, except to Gorka, of another article). It referred to that no one seizes a tender flower by Corolla but the stem, and gentle. You must not print excessive pressure in the mobile body points because the liberating alignment happens to be exactly the opposite.
"What is not seen is more important that what you see")David Williams, "the first original one westerner ashtanga Yogi"(, in Spanish, the fucking master). The vinyasa starts before, or better, inside, of what you see in the video or to your Professor, and never is aggressive. Vinyasa, rather than go towards, is more "go from inside to inside". Although you see movement in space. Sensitivity. Sensitivity. Sensitivity. Then sensitivity, then accurate and beautiful technique. And of course sensitive.
Conclusion: the vinyasa is the womanly art of "flowing with grace", as noted John Friend, another of my heroes, in developing the exquisite Anusara Yoga. And grace, as its name suggests, is the opposite of getting bored.
Soon we will show a simple vinyasa well-known and used which will be these ideas in action. Gertrude will help me with his refined sensibility to clarify things by giving the exact female point.
Who is

Roberto Rodríguez Nogueira teaches yoga, blogger and writer.

http://yogavalladolid.neositios.com/
Did you like this article?
Subscribe to our RSS so you don't miss anything