FisiomYoga 9/ The Tulip posture
Esta sección, FisiomYoga, une la práctica de yoga con la fisioterapia y la osteopatía. En esta entrega os proponemos el Tulipán, que nos ayuda a corregir la hipercifosis y dolor de espalda.
They write Or Haleluiya and Alex Monastery.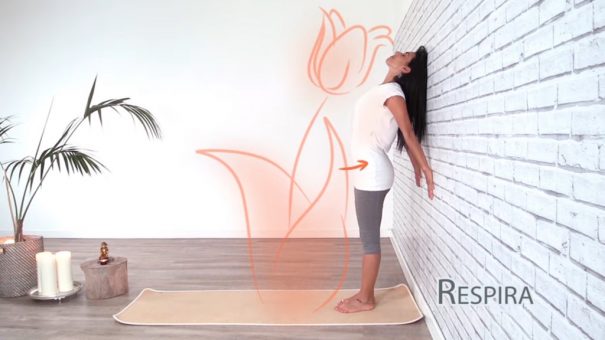 How many of us or our students lead a sedentary life with shoulders down forward y con una flexión de la columna torácica? Lo típico que nos suelen decir es que tenemos que tener la columna recta o tonificar la espalada. Pero ¿es eso verdad?
Pregúntate honestamente, ¿qué es lo que te lleva a colapsar la columna hacia adelante? ¿El cansancio? ¿Falta de conocimiento de cómo colocarte? Igual, ni te das cuenta de que lo haces… ¿Te gustaría transformar este hábito?
Si tu respuesta es sí, primero te recomendaríamos responder a la primera pregunta: ¿qué te llevó a tomar esa postura de ir inclinado/a hacia delante?
¿Hay alguna cuestión psicológica, una cuestión de autoestima o inseguridad? Igual eres más alto o alta que la mayoría en la zona donde vives y no quieres sobresalir, o posiblemente no ves muy bien y te acercas para poder ver mejor…
Es altamente recomendable saber cuáles son las razones que juegan un papel en esta actitud, ya que esta alineación es un síntoma, y la manera más segura de mejorarla es atender a sus causas.
El siguiente ejercicio te ayudará a crear una extensión de columna sin forzar la espalda. Es un ejercicio recomendado para discopatías, rectificación lumbar y cervical.
Get ready
Ponte de pie con la espalda a la pared en una distancia que te permita, con la extensión de la columna, apoyar las palmas de las manos y la parte posterior del cráneo sobre la pared.
Hold you
Nota la fuerza y firmeza de tus piernas sin añadir tono a la contracción muscular de las piernas, sin ponerlas más tensas.
Extend yourself
Alarga la columna hacia el cielo, no tengas prisa en ir hacia atrás; esta acción es secundaría y la ejecutamos sólo cuando no hay ninguna sintomatología ni incomodidad.
Cuando notes que ya estés extendiendo la columna tanto que las palmas de las manos toquen la pared, es cuando puedes apoyar la cabeza sobre ésta.
Take a breath
Inhala profundamente unas tres respiraciones hacia los pectorales. Son unos de los músculos que más estamos estirando en esta posición.
También puedes inhalar tres respiraciones profundas en la zona entre las escapulas, la parte posterior del corazón, y así relajar los romboides y el trapecio medio.
Por último, permítete exhalar con mucha profundidad para así estirar un poco más los escalenos.
FisiomYoga es una disciplina destinada a coordinar el yoga con el mundo sanitario en el que, además de obtener mayores beneficios físicos para el practicante, potencia los dos sectores. Más información: https://yoga-terapeutico.com/