Is the teaching of Yoga being undermined?
As a teacher of this discipline for almost 25 years now, this is an issue that concerns me. The growth of yoga teaching in schools, gyms, cultural centers and the exorbitant increase of teachers would initially seem like a good breakthrough, "yoga for all". But it's not exactly like that. Writes Olga Jimenez.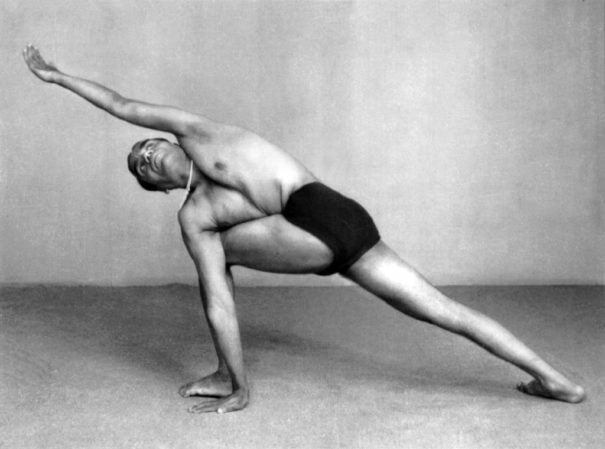 Pictured, Master B. K. S. Iyengar
I was a few days ago writing the article Calle Ramiro and his reflection on the article Pepa Castro, both committed and concerned about this issue. Both articles with titles very appropriate for the situation we are living in today: "There's yoga and there's sauce but no sauce-yoga" and "Yoga, gyms and open bar", and the two agree on this necessary criticism of the degeneration of the Patanjali yoga, traditional Indian yoga, understood as science and philosophy.
And my opinion also matches them: this is getting out of hand.
But if I write this little article it's because I always like to give one more twist.
When we look at the work of Asanas (postures), it is essential to remember that it belongs to Asthanga Yoga. That direct work on the body has always existed in this philosophy: wanting to reach our ligaments, joints, unlock the different areas... all of that falls within this millennial practice.
The inside photo
How to judge if the person in the photo does yoga or mere contortionism?
Well, here I will write a beautiful teaching I learned in Pune, India, from Prashant Iyengar, Son of a B. K. S. Iyengar. He was talking to us in the two-camera class when it comes to practice. We have the photo outside: the shape of the posture, its external appearance; and we have the picture inside: our state of mind, our inner attitude. Prashant regularly made us see his father's photos hanging in the room. Did you look his expression in the face? Both photos are important. You can't despise the work of the body, as you can't despise inner work, of searching, of advancing in calm and relaxation.
Sometimes I'm shown or told by students about photographs of people doing yoga. There are very obvious cases in which the person shows a face under tension clear or completely unwrapped bodies, where we can see that internal and external work are very poor. But I usually say, "I don't know if you're doing yoga or not, I don't have the internal camera."
Living with students for so many years a day pits me into sometimes very sad situations. The last one was to see how one of my students, wanting to have a degree to teach, decided to enter a course of certificate of professionalism. She told me how she sometimes came out of class, crying helplessly when she was subjected to a teacher with much inferior knowledge to her own, forced to follow instructions that aroused her inner rage. "Don't stretch, which is dangerous," his therapeutic Yoga "teacher" repeated again and again.
These and many other situations lead me today to decide to participate in a preformation course the hand of Julio Gallego, senior teacher of this system.
Preformation Course and... Farewell
Yoga, from my point of view, must end solitaryly. Es muy personal, y cada uno se enfrenta a su luces y sombras internas, en cuyas profundidades debemos bucear. Suelo pedir a mis alumnos, después de años de asistencia a clase, que se marchen, siempre desde el cariño.
But I also ask you to lock yell sit in your rooms and discover the value of that yoga in which you are alone or alone with yourself, with your breath and inside you, where the internal and external cameras are just for you, where there are no spectators.
From my humble experience, I believe that that's where real yoga begins, the real inner path. But to get there you need a correct guidance from a teacher with extensive experience, to know the sequences, the practice times and the healthy, physical and mental adjustments. It takes a lot of pre-study to walk alone, you need to read a lot.
I always ask my students to read: yoga has texts, which are the fundamental guides of this discipline, texts in which we must also immerse ourselves. Without this knowledge we are lost in the world of the senses.
Today there are even teacher training courses where it is decided in the syllabus dispensing with the ethical and moral aspects of this teaching, dispensing with the roots that underpin the system itself. How can practitioners not be lost without the foundation?
Yoga has a practical part that must be worked on daily and a theoretical aspect that we must study to imbue ourselves with its philosophy. Without this combination yoga comes to the West as if it were a stick, an ornament; it becomes a nice eye-catching bond that ultimately only serves as a claim in advertisements.
Olga Jimenez she is co-director of the EYI (Iyengar Madrid-Aravaca Yoga School)

He recently published with Ediciones Mandala the book Connected (Ed. Mandala)

It will begin in February a Pre-training of Yoga Teachers Iyengar.

More information: https://yogaiyengararavaca.wixsite.com/valdemarin/taller-de-practica-personal