Interview with Tomás Zorzo: "The mission of a yoga teacher is not to heal but to help healing"
One of the most tanned and brilliant yogis in the country, he was the first and only Spanish certified teacher of Ashtanga until he felt the call of a more holistic and conciliatory yoga for the integral health of all people. Today he tells us how he sees the transformation of yoga and about his own evolution as a teacher. It's a YogaenRed interview.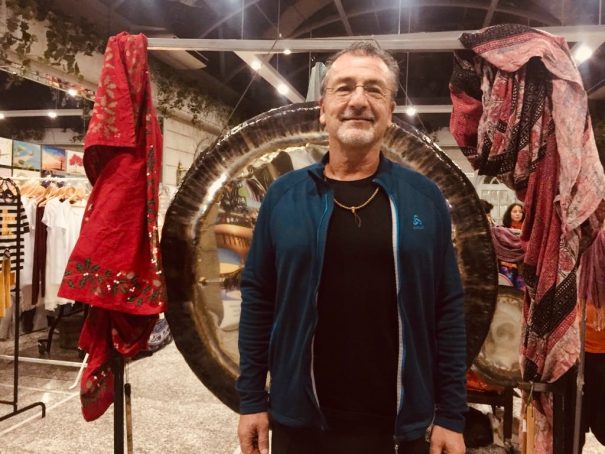 Summarize the biography of Tomas Zorzo (Rama) it's not easy (you can read it in full Here), but to get an idea of his specific weight in yoga, it would suffice to say that he has been dedicated to the transmission of yoga for more than 40 years and that he learned with the best teachers.
He was a student of Swami Visnhudevananda, Ambu (Aurobindo Ashram), Pattabhi Jois (first Spanish certificate and pioneer in the introduction of Ashtanga Yoga in Spain). Later dazzled by the teachings of Krishnamacharya studied with B. K. S. Iyengar, T. K. V. Desikachar, A. G. Mohan... And also Ramesh Balsekar, Father Bede Griffiths, Osho, among others.
He founded the Ashtanga Yoga Center in Oviedo more than 30 years ago, and is still very active today teaching courses and workshops both in Spain and internationally (Europe, India, Australia...) and combining different yoga techniques.
We spoke to Thomas Zorzo during the celebration of the Madrid Yoga Congress, in which he offered a beautiful workshop on 'The role of breathing in asana to achieve physical and psychological well-being'.
Q. From your veteran's point of view in teaching yoga, how do you see its evolution?
A. There's a fantastic book, Zen Mind, Beginner's Mind, where the author, Shunryu Suzuki, says that the Zen mind, which is the mind of yoga, you have it when you are in a beginner state... Of course, at first yoga was something to discover, there was a lot of resistance on the part of society to know it, to facilitate it, and it was almost considered that those who practiced yoga were a sect. But at the same time we had an attitude of discovery and it was all very innocent. Society has changed and has also lost all that innocence because there is a lot of information. And sometimes we confuse information with knowledge. But yoga has to do with knowledge, in the sense of knowing and discovering the Being and being more Being.
Now everything has become crowded and you can accumulate a lot of information and not reach anything in the field of knowledge. Yoga has to do with this awareness of being, of settling in your center, in your Being, and that must be done in a spirit of innocence. Without innocence, there is no knowledge.
P. ¿Se podría decir, entonces, que al popularizarse tanto el yoga se está desvirtuando y está perdiendo su esencia, o esto sería exagerado?
A. That is part of how society evolves, in a very materialistic way; everything is the market, everything becomes money. I remember when I went to India, to the Ashrams, they never asked you for money, it was a donation; this has changed, they already ask you for money even there. And that is a reflection of how society has become a market, everything becomes a product and is sold. That's where the fall is.
But there are always people... Now, at least that's my role as a teacher, we must try to spread yoga from a more transformative vision, because yoga in addition to a physical component also has a very important psychological and emotional component. There are other tools that need to be worked on, and that are even physically, for the healing of these other internal systems. In that sense the vision I propose about yoga is more holistic.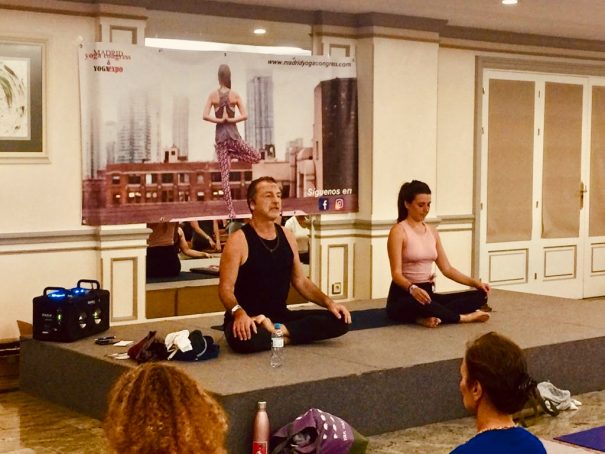 Q. You focus yoga around sanction, therapy. However, there are schools that deny that therapeutic purposes have never been on the primary goal of yoga... how do you understand that debate?
A. Yoga is health, what happens is that the concept of health we have conceived it only in relation to the body. The word "health" in Sanskrit is svastha, which means being in itself, in being. While we are not in contact with being, we are sick in some way, we are fragmented, disintegrated. Yoga has to do with health in the sense that health starts from being integrated, harmonized in all the planes that we are: physical, vital, emotional, mental, spiritual. All of this has to be integrated and unified around a center. If we are fragmented, we are sick; maybe not in our body, at the moment, but all that fragmentation that we have on the psychological plane is going to have an impact sooner or later on our physiology. Serious illnesses start with these disorders, many with a very strong emotional component.
Q. Do you therefore consider yourself a therapist?
A. Yes and no. Not in the concept of therapist we have here in the West. What one of my teachers taught me is that a teacher's mission is not to cure but to help the sanctioning processes. So, you're not a therapist because you're not going to work with specific diseases; you're going to help improve, in a way, the health of the person.
Q. What is your current assessment of your work? What continues to motivate you to continue this process of teaching yoga after 40 years?
A. For me, it is this process of seeing yoga from a very holistic perspective on myself; that is, working, knowing me and performing motivates me to keep working. And from that space that I discover in myself, share, help others. It's important to me how I can contribute to society. I've been a yoga teacher all my life, I don't know how to do many more things.... That's my contribution.
Q. You had good examples, because you studied alongside the most renowned teachers.
A. Yes, I've been lucky enough to study with the best teachers. My first teacher was Vishnudevananda, then Ambu, instructor teacher in the Sri Aurobindo ashram, who gave me a very special light. And then, at 25, I met Pattaby Jois, we were three students alone, until I realized that Ashtanga yoga wasn't for everyone, and I was interested that yoga was for all the stages of life. Krishnamacharya fascinated me, and I wanted to study with all his disciples, so I studied with his son Desikachar, Iyengar, Mohan... I also met Osho... Later in the West there were people who on another level discovered many things that interested me, such as Wilhem Reich or Alexandre Lowen, energy biotherapy, gestaldt, all personal development... He was a seeker, and I still am.