Vegetarian recipes / Ratatouille tart
Esta masa puede servir para rellenarla con cualquier verdura. Es una receta ideal para utilizar verduras que nos quedan en la nevera y hay que consumir rápido. Puedes aderezar las verduras con tomilo, orégano,etc. E
scribe, comparte y cocina Gauri, profesora de Cocina Vegetariana del Centro Sivananda de Madrid y del centro afiliado Sivananda Vedanta de Granada.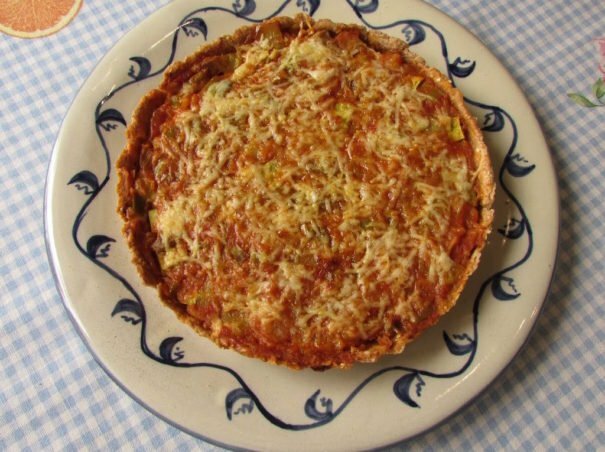 Esta receta la hemos hecho con un pisto que sobró al mediodía y nos ha servido de cena. Se puede tomar caliente o a temperatura ambiente.
Ingredients: 4-6 personas
Para la base:
200 g de harina de trigo integral

8 cucharadas soperas de agua

6 cucharadas soperas de aceite de oliva virgen extra

1 teaspoon salt
Preparation:
En un bol mezclar la harina y la sal, hacer un hueco en el centro y añadir el resto de los ingredientes. Mezclar con la punta de los dedos todos los ingredientes y cuando estén mezclados formar una bola de masa que no se trabajará mucho.Dejar reposar en la nevera durante ½ hora.

Colocar la masa entre dos papeles de horno y extenderla con un rodillo en forma circular para un molde de 25 cm de diámetro. Tiene que quedar fina.

Precalentar el horno a 200 º untar ligeramente el molde con aceite y poner la masa cubriendo el molde, pinchar la base con un tenedor y cocerla sola durante 10 minutos.

Sacar la base del horno y rellenar con el pisto. Puedes poner por encima queso rallado o levadura de cerveza mezclada con anacardos picados, rociar con un poco de aceite de oliva.

Meter en el horno, de nuevo, durante 20 minutos más.
Para el pisto:
1 rama de apio picado fino

1 pimiento verde en cuadraditos

1 berenjena y 1 calabacín cortados en cuadraditos

1 tomate picado sin piel ni pepitas

2 cucharadas soperas de aceite de oliva virgen extra

1 chile

½ teaspoon turmeric
½ TSP cumin

4 cucharadas soperas de tomate frito

1 teaspoon salt
Preparation:
En una sartén poner el aceite y sofreír, el chile, el apio y el pimiento, cuando se pochen, añadir la cúrcuma y el comino sofreír ½ minuto. Y a continuación añadir el tomate.

Cuando se haya hecho salsa el tomate, retirar el chile y añadir la berenjena y el calabacín y la sal. Tapar y dejar que se cocine en su propio jugo durante 20 minutos aproximadamente, removiendo de vez en cuando.

Antes de retirar del fuego, añadir la salsa de tomate y cocinar 5 minutos más.
Leles Gauri es profesora formada en la Escuela de Yoga Sivananda Vedanta y da clases en el centro Yoga Sivananda Vedanta Granada-afiliado.
T 660-288-571.

She is creator of the blog We eat to live.