Interview with Gopala: "Teach yoga in the Chamber of Deputies"
Can it be direct disciple of Swami Vishnudevananda, yoga teacher and Manager of the General Council of the judiciary? Yes, you can. We speak of Gopala, who if not. And he tells us, at last, from where came the audacity to offer courses of yoga among the judges and magistrates. It is an interview YogaenRed.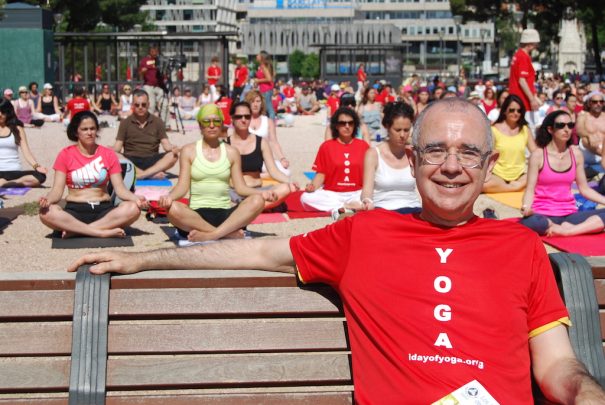 Photo YogaenRed®
It may be one of the Yogis, best known in the country, his tireless desire to share, because it is missing any encounter plural yoquico that is held at any point of Spain on behalf of the Sivananda school, and, of course, by your profile open and multifaceted.
Charismatic Professor of the Sivananda centers, was a direct disciple of Swami Vishnudevananda Since 1975; Law degree, later lawyer of the Court of Auditors and currently Manager of the General Council of the power; and, more recently, author of poems The night is worth it and admirer of poets Mystics like Rumi or Kabir in his singing in the silent and dazzling light of life.
Who is really José María Márquez Gopala?
I dive in the pool: Gopala is basically a search engine, and perhaps also a small Finder. Not perhaps of that definitive that we yearn for the search engines, that encounter with divinity all of us. But in the natural clumsiness that has accompanied me always as a human being, I have found an equilibrium point, a small Center that combines a professional job in the public service as Manager of the Council General of the Judicial power (CGPJ) with yoga that has accompanied me always.
In the year 74-75 I met Swami Vishnudevananda, and it made me fall in love with the condition of Finder, the sadhaka I think that we should have all the Yogis. Then, when I finished my law studies, I met two paths: one as a lawyer, and another in the practice of yoga. One day I was encouraged to try to incorporate the experience of yoga in the professional world, in some law firms of lawyers and judges and magistrates, which has emerged a very nice project...
But, in addition, meditation and silence was born to share poetry. It is not that you meditate to make poetry, but poetry is created from my perspective on search engine.
You've achieved something quite amazing, and it is in your work in the General Council of power Judicial not only respect your commitment to yoga, but it over you've got that judges and magistrates are pointing to your courses and yoga workshops.
I've always believed that the great masters, when you try them, look within you. I am sure that Swami Vishnudevananda saw in me and gave me a dream, that I not I knew at the beginning to understand. I then, with 18 or 19 years old, was studying law and SWami said to me: "you will teach yoga to lawyers (in the broad sense, lawyers)". That sounded very lunatic. Over time I started to work on the Court of Auditors and also to teach yoga at the Sivananda school, which was a beautiful learning. Twenty years later, it appeared in me that phrase from my master as if it were a bright ad. And then I understood it: I had to take a leap and not only share the yoga at the Sivananda centers but also in the professional level.
So I started to create the Protocol to teach yoga to people who were in my professional environments. Like everything else, at the beginning was a Carom: a friend invited me to teach a government procurement in a master of human resource administrators, but I asked her to change to let me two hours to teach them to breathe. I knew I had to Swami Vishnudevananda supporting me even though I had already gone to other lives. It was, and went so well that I again call.
What is the format of the courses?
I always make them using the Chair, never lying. I teach all those with jacket and tie, because it is incorporate this practice into the workday. I created a protocol which, as explained, was inspired by what I learned from Swami Vishnudevanda while adapted to the position of sitting in a Chair or standing.
How you dares to create yoga courses directly to the judges?
I think that What characterizes a Yogi is one day to lose fear and begins a daring stage of his life that dares to make challenges in which believes. So I thought of imparting courses of yoga techniques to cope with the stress in the Judicial School, an organ of the CGPJ where I had obviously easy access also. That institution is where judges in practices that have passed their opposition are prepared, shaped them on legal issues and on most social issues.
The judges, excellent workers, are prone to intellectual fatigue because your work is very demanding mentally, since they spend their lives resolving conflicts between people. For this reason, they need tools to resist. And that was my proposal in the Judicial School test module... I knew that Swami Vishnudevananda was going to be blowing in all the workshops. And what happened? That class was filled.
These courses were gradually growing to the point that is incorporated as a part of the compulsory draft that judges have when they enter into the Judicial School: the use of yoga as a technique to control your own levels of stress is already a subject in eight-hour teaching workshop format. I give classes to all new developments, and we have been about six years to do so. This means that the judges are the only career in Spain that its mandatory training programme have yoga and meditation, silence, concentration, asanas.
And you've continued to spread the courses...
Yes, another format is in the continuous training of judges, magistrates and justices of the Supreme Court, the three categories the judicial career. You are offered the possibility of these workshops in different modules, ranging from 4 to 9 hours of work. No longer have to "sell product" but that simply training specialists I booked courses, where about 1,700 judges, magistrates and justices of the Supreme Court, of the 5,500 that exist in Spain have passed.
What they most like or more benefits to these judges and magistrates?
First, disconnect. The judge is a person who has a very intellectual, very mental work as it spends ten hours a day resolving conflicts. The first thing I ask is that they close their eyes and breathe consciously (which I have to say that it is not easy for people are not accustomed to this type of action), sitting in the Chair, back straight, feet together, to achieve a first level of body awareness. I thus leads to an experience of relaxation, but explain the theoretical process. Then we entered a small group dynamics to identify stress in each, but more as a play on words which as an analysis, and continue with a body sequence as asanas of flexion, extension, rotation, tilt, traction... all in a wheelchair. We work with eyes, neck, shoulder blades... As they are people who are so accustomed only to the intellectual work, you have to take them to another more playful, almost of game space, so that they can disconnect. And they do it very well, they lose the fear to leave aside intellect, like them, you make them play and smile.
The second part of these workshops are classic visualization exercises to improve concentration. So I'll slowly introducing them in the world of meditation. It is not that we make a practice of meditation as such, but that they enter this experience in an indirect way, through the display and silence; I leave many minutes in silence... With meditation you have to be careful because there are still people who associated with a religious practice meditation.
The third part of the course are breathing exercises already more specifically, even if they have already worked four hours before. We see conscious breathing, the use of the two nostrils, retention...
He is that you've been a pioneer leading the mindfulness techniques to the world of the judiciary...
The truth is that I do not feel pioneering anything. Be yoga, an ancient technique, pioneered is absurd. I am a Yogi who has colored a part of yoga to offer it in an environment of comprehensible with the inspiration of Swami Vishnudevananda.
Do you do yoga retreats for judges?
Well, is having a first approximations. As in any professional environment, it is very common to spend two or three days "retired" with professional issues, conferences, lectures, workshops... Already ten years ago they began to invite me to the judges and magistrates to this kind of encounters, but lately in Andalusia spent two days only to this activity of yoga, and it was nice because we had a lot of time to experiment and that they could immerse themselves more in the practices of breathing, the asanas... And always with the technique of the Chair...
What ever the Chair?
The special value of this work is that the Chair is the central element of all practices, and that has permeated both in the legal world. It is very simple and very effective practice. I think the main role of these workshops is that people who are subject to a wonderful for society and very demanding work are able to resolve their conflicts by means of silence.
Would you recommend it to politicians, to make it for example at the Congress of Deputies?
Since then that I would recommend it, and the day that I invite the Congress of deputies do these workshops, you would happy. But, well, although I am a Yogi and try to make that time is elastic, not give me more than doing poetry and continue sharing yoga at the Sivananda Center. Because more than teach is to share; the Yogis remain students of yoga life, very teacher that you have to keep practicing yoga in order to reach and awaken the hearts that are oppressed.