Yin Yoga, stretch and stillness
The practice of yin yoga is related to this Taoist vision of the world and with the division that this makes everything in yin/yang, and that energy transformation that occurs continuously. Writes Diego Borrego.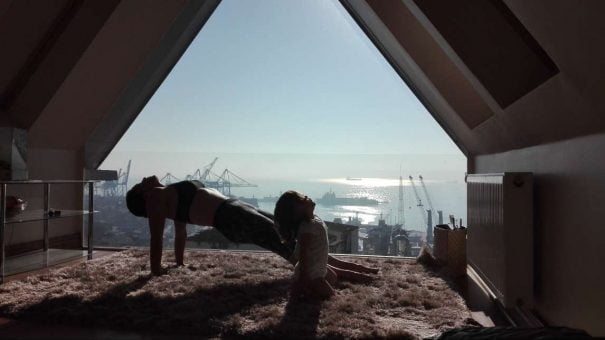 According to Taoism, everything in the universe is yin and yang, or put another way, everything is impregnated or yin energy or energy yang, that is changing in one direction or another; the day - more yang - gives way to the night - more yin-; -more yang - summer gives way to winter - more yin-; -more yang - childhood gives way to adulthood - more yin - etc. When this power shift is occurring a movement of qi - vital energy - in one or another direction. For anything to stay in harmony it needs a balance between these two elements, which although opposites are complementary.
The Yin yoga It is based on a position between 3 and 6 minutes maintenance and in an attempt to work from disabling muscular and stretch. It is clear that this does not present within the world of nothing new yogic practice, although perhaps Yes does its staging, and how to work it if compared with the majority practices occurring in the West today. We need this new staging is basic, but not limited to, a Paul Grilley. This American Yogi has worked, among other disciplines, Taoist yoga and through its experience in practice created this combination between the Indian and Chinese, which has been finally called yin yoga.
For a better presentation and understanding of yin practice attached a very schematic way, and underinsured, the differences that are established between what is yin and yang, or put another way, what would be dominated by one kind or another which is of in aergia.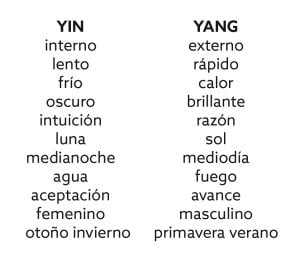 The need for a yin practice
Although the cultures Chinese and hindu, as well as the West, have presented throughout its millennial history clear and abundant aspects yang - achievements, breakthroughs, challenges, etc.-, certainly are societies with a component more yin, cultures that have more in mind the contemplative and what displeases. It would in any way say that the Western God is a God who is thriving, while the Eastern is a God who meditates.
Our Western culture has always shown with a power predominantly yang, surrounded by expectations, wars, and externalisation. In their way of understanding nature, their progress has had to do with a "material technology", with a materialistic denial of the spiritual values, which no doubt has given us much progress perhaps with excessive cost. Meanwhile Eastern cultures presented a "technology mingling" taking the latter related to the application of wisdom for an evolution of people mingling.
When in a society such as ours is presented with so much superiority one power over the other, you can only have as a result a clear disharmony, or what is the same, we can be segur@s that a significant part of their citizenship will present clear traits neurotic.
Yin practice gives us the opportunity to balance somehow this excess of yang, transforming the vitality yang yin, from activation, motion and tension, to deactivation, the stillness and relaxation within the same practice. This work presents a range of benefits that are usually classified into three types: the energy, the physicist, the psychoemotional
-Energy approach
According to traditional Chinese medicine in our bodies there are a whole series of meridians that run through it and which allow qi - vital energy - circulate it. Each of these meridians is associated with an organ in particular and depending on the fluidity with which that qi can circulate it will make our body and mind are in more or less harmony.
Through practice we encourage these energy channels and we do this in two ways; either by compression of the meridians in a particular area, or by stretching of these somewhere in your path. Keep the position between three and six minutes will let make this stretching/compression that qi who might be stuck is finally released.
According to Sarah Powers -another of the key people in the creation and development of this discipline - that released qi will go to settle right there where most need it at the time that integrate at the end of each asana. The theme of the meridians in traditional Chinese medicine is very large, and is related to the theory of the five elements, also interesting concept to be able to work this practice more depth.
There is a similarity between certain meridians and the nadis in yoga tradition. In that sense the Professor Hiroshi Motoyama It makes an equivalence between some of them.
-Physical approach
To understand the benefits from a physical aspect, we have to understand that our whole body participates in the categories yin and yang. Thus organs there are predominantly yin and organs predominantly yang, and this will go based on various issues such as: depth, movement, organic importance, upper or lower part of the body, etc. What we want to treat the physical benefit of this practice is to highlight that our fabrics can also be classified into yin and yang. The attached table presents each of them and their main features.
Yin / Yang
Tissue: connective tissue (tendons, ligaments) fascia / muscles
Temperatura tejido: frío / caliente
Propiedades del tejido: duro, seco / suave, flexible
Tipo de práctica: estática, lenta, músculo invisible /movida, fluida, músculo protagonista
Experiencia: aceptación / avance
Espacio: articulaciones /no articulaciones
The work to be performed is therefore the stimulation/stretching of connective tissues: fascia, tendons and ligaments, and get this is necessary to avoid the stimulation of tissue yang: musculature. We try to keep this simply as a witness of the work. The muscle is hot, need movement and is willing to be stretched and contracted intensely. Is it that mark us the alignment in the positions of the different types of yoga, and align is an attitude yang - although in some types of yoga is more than in others-. Hence the alignment in asana yin has a secondary, not to mention avoidable aspect. Aligning means activate muscles, apply yang energy. This alignment makes the muscles to move bones including simplifying the work of the connective tissue and preventing its stretch, which is precisely what we seek.
At this point there is some controversy since it can be seen that work and stretch the muscles and ligaments and tendons are body brakes. While if this is true, it does not mean that those deeper tissues do not have to be also stimulated. Connective tissue and fascia are more difficult to treat in the sense that they are less mobile and more susceptible to injury, but it is also true it is so detrimental to work excessively on them as never use them. Yin tissue must be treated with more care and therefore access to yin asana has to be very slowly and very carefully trying not to exceed the range of motion of joints. The basic idea would be go to the point where resistance is present and thus to stimulate the deeper tissue. If we do not do this work, the trend over time is that the joint dries and shrinking, losing in this way mobility in this, a mobility that would not be so affected with adequate stimulation.
-Approach psychoemotional
On a personal level it is the element that first seduced me Yin yoga and today is that most still fascinates me of this practice. As we have seen in the picture, yin means stillness versus movement, acceptance versus challenge. That's where he lives an important part of the practice, "stop and accepted". According to Ken Wilber una persona además de aprender a tomar el control de su vida y asumir sus responsabilidades necesita también, por lo menos con la misma urgencia, aprender a como y cuando dejar ir, "rendirse" fluyendo sin resistencia ni lucha. Ese dejar ir es yin en estado puro, y ese yin es el que necesitamos desde un punto de vista mental y emocional para poder contrarrestar nuestro mundo exageradamente yang, tanto social como individualmente.
Para acercarse a la práctica yin desde lo psicoemocional hemos de tener en cuenta la quietud y la profundidad en la postura como elementos imprescindibles, y para llegar a ellos es importante aflojar la rigidez y la dureza no sólo física sino y especialmente con las que nos tratamos a nosotr@s mism@s. Desde el aflojamiento físico vamos hacia lo emocional:
Olvidar "el tener" que hacer "lo mejor", o "el tener" que "hacerlo mejor"

Olvidar la voz interior, y si no es posible bajarle un poco el volumen

Forget obligations imposed by otr@s or by a @ mism @

Tratarnos con dulzura. Esta dulzura tendrá que ver con lo que seamos capaces de hacer en los aspectos anteriores.

Learn how to be patient. Yin is an experience of patience, keep the positions between 3 and 6 minutes that although it is not an excessive time if going a little beyond what we usually do in a practice of hatha.
This will cause a deeper encounter with a @ mism @, which may allow me to understand me a little better and from there to better understand the otr @. I certainly get involved in a journey of horizontal growth. When I am able to recognize other things can look more easily upwards, towards the spiritual, however with more honesty.
Yin is a practice of freedom since due to its simplicity is more likely to become practice in action.
Yoga is not appearance but experience, but yoga is yin especially.
Although currently there is no bibliography in Spanish referring to the practice of yin yoga, that there are numerous web pages where viewing videos and explanations of positions and elements to consider for your practice.
Diego Borrego Caixal. Profesor de yoga por la AEPY. Formado en yin yoga con Kathy Páez y Mariona Royo. Experto universitario en yoga terapéutico por la Universidad Cardenal Herrera. Licenciado en Historia por la Universidad de Barcelona. Diplomado en Relaciones Laborales por la Universidad de Barcelona. Master Practicioner en Programación Neurolinguïstica. Formado en Terapia Gestalt Actualmente dirijo el centro de Yoga Shravana , en Hospitalet de Llobregat, Barcelona.