You express with its own voice?
We listen to our inner voice or are just an echo of the opinions of others? This is the big question that we should ask ourselves. Many rely only on external references and not just forget our internal reference, but it even to debunk it. Writes Kausthub Desikachar (Translated by Dana Ginevro)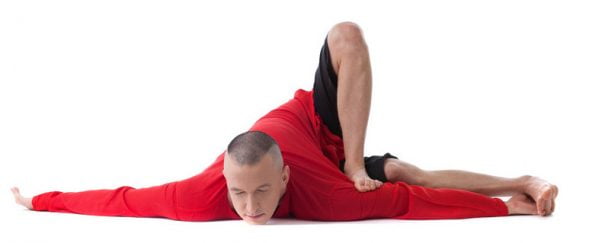 "I do 2,000 kapalabhatis day," proudly proclaimed a man I met at a gathering of yoga in Europe. "Dawn, 500 at noon to dusk 500 500 and 500 at midnight", continuing with an aura of vanity. He came to see me for a private yogaterapia session because he was suffering from severe insomnia, erectile dysfunction and incontinence.
En un momento dado durante la sesión le pregunté si alguna vez se le había ocurrido que existía una conexión entre sus síntomas y el elevado número de la técnica respiratoria que practicaba con intensidad. Sencillamente me contestó: "No, mi profesor me aconsejó practicarla hace 10 años y desde entonces no la he dejado de hacer ni un solo día".
Me quedé asombrado. ¿Nos enseña el yoga estas ciegas creencias que hacen que nos desconectemos de nuestros propios sentimientos y sigamos ciegamente los consejos de otros, aunque sean los de nuestro profesor?
We listen to our inner voice or are just an echo of the opinions of others? This is the big question that we should ask ourselves. Many rely only on external references and not just forget our internal reference, but it even to debunk it.
Muchos alumnos me suelen pedir que les revise y comente cómo hacen su práctica de yoga. La primera pregunta que les hago casi siempre es:"¿Cómo te sientes?".
Esta pregunta les desconcierta y responden: "Si tú eres el profesor, ¿no deberías ser tú el que me diga cómo me siento?".
Este tipo de situaciones es incluso más notorio si entre el público hay practicantes de yoga con experiencia, o incluso profesores de yoga que llevan años enseñando.
En estos momentos es cuando cabe recordar, tanto a ellos como a uno mismo el valor que tiene Svadhyaya para conectar con nuestra propia voz, nuestra percepción e intuición. Yoga not only power our capacity for action, but also to recognize our feelings.
It is also important not to confuse our fantasies with our actual experiences, something quite common in this era. Often we believe that our imaginations are deep feelings of great intuition and perception, something that can be dangerous.
We must learn to transcend our imaginations and fantasies and connect with our deepest feelings, que también forman parte de nosotros. En esta búsqueda cada uno encontrará una realidad única, tal como el yoga nos enseña, una realidad en la que cada uno tiene una belleza única. Reconocer nuestras propias experiencias, darles el valor y el lugar que les corresponde es un aspecto importante de las enseñanzas yóguicas y de nuestro crecimiento personal.
Tenemos que aplicar estas enseñanzas a nuestra práctica diaria. No solo cuando practicamos asana o pranayama, sino también en nuestra vida diaria, porque es la manera de conseguir empoderamiento y libertad.
It is important to know conectar con las sensaciones y las respuestas de nuestro cuerpo cuando practicamos posturas o pranayama, para aprender a identificar estados de comodidad o de incomodidad. It is also important to learn how to listen to how we feel in other aspects in our daily life.
How do we see people? Do we let ourselves go by the opinions of others or what others say about them on social networks, when we judge others? Or do we consider and we trust our own experiences with them? Do we believe that there may be a motivation hidden from the person who says negative things of another, any prejudice or any bias?
Cuando elegimos lo que queremos comer, ¿nos guiamos por estudios basados en promedios de lo que come la gente? ¿O deberíamos observar nuestro cuerpo y sus reacciones a los diferentes tipos de alimentos que consumimos?
¿Qué tipo de actividades realizamos? ¿Hacemos algo porque lo desean nuestros padres o porque lo valora la sociedad en la que vivimos? ¿O hacemos caso a nuestros propios sentimientos de lo que nos gusta hacer?
La lista es interminable. La verdadera pregunta que debemos hacernos es si somos capaces de escuchar nuestra voz interior o nos hemos rendido dócilmente a una vida a la sombra de opiniones ajenas.
The true message of yoga is the empowerment of self not to make incredible positions, but to make our decisions in a conscious way based on our own experience. When we achieve it, then we will have integrated the teachings of yoga in our lives. Whether you were directly teaching Patanjali, I would certainly encourage you to find your own voice.
Namaste
(Written original:) http://kausthub.com/explore/findyourvoice)

Kausthub Desikachar He is the son of T. K. V. Desikachar and the grandson of Yogacarya T Krishnamacharya. As a teacher of Yoga and Yogaterapeuta recognized, its objective is to share the authentic teachings of Yoga in the modern world and build bridges between the different healing modalities to promote physical, emotional, social and spiritual health.

In collaboration with PranamanasYoga therapeutic school, Kausthub will give your next seminar in Spain from 27 to 29 of abril of the 2018 in Barcelona with the theme"S-Bandha and Mudra-s: the subtle tools of Yoga"." You can find more information in this link. Reservations: tallerconkausthub@gmail.com.