The power of your words
Words are powerful. In yoga there is the concept of matrika shakti: literally, "the power of letters". The letters, in the Sanskrit alphabet are called matrikas, little mothers, because they give light to words, which in turn generate verbal or written expression. Words can create or destroy... do we always use them consciously? Writes Susana García Blanco.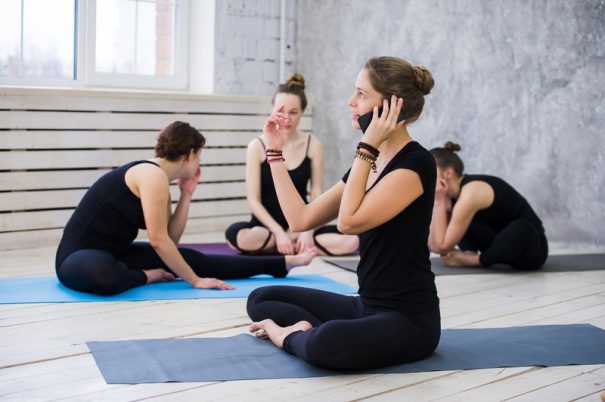 The Sun is in Gemini, one of the signs of air that governs words and communication. Gemini is also related to the archetype of the muse and all the ways in which inspiration comes into our lives and in which we connect with the abundant river of creativity. But today I want to focus on the communication, another flowing river these days.
At the recent anusara yoga meeting, Samavesha 2017, it has been fascinating to enjoy the diversity of voices and all the different ways in which the teachings are lived and expressed. Sharing in community is very beautiful and, at the same time, I am fully aware that one of our biggest challenges is community and communication. Que difícil es con frecuencia expresar tu verdad. Escuchar la verdad de otros. Entender y ser entendido. Todo un reto.
As if that weren't enough, we live in the time of the global community. The social media community. It is a subject that intrigues me and I have been contemplating the dynamics of communication in this territory and how, in my opinion, they reflect and magnify very clearly what we might call "the shadow of communication".
Words are powerful. In yoga there is the concept of Matrika Shakti. Literally "the power of letters." The letters, in the Sanskrit alphabet are called Matrikas, small mothers, because they give birth to the words, which in turn give rise to the verbal or written expression.
Words are loaded with Shakti, generating power. Seamos o no conscientes de ello. Sirven para enseñar y para aprender. Para inspirar a otros. Para tocar corazones. Para animar y llenar de poder. Para deleitar. Pero también pueden servir para herir. Para hacer de menos. Para controlar. Para manipular la verdad. Para engañar. Para traicionar un secreto. Para hundir a una persona
Hace años, la mayoría de la información que se compartía era contrastada y verificada. No era muy normal que comunicaciones privadas se hicieran públicas. En el mundo de la comunicación virtual, es fácil decir lo que quieras de quien quieras cuando quieras. Incluso compartir conversaciones privadas que de un modo u otro quedan siempre registradas. Tenemos acceso a miles de personas y podemos hacerlo sentados solos frente a un ordenador. O en un tren mirando la pantalla del iPhone.
Las redes sociales nos ponen a todos en un espacio de gran vulnerabilidad. Dicen que si una mentira se dice varias veces se transforma en verdad. Alguien publica algo en Internet y de repente un montón de personas que salen de no se sabe dónde lo "comparten". Y además añaden su opinión, sin ningún tipo de contemplación, muchas veces sin conocer en profundidad los hechos o intenciones detrás de ellos. Si, es como en los "reality shows", solo que no te pagan para que te hagan pedazos.
The way we communicate says a lot about us. Psychology talks about the shadow: todas las partes de uno mismo que están ocultas, inatendidas, pero que por eso mismo controlan el espectáculo de nuestras vidas. Nuestras reacciones inconscientes se originan allí y también lo hacen nuestra forma de hablar y comunicarnos cuando viene desde un lugar de reacción. Nuestras opiniones muchas veces surgen como disparadas desde lo profundo de nuestra propia sombra.
Esa mayor exposición y alcance de nuestra palabras es una gran llamada a ser consciente del poder y la energía que contiene. Te invito a que tomes un tiempo para contemplar las siguientes preguntas:
¿Eres consciente de tus patrones de comunicación?

¿Te comunicas desde la reactividad?

¿Estarías dispuesto a observar esos patrones y a intentar cambiar lo que no sirve?

¿Te gustaría comunicarte desde el corazón y siempre pensando primero en el bien mayor?
Las enseñanzas de la psicología, del yoga y de otras tradiciones orientales, pueden iluminar este tema y ayudarnos a cultivar formas de comunicación más sanas. De hecho, podemos hacer de nuestra comunicación una práctica de yoga. ¡Y es una práctica diaria! No voy a decir que sea fácil pero hay algunos pasos simples que podemos seguir:
1. Un aspecto crucial es el trabajo con la sombra. Una forma de observarla es ver cuáles son los comportamientos y comentarios que te disparan, que te hacen perder el control. No necesariamente de una forma externa, pero si que te hacen sentir muy incómodo o agitado. Pregúntate por qué algo te hace sentir tan molesto sin poner la causa en la persona, acción o comentario, sino en ti mismo. De esta forma traemos a la luz experiencias pasadas o patrones inconscientes y los hacemos visibles, para que dejen de controlarnos desde su escondite. Cuando los conoces, notas cuando aparecen y ya no hay reactividad.
2. Toma tiempo cada día para volver la atención hacia adentro. Nada nuevo bajo el sol aquí: las práctica de meditación, de contemplación. Hace unos días estudiaba los Shiva Sutras con Carlos Pomeda. Su enseñanza principal es que los seres humanos nos perdemos constantemente en la extroversión de nuestras vidas y eso produce falta de claridad y sufrimiento. El antídoto: dedicarnos un tiempo para traer la atención más cerca del Ser. Si nos establecemos en ese lugar, y aprendemos también a comunicarnos desde ahí, la comunicación ocurre no desde la reactividad sino desde la compasión. Poco a poco, el movimiento exterior nos afecta a un nivel menos profundo, por ejemplo lo que digan los demás… aunque hablen sobre nosotros.
3. Las Cuatro Puertas del Habla. If all this is still a little abstract, there is a very concrete practice that you can start using in your next conversation.
These practices, of Sufi origin, also align with the Buddhist teachings on communication: we should just communicate what might happen with a Yes "doors":
Is it true?
Is it necessary? Is this the right time?
Is it for the greater good?
Is that the kindest way to put it?
If the answer to any of these questions is no, you should find another time, another way, or maybe not to say it.
I look forward to your comments on this topic that I find so interesting, and about the effect of these practices on your communication with others.
Connect with your insides and express your truth without fear, from the heart.
Namaste.
Susana Garcia white. Se describe como yoguini, surfera, viajera, estudiante apasionada de la vida. "Siempre asombrada ante la fuerza creativa del corazón humano (hrdaya shakti), mi misión es guiar a los estudiantes hacia ese lugar interior de amor, sabiduría y poder. Mis clases son un lugar para la transformación donde les ayudo a encontrar sus límites, con mucho amor y conciencia, con secuencias estructuradas e instrucciones precisas, y trayendo a ellas mi pasión por la filosofía, la mitología y las posibilidades terapéuticas del yoga. Con base entre Marruecos y España, enseño intensivos, Inmersiones y Formaciones de Profesores y ofrece retiros de yoga y surf en Marruecos".

It is the first certified Anusara teacher® Yoga in Spain (2006), Yoga Alliance E-RYT 500®, assists in the process of certification of teachers of the ASHY and trainer advanced of professors of Anusara yoga. His commitment to the awakening of the feminine and the connection with the goddess have led him to study at the school Urban Priestess with Sianna Sherman and Ashley Turner, and carry out circles of women to awaken the power of brotherhood among women and enhance their personal development.

https://www.facebook.com/susana.g.blanco