Official celebration of the international day of Yoga in Madrid
On Sunday 18 June, from 10.30 h, locals are housed to practice yoga next to the Museum Reina Sofia to celebrate the international day of Yoga. The event will be attended and the Ambassador of the India and Spanish authorities.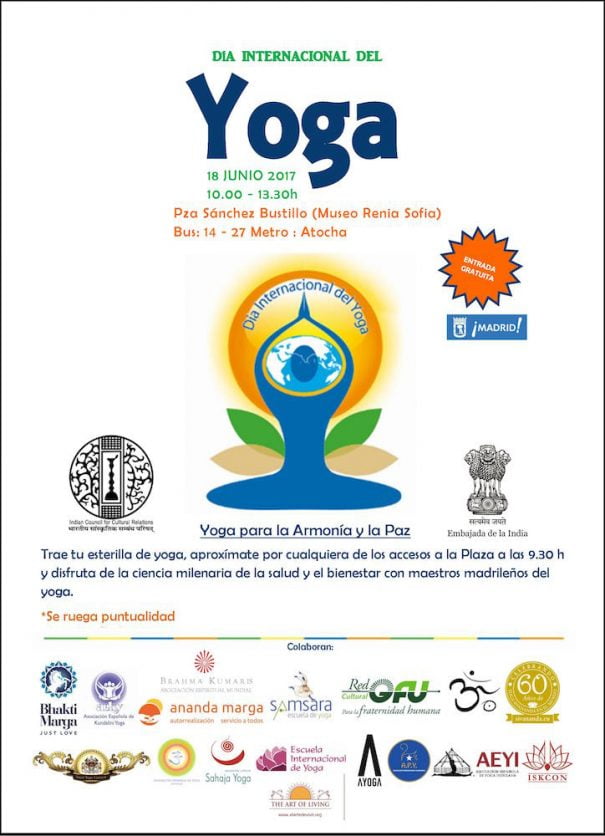 At the end of 2014 the UN General Assembly decided that each June 21 is celebrated the international day of Yoga, a resolution sponsored by more than 170 Member States. The overwhelming support for the text did patent the tangible and intangible benefits of yoga, which attracts so many people around the world.
For this reason Madrid held for the third consecutive year this event hosting a big event in the plaza Sanchez Bustillo (beside the Museum Reina Sofía) on Sunday, June 18, from 10:30. In this way, it adds, as in previous years, to other cities around the world that will celebrate this event.
The Information Act and commemorative activities is located in:
http://www.embassyindia.es/yoga-corner
http://diainternacionaldelyoga-madrid.es/
The program
10,00.-reception of the participants.
10.30-inauguration of the international day of the Yoga by the Ambassador of India in Spain.
11,00.-40 minutes from the Yoga Master Class screening.
11.40 - presentation of the participating schools by Vishnu of the Sivananda Yoga Vedanta Centre
12.00-class or demonstration in the different areas of the square offered by organizing schools
In Madrid the event has been organized by the Embassy of India with the collaboration of the main schools in Spain:
Spanish Association of Kundalini, Ananda Marga, the art of living Foundation Brahma Kumaris, international school of Yoga, Yoga Federation Satsanga, ISKOM Hare Krishna, Yoga Center International Association Sivananda Vedanta Yoga Association and Ayurveda, Naad, Yoga, APYITA, therapeutic Yoga and Ayurveda, Bhakti Marga, Mahashakti Integral Yoga, Sahaja Yoga, GFU, Asociación Española de Yoga Iyengar and Ayoga.
To complete the main celebration organizing schools offer free yoga, meditation and ayurveda activities in their centres of Madrid. More than a hundred forms of yoga practice in the week ranging from 18 to 24 June. The information of the free activities offered by participating schools can be found in:
http://www.embassyindia.es/yoga-corner
and in http://diainternacionaldelyoga-madrid.es/actividades/