Free IAM meditation course
Meditation and yoga are useful tools for restore inner balance and peace and mental clarity. The IAM (integrated Amrita meditation) meditation technique combines gentle relaxation exercises with a method of meditation effective and easy to practice that anyone can perform comfortably in only half an hour. On May 14 in Madrid.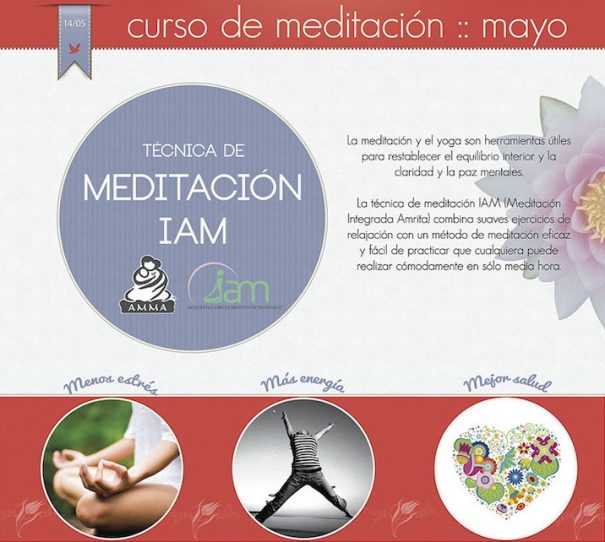 To do the course you must be 18 years or greater of 16 with the permission of a parent or guardian.
If so, when?
Sunday, May 14, 2017
Opening hours: From 9:30 to 20:00
Break from 14:00 to 16:00 (food not included)
Where?
School of Yoga tables
C / Isabel Colbrand 10-12 (tables)
5th floor, local 131. Access by Alfa III-A1
Madrid, metro Las Tablas, line 10
(Entrance next to the Domino Bar)
Contribution
€15 in rent of the Hall and photocopies. The course is taught for free.
Information/registration
Lakshmi: 635346088, meditainformacion@gmail.com
Limited places available (contact for registration required)
More information IAM meditation: www.amma-spain.org/meditacion-iam
He gives
Javier Ruiz Calderón (Shankara) He holds a PhD in philosophy, specialising in Indian thought and philosophy of religion, topics on which develops an intense work in research, teaching and dissemination. He has been Professor of history of religions at the Comillas Pontifical University (Madrid) and researcher at the Institute of philosophy and Religion Jnana Deepa Vidyapeeth (Pune, India). Among his publications are the books Dhammapada (2004), BReve history of Hinduism (2008) and The Bhagavadgita (2008) and Vedantasara. The essence of Vedanta (2009).
Places limited to 35 people
Observations
Bring comfortable clothes, socks, paper and pen. You can bring your own esterilla-aislante and pad.
They are welcome donations for Amma's humanitarian work in the world, Embracing the World. http://es.embracingtheworld.org
Other activities of the Madrid group Amma

-Treat yourself to a different weekend

Yoga class in family, preparation of probiotic and sprouts, postural realignment workshop to improve the lumbar, cervical area and the view, Bhajans (devotional songs) and informational video social work of MEAs. Embracing the World (free entrance), workshop dances sacred, workshop of Nada Yoga, introduction to Vedic astrology, information activities group Amma Madrid and meditative music live concert.

When: May 27

Where: Madrid. School of Yoga in the tables

More information: https://www.amma-spain.org/es/actividades/actividades-nacionales/27-mayo,-reg%C3%A1late-un-d%C3%ADa-diferente-347-detail

-Weekend retreat in Madrid with the disciple of Amma

https://www.amma-spain.org/es/actividades/actividades-nacionales/16-17-18-junio,-retiro-br-shubamrita,-escorial-606-detail