Vegetarian recipes / spinach pie (Spanakopita) vegan
We share great and sanisimas recipes blog 'Eat to live'. Type and kitchen Gauri, Professor of vegetarian cuisine of the Sivananda Centre of Madrid and the affiliated Centre Sivananda Vedanta of Granada.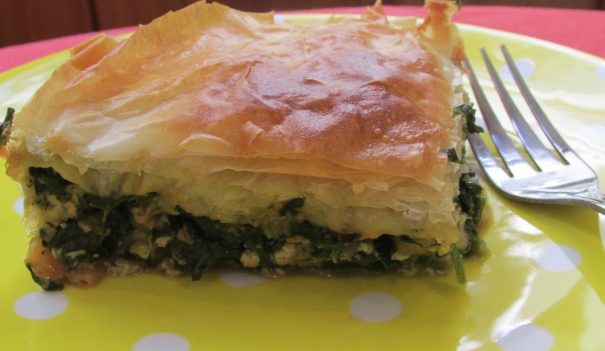 ¡Otra receta de espinacas…! Es su tiempo y… ¡nos encantan! Es una receta griega, fácil de hacer. Muy importante trabajar con la pasta filo rápido, porque se seca muy pronto. También se puede hacer con pasta brick, menos delicada.
Ingredients: (4 personas)
600 g de espinacas frescas en manojo

1 rama de apio verde picado

200g de tofu sedoso

1 trozo de jengibre rallado

2 cucharadas de tamari

5 hojas de pasta filo

½ cucharadita de eneldo seco

½ teaspoon thyme
Extra virgin olive oil
Salt and pepper
Preparation
1. En una sartén poner una cucharada de aceite de oliva, saltear el jengibre y añadir el tofu desmenuzado y las dos cucharadas de tamari. Saltear a fuego medio durante 10 minutos para que pierda el agua y se mezclen los sabores. Reservar poniéndolo en un colador para que escurra.
2. Lavar y partir las espinacas en tiras. En la misma sartén poner dos cucharadas de aceite, saltear el apio unos minutos y a continuación las espinacas. Cocinar hasta que las espinacas se ablanden y queden prácticamente sin líquido. Poner en un bol y mezclar con el tofu, el eneldo, el tomillo, salpimentar y añadir unos granos de arroz, para que absorban el líquido que quede. El relleno tiene que quedar lo más seco posible.
3. Preparar la pasta filo. Colocar las hojas sobre un paño húmedo. Calentar dos o tres cucharadas de aceite de oliva que nos servirá para untar las hojas de filo.
4. Engrasar un molde de 30 cm con un poco de aceite y poner la primera hoja de pasta filo, dejando que sobresalgan los bordes. Pintar muy bien la hoja con el aceite caliente. Partir la segunda hoja de pasta y colocar una mitad pintándola con aceite y después la otra mitad, igual que la anterior pero colocando los picos como en zigzag, pintar con aceite. Con la tercera hoja proceder igual que se ha hecho con la segunda.
5. Poner el relleno en el molde y cubrirlo con los bordes, pintándolos de nuevo con aceite. Coger la última hoja, partirla por la mitad y tapar con ella el pastel poner media, pintar con aceite y poner la otra media. Recortar lo que sobre.
6. Precalentar el horno a 200ª C, hacer unos cortes sobre el pastel dividiéndolo en cuatro. Pintar la superficie con el resto del aceite. Meter el pastel en el horno, en el medio, y dejar que se haga durante 25 minutos hasta que quede dorado.
More recipes: http://comemosparavivir.blogspot.com
Yoga Sivananda Vedanta Granada-afiliado. T 660-288-571.