'Encounters at the unit', tomorrow at 13.00 on Facebook Live
Llama la atención que en general los yoguis españoles tengan tan poco trato con otros yoguis de diferentes ramas, estilos o escuelas. ¿No les interesan los demás? Seguro que sí. ¿Y si les acercamos un poco…? A fin de cuentas, Yoga significa integración de naturalezas diversas… ¡Bienvenidos a 'Encuentros en la Unidad'!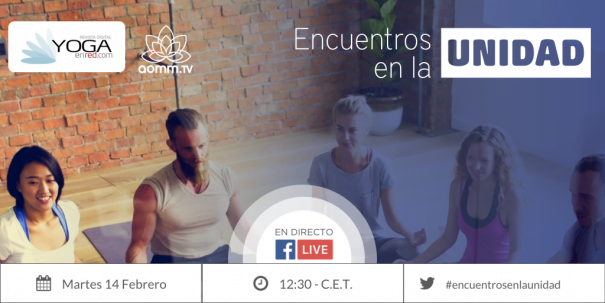 Es una nueva producción en vídeo de YogaenRed and Aomm.TV, dos plataformas de comunicación unidas en su pasión por el yoga y la meditación y muy complementarias en su trabajo. Así que juntas hemos creado 'Encuentros en la Unidad', un espacio en donde dos expertos en yoga y tradiciones meditativas dialogarán sobre las cuestiones que les interesan, intercambiarán ideas y buscarán acercamientos.
'Encuentros en la Unidad' es una invitación al diálogo en la diversidad del Yoga. Es el reto de abrirse a un intercambio fértil del que toda la comunidad pueda beneficiarse, y también un acercamiento ejemplar entre dos practicantes con enfoques diferentes del Yoga pero que aceptan conocerse mejor y vencer falsas barreras creadas por los llamados "egos espirituales".
El primer encuentro
The day 14 de febrero,a las 13.00 de la mañana, se encuentran Calle Ramiro and Emilio J. Gomez. Ambos charlarán libremente sobre yoga, meditación y lo que cada uno quiera plantear al otro. El encuentro será emitido online a través de Facebook Live para Aomm.tv y YogaenRed.