Evolution of the Anusara School of Hatha Yoga
Although the alignment and the physical practice of Anusara conquered my body from the very beginning, what really captivated me was the vision of the world and of life that offered me the philosophy Tantric, attitude and power kinds of Anusara where his teachings are actually live and qualification of teachers. Writes Susana García Blanco.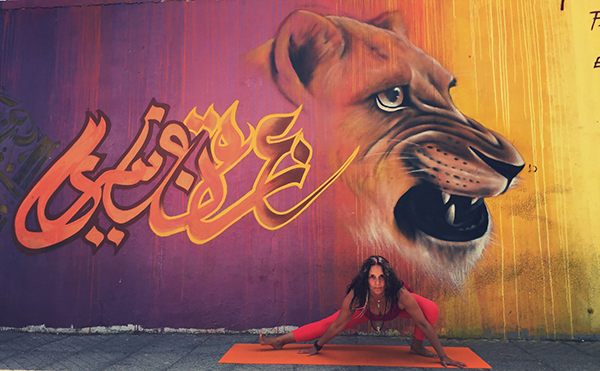 Eventually, after years of study, training and dedication, it was realizing how much love to the detail and affection for the students involves preparing and teaching of this system of yoga. And is that something that looks very much in Anusara yoga and in the training of their teachers is how to prepare and teach a class to make it truly inspiring and effective. In this, there is much that depends on teacher, his experience, his experiences, his way of understanding and living yoga, but also a lot of technique, method.
In the year 2017, to astrology and numerologicamente is a year of change, of early, initiations, I'd like to talk about the trajectory of the ASHY (abbreviation of Hatha yoga Anusara school) and new roads that start this year.
ASHY is a yoga school managed by the teachers themselves, and in recent years has been developing a new program so that the entire process of certification as Anusara teacher conforms fully to the new requirements of the training of teachers of the Yoga Alliance. Is why, from this year, in addition to the 200 hour teacher training We also offer a new training advanced 300 hours, thus completing the 500-hour training program. And of course, we continue to offer what has always been the course that is most characteristic of Anusara yoga: the immersion.
You can find detailed information on all these courses in www.rasalilayoga.com but schematically, this would be the content/purpose of each of these courses:
The Immersion Anusara yoga is a 108-hour course in which we are plunged into the yoga in all its aspects: asana, alignment, Anatomy, philosophy, pranayama, meditation, mudra, contemplation... It is the perfect course for those wishing to delve into the yoga yoga students, still wanting to learn to teach yoga. In addition is the first part of the training of 200 hours.
The Training of teachers of level 1 consists of 92 hours in which, with learned bases in dip, offered all the necessary resources to learn how to create and deliver effective and inspiring yoga classes.
The 300 hours advanced teachers training the new programme of Anusara is yoga. Is a course of deepening, divided in modules, with professors invited specialists in subjects like philosophy Tantric or Anatomy of the yoga. The modular structure of this course and the variety of topics that will be covered in it makes you are maybe interested but you have not even thought of teaching yoga.
Who might be interested in this course?
Of course students of Anusara yoga that they have completed the dive and level 1 training and wish to continue with their studies, or to expand their knowledge and practice and to be eligible to enter the process of certification as a teacher of Anusara yoga
Any teacher of yoga with a 200-hour training who wants to increase their teaching and their knowledge resources and/or get a title of Professor of 500 hours. (In this case, the teachers should do a course of 36 hours of Anusara yoga. The next begins on February 24)
Students who have completed the dive of Anusara yoga and want to expand their knowledge of certain aspects of yoga or yoga-related. These could find interesting some of the open modules
Yogis and any style of yoga students who want to deepen some aspects of yoga.
This advanced training begins in March and will take place in Madrid between 2017 and 2018. You can access the information and the complete contents of the program in the following link http://www.rasalilayoga.com/formacion-de-profesores-avanzada-300-h/
As an example, some of the modules to be offered in 2017 are as follows:
Teaching with the universal principles of alignment
The art and science of sequencing
Observation and adjustment
Teaching Pranayama
With Christopher Wallis (Hareesh) Tantric philosophy
Anatomy functional applied to Yoga with Lucas Benet
Introduction to Sanskrit with Montse Simon Masdeu and Claudia Leyva
Advanced practice
My opinion about the titles
How have those Yogis them hours of study and of practice? The truth, sounds funny. Particularly I am a person very little interested in the titles. I finished my Ph.d. in environmental sciences and took two years to come back to my title. I submitted my thesis and I ran to pass one of the most interesting years of my life in India. I've never framed a title or I hung it anywhere, although I have a lot because I love to learn and study. As a teacher, moves me to create courses, that although fill this need for titles and times, marked by the requirements of the society in which we live, cover more the desire of the human heart to learn, connect, recognize their essential nature of consciousness and love.
That's why I'm very excited with what will be one of my initiations in this year that begins (and also of Anusara yoga and the ASHY). The 300 hours of this course are again small given the immensity of teachings and practices yoga offers us, but give us the opportunity to share many tools that can certainly change a life, yours or that of your students. We have put lots of energy and lots of love on your preparation and I feel it as the next step towards a deeper understanding of yoga, the Tantric philosophy, and teach it and, above all, of how to live it.
Susana Garcia white described as a Yogini, surfing, traveling, passionate student of life. "Always amazed at the creative force of the human heart)hrdaya shakti), my mission is to guide the students to that place inside of love, wisdom and power. My classes are a place for transformation where he helped them find their limits, with lots of love and conscience, with structured sequences and precise instructions, and bringing to them my passion for philosophy, mythology and the therapeutic possibilities of yoga. "With base between Morocco and Spain, taught intensive, dives and training of teachers and offers yoga and surfing in Morocco retreats".

It is the first certified Anusara teacher® Yoga in Spain (2006), Yoga Alliance E-RYT 500®, assists in the process of certification of teachers of the ASHY and trainer advanced of professors of Anusara yoga. His commitment to the awakening of the feminine and the connection with the goddess have led him to study at the school Urban Priestess with Sianna Sherman and Ashley Turner, and carry out circles of women to awaken the power of brotherhood among women and enhance their personal development.

info@rasalilayoga.com