Recipes vegetarian / cake of chocolate and raisins
We share great and sanisimas recipes blog 'Eat to live'. Type and kitchen Gauri, Professor of vegetarian cuisine of the Sivananda Centre of Madrid and the affiliated Centre Sivananda Vedanta of Granada.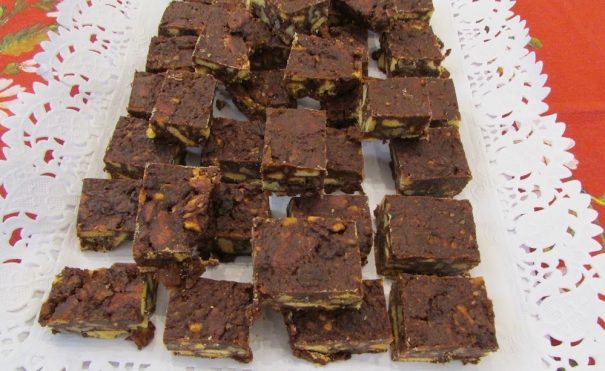 Is a sweet vegan rich in fats, that can compete without any flush with any sweet typical of the Christmas, 100 grams of the tart has 517 calories. And the result end weighs 800 g. There's that take only a small piece. Prepared it in the pre-Christmas celebration in the Affiliate Center Granada Sivananda. Not was very safe of put it in the blog, just after the article earlier, but being them dates that are, I thought best this sweet that is fast of make and, at least, know them ingredients that carries. This recipe is inspired by a recipe from the book The Bible vegetarian Sarah Brown.
Ingredients: (20-25 pieces)
200 gr dark chocolate into small pieces.
100 ml of oil of coconut
150 gr. of grapes raisins
100 gr. of chopped walnuts
250 gr. of type Maria crumbled biscuits
100 ml of a concentrated infusion of roiboos with 1/2 teaspoon anise seeds.
Preparation
Splitting them nuts, shredding the biscuits and mix with the raisins.
Put the chocolate to the bath Maria until will cover without come to boil. Remove from heat and add the coconut oil, infusion and then dry ingredients.
Mix well and pour the mixture into a mold lined with baking paper. Let stand in the refrigerator at least two hours, until the pie solidifies.
Cut into square small and serve.
More recipes: http://comemosparavivir.blogspot.com
Yoga Sivananda Vedanta Granada-afiliado. T 660288571