Books / Yogasutra and Samkhyakarika
El próximo 19 de julio, Casa Asia presenta, de la mano de los reputados indólogos Óscar Pujol y Laia Villegas, dos libros que profundizan en pilares fundamentales de la filosofía y la religión en la India:
Yogasutra,
aforismos fundacionales del yoga, y
Samkhyakarika
, el sistema filosófico más antiguo del hinduismo.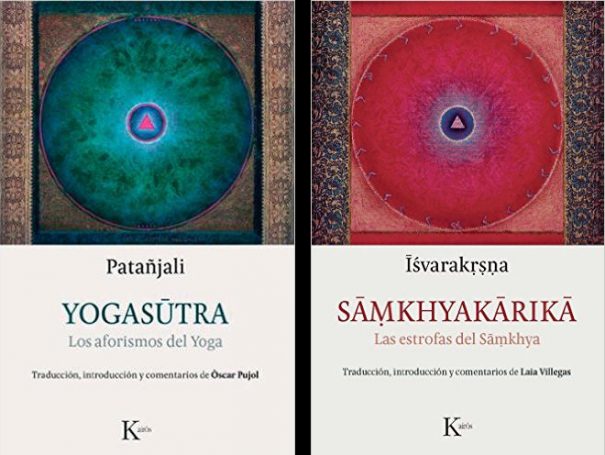 Yogasūtra. Los aforismos del Yoga
Yogasūtra (o The aphorisms of the yoga) de Patañjali es el texto fundacional de una de las seis escuelas canónicas de la filosofía india y, por tanto, la obra fundamental para entender esta antigua forma de pensamiento que hoy ha derivado en una disciplina físico-espiritual practicada en todo el mundo. Se trata, pues, de un texto universal que va más allá de los presupuestos culturales y religiosos de la India y que ofrece un comprehensive analysis of the mind y de su relación con el cuerpo.
The aphorisms of the yoga es una obra breve, de carácter filosófico e inspirador, compuesta de 196 aforismos que describen el camino de la consciencia hasta el objetivo final de la liberación, un clásico que ahora tenemos la suerte de recibir traducido y comentado directamente del sánscrito. Se trata, por consiguiente, de una incorporación de primer orden en la tradición filosófica y literaria en lengua española.
Traducción, introducción y comentarios de Òscar Pujol.
Samkhyakarika the verses of Samkhya
The stanzas of the Sāṃkhya sintetizan la esencia del sistema filosófico más antiguo del hinduismo. ĪśvarakṛṢṇa recogió antiguas doctrinas presentes de manera dispersa y no sistemática en las UpaniṢads, the Purāṇasthe Mahābhārata y otras tradiciones de la India clásica. Conocer la propuesta filosófica del Sāṃkhya es una tarea preliminar ineludible en cualquier estudio de carácter indológico, ya que ejerció una great influence on the development of ideas y la terminología de toda la tradición filosófica hindú.
The extremely concise character of The stanzas of the Sāṃkhya ha generado una tradición de comentaristas que llega hasta nuestros días. Su influencia en otras escuelas, particularmente el Yoga y el Vedānta, ha sido notable.
La edición que presentamos (comentada estrofa por estrofa) es la primera traducción de las Sāṃkhyakārikā publicada en castellano.
Traducción, introducción y comentarios de Laia Villegas.
They are:
Ramón M. Moreno,

director general de Casa Asia.

Rafael Bueno

, director de Política, Sociedad y Programas Educativos de Casa Asia.

Agustin Paniker,

editor de la Editorial Kairós.
Participan:
Oscar Pujol

, indólogo y director del Instituto Cervantes en Río de Janeiro.

Laia Villegas,

sanscritista y especialista en filosofía hindú.
Opening hours: martes 19 de julio a las 19.00 horas
Place: sede de Casa Asia. Recinto modernista de Sant Pau. Pabellón Sant Manuel, Aula A2. c/ Sant Antoni Mª Claret, 167. Barcelona,
More information: https://www.casaasia.es/