Traveling to the inside of Ramiro Calle
Calle Ramiro is undoubtedly the best-known popularizer of yoga and Orientalism of Spain. The entrances to the presentation of the documentary Journey to the inside, a tribute of many deserving of this faithful defender of the essence of yoga throughout his life, are quickly exhausted. It will be on Thursday, February 25, in Centro Cultural Conde Duque of Madrid.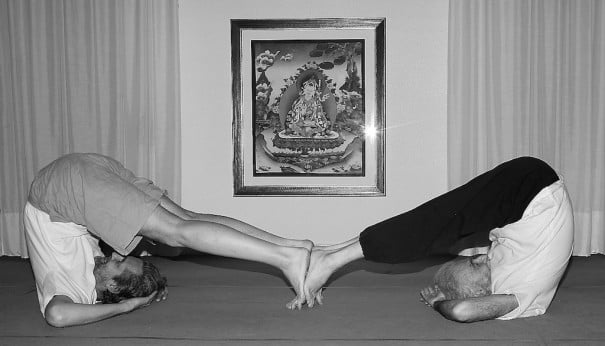 Traveling to the inside He has been directed by John S. Betancor and Jose Pazo, which will be in conversation with Calle Ramiro After the projection documentary, of an hour and 20 minutes of duration. In the words of its directors, this documentary "takes us to a search for ourselves into being through the presence of Ramiro Street; "someone who has not made but found himself, incessantly, in every moment of existence."
Pictured above are José Pazó (co-producer, co-director and screenwriter of the film) and Calle Ramiro. The film, which will be presented within the cycle Encounters with subtle, driving Javier EstebanIt will have a duration of one hour and twenty minutes.
Since it was made available to the public, and in a matter of four hours, ran out of the three hundred towns of the Hall of the Conde Duque Cultural Center where the premiere of the documentary will take place, why co-producers already are seeing the way of projecting the movie at another location later. Ramiro, regular contributor of Yoga in network, requests apologies to who not to attend by be the capacity completely covered, even friends and students yours.
Calle Ramiro He is a pioneer in the teaching of yoga in Spain, discipline that offered more than 40 years in the center of Yoga and Orientalism Shadak. It is one of the best-known writers orientalists in this country and in Europe. Author of numerous works, has been a pioneer in medical research on therapy yoga in Spain, in collaboration with prominent doctors and specialists. For 40 years he has explored, recovered and applied the methods of calm and balance, synthesizing the knowledge of the psychologies of East and West.
The documentary
Ramiro Street is a pioneer of the yoga in Spain, a traveller by them intricacies of the mind, a practitioner of the healing of the soul, a master of the life in the century XXI: Traveling to the inside, Calle Ramiro introduces us to the other side of the mirror, and leads us to a search for ourselves in being and the words of someone who has not made but found himself, incessantly, in every moment of existence. There is always a door that is not a door, a word that is not a Word, a silence that is not silent. Maximum care is vacuum, and vacuum are all alone and accompanied, dancer in the dark. There's always a trip to the bottom of the other that, in reality, is a trip to the bottom of one's self.
Here you find the three trailers that were published previously: