Conferencia de Sw. Anandananda y Retiro Yoga Sadhana según tradición Satyananda
Del 3 al 6 de marzo Swami Anandananda estará en España para dirigir una conferencia en la Universidad Pompeu Fabra de Barcelona y un retiro en Fundació La Plana, provincia de Barcelona, sobre Yoga Sadhana según la tradición Satyananda Yoga.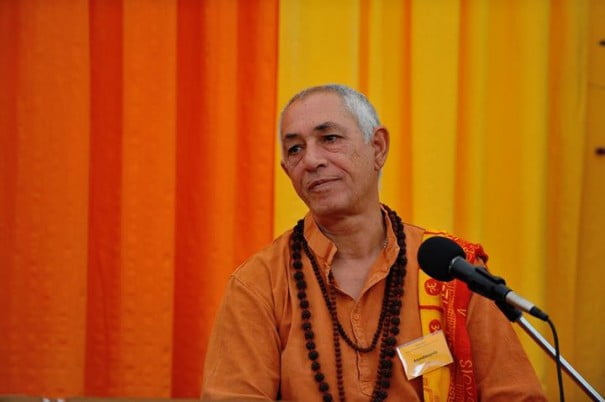 Satyananda Yoga Publications SL organiza este evento en colaboración con la Scuola de Yoga Satyananda Ashram de Italia, de la cual Swami Anandananda es el fundador y director.
Swami Anandananda Saraswati es un Acharya que desde 1979 fue iniciado en la tradición de Sannyasa por Swami Satyananda Saraswati. Desde entonces y por instrucción de su maestro, dirige cursos de formación y conferencias en diversas partes del mundo enfocados en la profundización de los diferentes aspectos y ramas del yoga transmitiendo técnicas avanzadas como Kriya yoga, Tattwa Shuddhi,Nada Yoga, Mantra Yoga y otras técnicas de meditación según la tradición de Satyananda yoga
Viaja con frecuencia a la India para estar en Bihar Yoga Bharati, la Universidad en Estudios Avanzados del Yoga.
Conferencia sobre Satyananda Yoga
The day 3 de marzo, Swami Anandananda dirigirá una conferencia gratuita en Barcelona en la que ofrecerá detalles de las técnicas yóguicas según la vision del Satyanada Yoga y información sobre el residencial del 4 al 6 de marzo.
Horario : 18:30 a 20:30
Where: Universidad Pompeu Fabra. Campus Ciutadella, Edificio Roger de Llúria. Aula 40.503. C/ Ramon Trias Fargas, 25-27-Barcelona
Retiro residencial de Yoga Sadhana
En este seminario práctico y teórico, Swami Anandananda Saraswati nos preparará para que podamos comprender todas la s dimensiones de Yoga Sadhana y sus aplicaciones en la vida diaria según la tradición de Satyananda Yoga.
Yoga Sadhana is integrating the different branches of yoga in daily life through personal practice, that since the commitment and consciousness with one same leads us to enjoy the fullness and happiness of every moment.
When: 4, 5 y 6 de marzo de 2016.
Where: Fundació La Plana, Mas La Plana Sta María d'Oló, Barcelona
Inicio, viernes 4 de marzo a las 18:30 y finalización el domingo 6 de marzo a las 19:30.
El sábado 5 de marzo se realizará la ceremonia del fuego (Havan) que estará abierta a todo el público.
Information and registration:

www.sypublications.com/eventos

Satyananda yoga Publications, SL. Rambla de Catalyunya, 38, 8ª planta. 08007 Barcelona

T 931 80 02 69 / +34 644 431 040 / info@sypublications.com