Sivananda retreat of autumn in Catalonia
It will be the first Sivananda Retreat in Catalonia, during the Pilar Bridge, in a traditional farmhouse surrounded by vineyards in the province of Barcelona. With yoga, meditation, walks, lectures, satsangs...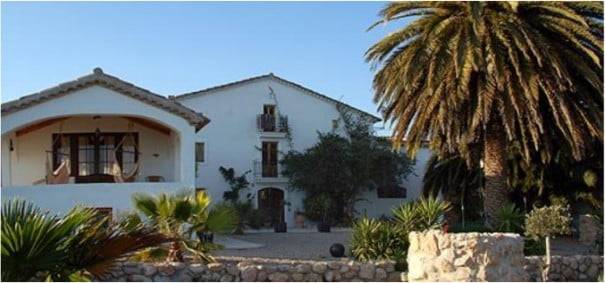 A wonderful occasion to relax and recharge with the practice of asanas, pranayama, meditation, nature walks and inspiring conferences.
Relax your body and mind with yoga, meditation and walking classes. Be inspired by lectures on health, nutrition, meditation and philosophy.
In a relaxing atmosphere, it is easier to develop new habits, such as a diet healthier and easier to digest. Nature allows us to enter and immerse us in silence.
All levels.
It will be directed by Gopala, and will take place from October 9 to 12.
Yoga network has interviewed Gopala about this retreat, which will be very special.
What is the purpose of the withdrawal?
A Yoga retreat is an excellent opportunity to find deep relaxation and fill you with new energy for your daily life. It recharges your body, mind and soul with new energy, positivity and inner peace.
It helps you relax your body and mind with yoga classes, meditation practices and quiet walks.
Regular practice during the retreat of: meditation, asanas, and breathing exercises (pranayama) give you strength, relaxation and inspiration.
The simple vegetarian yogi diet helps your body feel full of well-being and balance the mind for its qualities and delicious taste.
Nothing better to help combat daily stress.
Who is retirement intended for?
This yoga retreat is intended for both people with experience practicing yoga and beginners. We all go hand in hand from day one. We learn from morning to night without needing previous experience in yoga.
The program may sound difficult, but you are surprised by the significant number of people who first make contact with yoga at the retreats created by Swami Vishnudevananda. It's a wonderful way to get into the wisdom of yoga.
How do retreats help beginners and students initiated in yoga?
Ejercicios de respiración, el saludo al sol, asanas de yoga básicas y relajación profunda se practican cada mañana y cada tarde. Las correcciones individuales y las detalladas instrucciones ayudan a cada participante a llevar a cabo los ejercicios de una manera exacta y relajada y a desarrollar su flexibilidad.
Los principiantes de yoga reciben una introducción suave y van aprendiendo paso a paso las posturas. Las restricciones de salud, como problemas de espalda y fatiga general, se tendrán en especial consideración.
El programa avanzado se concentra en las diferentes variaciones clásicas y en mantener las asanas por un periodo más prolongado de tiempo.
¿Con qué disposición hay que asistir a un retiro?
Hay que ir abiertos, simplemente con ganas de sorprendernos. Nada es espectacular, pero las rutinas sencillas de ejercicios adaptados a todos los cuerpos y edades, el trato y la atención constante y directa con los profesores y la convivencia durante tres días en plena naturaleza hacen maravillas. Hay mucho color y calor en las prácticas de yoga que realizamos.
¿Qué nos puede aportar el retiro?
Nos aporta un cambio de perspectiva en la forma de respirar, de caminar por la vida. Nos revitaliza y nos recarga de energía, nos ofrece la posibilidad de ver lo que es importante y lo superfluo en
nuestras rutinas diarias, a priorizar los elementos nuestro día a día que nos equilibran y que nos
you are calm. And there is always a surprise.
All leave charged life. What could be better?
Sometimes it is feared excessive austerity in the power...
Not at all. The recall involves a feast to the yogic lifestyle. Each day, as well as infusions and fruit, two full vegetarian meals are served.
The menus are prepared according to the principles of yoga. Adequate food is a very important part of your stay. It is a way to rejuvenate, digestivamente speaking.
What can differentiate this removal of others?
The daily routine, which combines in a balanced way:
-the time for silent meditation
-the singing of mantras,
-the detailed practice of asanas and pranayama,
-los paseos silenciosos y vigorizantes en plena naturaleza,
-la esmerada dieta alimenticia
-y la reflexión sobre temas de salud y de bienestar físico y mental, de meditación y de filosofía.
¿Qué destacarías tú de él?
Yo destacaría que la forma de transmitir y experimentar el yoga se lleva a cabo buscando un equilibrio de mente, de cuerpo y de espíritu. Y sobre todo el cariño con el que nos tratamos alumnos y profesores, estudiantes, todos.
Creo que los retiros son un paréntesis de descanso para vigorizarnos y volver renovados. Una forma excelente de reconexión con lo esencial.

Más datos sobre el retiro:
–Temas de las conferencias
Efectos de las posturas de Yoga en cuerpo y mente.

Profundizar en la experiencia de la respiración.

Yoga: vivir en paz.
–Temas de Satsang (meditación en grupo)
Concentración, camino de la meditación.

El poder de los mantras.

Pensamiento positivo en la vida diaria.
–Horario
06:00 h. Despertar
06:30 h. Satsang (meditación, canto de mantras, conferencia)
08:00 h. Clase de asanas y pranayama
10:00 h. Desayuno – almuerzo
14:00 h. Taller o conferencia
16:00 h. Clase de asanas y pranayama
18:00 h. Cena
20:00 h. Satsang
–Qué traer
Una manta y esterilla para las clases de asanas, cojín y manto de meditación, toallas, ropa cómoda, zapatillas de paseo, linterna y toallas.
–Normas
Es recomendable la participación en todas las actividades. El consumo de carne, pescado, tabaco, alcohol, café, huevos y drogas, así como prácticas nudistas, están estrictamente prohibidos.
–Llegada: viernes 9 de octubre, a las 14 hs. Salida: lunes 12 de octubre, a las 16 hs.
–Precios
Participación en yoga: 95€
Alojamiento (en literas) y comida: 150€
Alojamiento (en habitaciones compartidas) y comida: 180€
El alojamiento se abonará directamente en Cal Pau Cruset, en metálico, a la llegada.
–Inscripción
En el Centro de Yoga Sivananda de Madrid. T 913615150; fax 913615194; email: madrid@sivananda.net, quedando formalizada con el pago de la parte de yoga en metálico o por transferencia bancaria.
–El lugar
Cal Pau Cruset (Barri Mas Bertran, 08737 Torrelles de Foix, Barcelona) es una preciosa masía tradicional catalana de más 150 años de antigüedad totalmente renovada. La calma y belleza de los viñedos que rodean la casa, hacen que sea un lugar especial para desconectar del ajetreo urbano.
–Curso de Formación de Profesores: Durante el Retiro habrá un taller para todos los que estén pensando en hacer el Curso de Profesores. Habrá oportunidad de convivir con muchos experimentados profesores que ayudarán
con vuestras preguntas sobre el curso.
More information: http://www.sivananda.es/retiros-espana