Libro/ Masaje tailandés: manual teórico práctico de masaje tailandés
El manual teórico-práctico de Masaje Tradicional Tailandés Terapéutico abarca la técnica completa de esta modalidad de masaje. Contiene 241 páginas, de las cuales 143 son el desarrollo de toda la técnica con ilustraciones únicas que muestran uno a uno todos los movimientos, explicando sus efectos terapéuticos. Precio: 9,99€.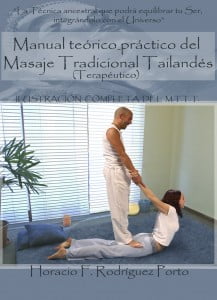 El Masaje Tradicional Tailandés Terapéutico está reconocido como el más completo del mundo por sus bondades, entre ellas: activar las circulaciones energética, arterial, venosa y linfática; la . adaptación articular completa, y más allá, la función holística, en la que se integraran el cuerpo físico, el emocional, el mental y la comunión con lo espiritual.
This manual contains the secrets of his teaching in the Wat Poo where only the few elected reach deep knowledge of this discipline. A great help for all those who are learning this technique, massage practitioners, therapists of all energy, professional disciplines of health, osteopaths, chiropractors, physical therapy etc.
The author
Horacio F. Rodriguez Porto He was born in silver, Buenos Aires, Argentina. Is a master of Yoga, homeopath, Naturopath, Reiki teacher, writer, poet, dreamer of utopias... He lives in Spain and has several published works: Living Tantra, healthy your self-esteem with flowers of Bach, Twilight dawn, good nutrition, fitness and optimum health. It has also participated in several poetry anthologies.
More information: http://www.Amazon.com/