DiR and W Barcelona organized the 'Yoga Day' on the seafront in favour of UNICEF
The ' YogaDay by DiR' consist of a Sivananda Yoga session, another of Dharma Yoga and Kirtan concert between 1600 and the 21.30, next to the hotel W Barcelona. The €8 entry per session will be allocated to the provision of drinking water, sanitation facilities and promotion of hygiene practices developed by UNICEF in Africa and the Middle East.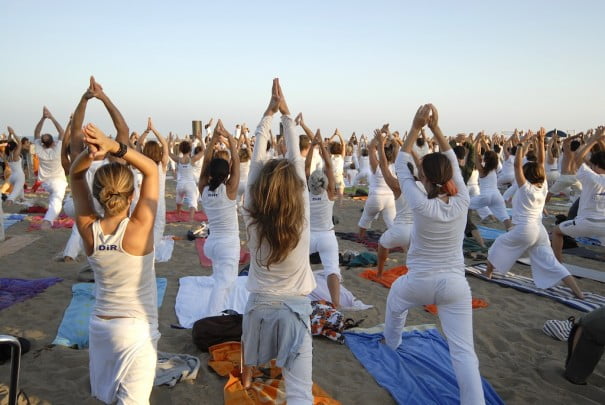 The city of Barcelona will live next Saturday, September 5 an evening of solidarity yoga next to the hotel W Barcelona the hand of the ' Yoga Day by DiR' that it has organized the Catalan chain of gyms DiR with the collaboration of in favor of UNICEF and that is part of the annual fundraising campaign ' Road to Awareness' organized by UNICEF and Starwood Hotels & Resorts.
The ' Yoga Day by DiR' it will be an evening of more than five hours of yoga by the sea and that will start at 16.00 with a session of two hours of Sivananda Yogafollowed by a two-hour session of Dharma Yoga and will end with a concert of Kirtan. Each session has a price of €8 registration and the concert is free. Participants will receive gift a technical t-shirt.
Inscriptions can be made in www.dir.cat/ioga-day
Funds raised will be allocated to the provision of drinking water, creation of facilities for sanitation and promoting hygiene practices developed by UNICEF in Africa and the Middle East.
Program
-Session of Sivananda Yoga (from 16.00 to 18.00). By Jordi Canela and Christina Rosch
Sivananda yoga teaches classical yoga from a holistic point of view, through your practice Learn yoga teaches us to strengthen and harmonize body, mind and soul, so that we can achieve the goal: a healthy body, a balanced mind and inner peace. This style of yoga helps remove inner obstacles and gives us strength to keep us balanced, calmed and connected when we face the daily challenges of modern life.
-Dharma Yoga (from 18.30 to 20.30) session given by Jordi Canela, Marina Shas and Nina Mule
The practice of Dharma Yoga brings many benefits to physical level and helps to increase the concentration and controlarnlos thoughts. A Dharma session consists of a very solid structure and is very identifiable by the boot sequence called Shiva Namaskara, typical of this style, and why inverted or head postures are made in the middle of practice, rather than at the end as usual in most styles. It is a yoga many postures that open the fourth chakra (Energy Center located in the center of the chest) in order to release the emotions and feelings and make you feel more tender and affectionate.
-Concert run by Ravi Ramoneda Kirtan (from 20.30 to 21.30)
Through the Kirtan, (praise or glorification in Sanskrit language) learn and will make the singing of different mantras, harmonizing our voices, being aware of us and our environment.