Interview with Victor de Miguel: "yoga is doctoring"
We talked with a young and modern teacher who speaks the language of the street, who loves and follows the traditional yoga and also rock concerts. Is the classical yoga with contemporary life and its stimuli? All this and more chat with Victor de Miguel. Interview Yoga network.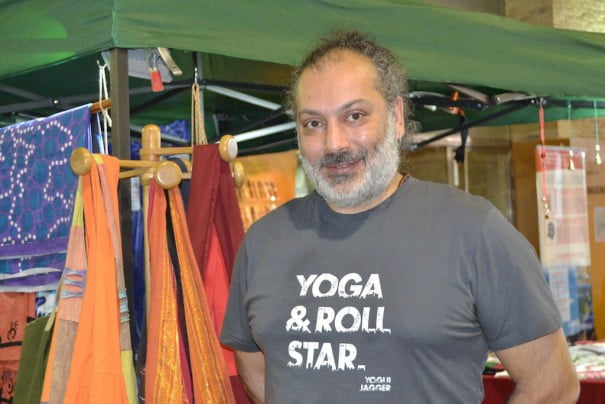 He is a teacher of those who feel that they are very appreciated by young students, and it is not strange because Victor Miguel It can be "one more", without hints of ego fattened, simple, sincere and say that winding. Founder of Yoga study Casablanca, in the small town of Madrid of the same name and teacher of yoga Vasudeva school and at other national schools and India.
How were your beginnings with yoga?
By problems of anxiety and stress, I had a lot of conflicts. I spent a year visiting psychiatrists, psychologists, masseurs, witches taking herbs, drugs, everything, and not left forward. And my older sister, who had long been doing yoga, told me that outside class, which I refused ever until I gave. My first yoga class I arrived late, opened the door, I saw ten people lying on the ground and I ran. But the teacher caught me and said to me: can happen. It made me throw me on the ground without mat or blanket as a punishment, and so I started.
Three months after I recovered from the anxiety and stress. As I am very restless, I wanted to know how something that did not know and had no desire to practice I had taken that well where he was. And since then I began to study and go to class.
And from that first class in which teacher you punished until it engages you yoga, what happens within you?
It was overall well being. Be stuck in a well in which increasingly was going worse, to see that I go out and I begin to be better and better and I return to be before. Well, already the of before no. Before it was more Gulf that now and, well, changed my life completely for the better. I came out of that... it wasn't depression, was anxiety and stress, and deliver me began to see the world in a different way. I could continue having fun, I could do, say, a life more insane but fully compatible with yoga.
How can you be a normal young man, adapted to its time, with its customs and social groups, and at the same time be a committed yoga practitioner?
The first thing you have to be is consistent. As I said my teacher: "Victor, if you go to a class first thing in the morning, don't go to bed drunk three, a drink and going to bed at ten o'clock, and you'll be perfectly at 8 in the morning". I when I first started was more than evolve into other ways, for example Acroyoga, Aeroyoga, other more current types of yoga, but now, measure that passes the time, want to return to Hatha yoga, classical yoga.
And that why?
Maybe because I see that yoga is adultery. I now identify with the desire that yoga is preserved as they have been transmitted to us or tried to transmit, and not as now, that have emerged new styles that are distorting the essence and that the only thing they try is take all the money in the world that moves there.
So every time I am more agree to go back to the origins. In fact whenever go to the India Surinder treatment. that for me is one of the best yoga teachers I have ever known. I've been practicing with it for three years and is responsible for convey to me that classical yoga which was done in ancient times. More than anything for a little rebellious towards those new yoga types who are looking for something that is not the purpose of yoga.
You formed you as a teacher and had the value of opening your own Center.
Terrified, but opened it.
You went well and you have new projects such as the trips you make to the India with groups, retreats, the cottage of the region of La Vera... What is the secret to keep a yoga Center?
I started with advantage because he taught yoga at a centre in the municipality of Cobeña, so the people there know me. But, of course, I thought, will come a 70-80% of people to the new Center, although it is slightly more expensive. And no, came a 40%, only half of what I thought at first. Advertising does not work nothing. but Word of mouth, and now not only people Casablanca, but also in the surrounding area and enough more distant villages come... which sometimes leaves me surprised.
Why does it work? Because sometimes I think that works by sincerity. I have students who take me ten or twelve years, the six years I have been in Yoga study six years of City Hall, and I often tell them, especially to those who are training as teachers, what a professor told me to me: "Victor, I am not the only Professor in the world, there are other teachers". I want my students to meet other teachers, other schools, so if you want a form to do so well and take what will most like them.
It should be the skin giving lessons out the accounts...
Success is working so much. The skin and ribs, feet, knees, everything. Be sincere and know what they are talking about. You know that There are many yoga teachers who are much posturita and then not bring anything. Here is the secret: pARA whatever comes, really one has to live it. I don't want my students to believe me to me; I want to read, to investigate and then they decide to.
What give you your students, we know that you want a lot and going with you to the end of the world?
Joy of seeing that many have gone through things that I have spent and that I have helped them. Then we thank you with a smile, a kiss, with a hug. Above all, joy.
When I started, my students were aged 50-60 years, but the last three or four years I am very happy because it has been people aged 16, 17 and 18. There is a mix of ages, with people from the 16th to the sixties and so many. I am very happy because it is playing more young people, less than 40 years, thing that I am happy. Before you said: sign up for yoga, and I answered: no, that's for old men. TOtime young people are opening up much more. Maybe also thanks to yoga styles that I don't like.
(And Victor says goodbye with a little "hot" genius... surely thinking that yoga to 40 degrees that so little we like...)