Book / 40 days of Yoga, Cristina Cubedo
40 days of Yoga. Basic concepts of dynamic Yoga and 40 series to practice is a libro in digital format, a pdf 184 pages dedicated to the study and practice of dynamic Yoga. Written by Cristina Cubedo.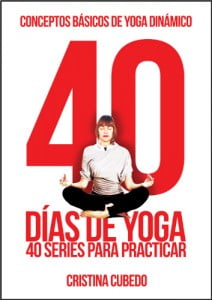 It is composed of three parts, an introduction, a theoretical part, and 40 series to practice, with pictures and detailed explanations, step by step. It is a book one hundred percent focused on practice.
Dynamic Yoga is a method, a sensitive way with which you can practice any kind of yoga. The aim of this book is to offer a simple, basic, and clear guidelines to practice yoga.
May find you this book interesting in any of the following cases:
If you want to practice on your own and you're a little familiarizad @ with the postures.
If you are looking for a change in your life, performing a quarantine notice the results.
If you have done a training to become a teacher of yoga and you're starting to teach, the book and the series can serve you inspired.
If you want to deepen your practice and develop your personal practice.
If you haven't yet tried yoga and feel atraid @ into this beautiful and grateful discipline, the book guides you step by step.
If you want to train you to teach but the price of the formations seem too expensive.
In yoga the most important is the experience and personal practice, and in this book there are material to practice for a long time. Quarantine modify, move and transform.
A work available for sale by €12,50 on the web page: http://www.40diasdeyoga.com
On the web you will find the index of the book and You can download one of the most complete and classic, the Xandranamaskar series.