Libro/ 3 pasos para el despertar
With the sub-title of

La práctica del mindfulness en la vida cotidiana,
este libro representa la esencia de los más de cuarenta años de enseñanza de Larry Rosenberg. Editado por Kairós. Precio: 15 €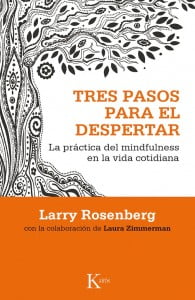 Basándose en las diversas tradiciones budistas, el libro describe tres formas de práctica meditativa sutilmente diferentes: 1) la consciencia de la respiración, 2) la respiración como ancla, y 3) el darse cuenta. Con estos tres métodos disponemos de un recurso meditativo para cualquier situación de la vida. En momentos de estrés, por ejemplo, tal vez utilicemos la consciencia de la respiración, mientras que en un retiro prolongado puede ser más apropiada la práctica del darse cuenta.
Tras exponer el método de tres pasos, que Rosenberg enseña desde hace muchos años, el libro explica cómo transferir la consciencia adquirida durante la meditación al mundo que existe fuera de la sala y del cojín; es decir, a las relaciones y a todos los aspectos de la vida cotidiana.
Reúne con maestría el vipassana, el mindfulness y las enseñanzas de Krishnamurti. Además incluye una fascinante conversación inédita con este último.
Larry Rosenberg es uno de los más respetados maestros de meditación. Fundador y maestro de meditación del Cambridge Insight Meditation Center de Massachusetts y maestro de meditación en la Insight Meditation Society de Barre. Es autor de Breath by Breath and Living in the Light of Death.