Book / Sadhana, spiritual practice, Calle Ramiro
Sadhana It is the spiritual discipline that promotes the advancement of consciousness, the set of practices that help us to clear ignorance and to adopt the appropriate vital attitudes. Ramiro Calle, the best-known master of yoga in Spain, collected in this book his main teachings about spiritual practice. Edit Kairos.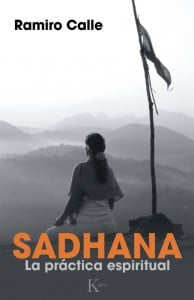 A spiritual seeker is the one who gets underway to try to meet, find serenity and sharpen the discernment. Calle Ramiro It underlines the importance of the work on the body in this spiritual quest. The body can be a valuable tool for self-realization, that teaches us to connect with the present moment, train the mental attention and be self.
True hatha yoga (asanas, pranayama, mudras, bandhas, etc) can be an important sadhana; a practice
who, working with the body, allows you to go beyond it and allows us to connect with the nature of reality.
Calle Ramiro is author of more than two hundred works and thousands of articles. Pioneer of yoga in Spain, directs the Center for yoga Shadak since 1971. He has been Professor of yoga at the Autonomous University of Madrid and in the classrooms of the third age.