Book / Ashtanga Yoga, Petri Räisänen
Ashtanga Yoga is one of the most popular in the world practice yogic methods. With more than 100 illustrations, this book is written for beginners and for advanced practitioners. The author learned in India with Grandmaster Pattabhi Jois.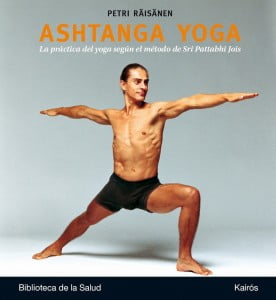 Ashtanga Yoga It is a very detailed and comprehensive compendium of the famous method taught by Pattabhi K. Joisone of the great masters of yoga in our times. Written and designed both for beginners and advanced practitioners, the text addresses from the practice of asanas (yogic postures), the flow of energy, the central ideas of the philosophy of yoga or the origins and history of Ashtanga Yoga. The master Räisänen It places particular emphasis on practicing the asanas in the correct order, following the vinyasa method. In this way they strengthen and tone the muscles, it detoxifies the body and increases mental serenity.
Accurately describes the physical, psychological, and energy benefits of the practice of asanas. And appropriate warnings are made for beginners.
The text has become an indisputable leader of the preliminary practices of Ashtanga Yoga in the West. A true gem of wisdom Yogi, beautifully explained and illustrated.
The author
Petri Räisänen It is an internationally renowned yoga teacher. Direct disciple of Pattabhi Jois. It directs the Ashtanga Yoga of Helsinki Center. www.petriraisanen.com