Sadhana synthesis, training course with Danilo Hernández
The month of November 2014 will begin a new course of advanced studies in the practice and theory of Yoga Sadhana synthesis, driven by Danilo Hernández. The course comprises two cycles lasting approximately two years (November 2014 to June 2016). Attend the informational meeting on Saturday October 4!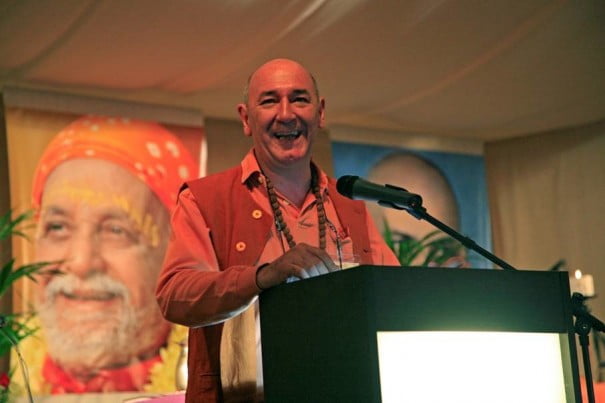 It is course is particularly aimed at yoga teachers, aspiring teachers and practitioners interested in deepening their knowledge and experience of yoga. To access this course is a necessary condition for having practiced yoga at least three years and have knowledge and practice of asanas, pranayama and meditation. Suitable candidates are the personas who are willing to carry out his personal practice (sadhana) in a regular and systematic manner. The inconsistency is incompatible with the dynamics of this program.
The course will consist of two monthly classes two hours which will take place on Saturday mornings from 11:30 h. to 13:30 h., from October to June. It will also include an intensive five day retreat to be held during the month of September 2015.
Don't miss the briefing Saturday, October 4 at Bindu, School of Yoga in Chamartín. C / Pérez Ayuso, 11 28002 Madrid. Phone.: 91 413 82 38 - E-mail: escuela@yogabindu.net
"Sadhana synthesis" program summary
Sadhana synthesis is a master in yoga, a course that has training as a central axis in the classical Kundalini Yoga and Kriya Yoga (Satyananda Yoga tradition). Both systems are the continuation and culmination of Hatha Yoga.
Other materials to be developed are:
Yoga philosophy
Psychology of Yoga.
The philosophical schools of India.
Main paths of Yoga, (theory and practice).
Main schools of Hatha Yoga.
Theory and practice of the meditation on the main traditions of the world.
Kriya Yoga
In the words of Paramahansa Satyananda: "In this era of complexities, Kriya Yoga is one of the most powerful systems to awaken the spiritual potential of the human being: the Kundalini." There are many techniques that can be used for this purpose, and each has its own place, but the practices of Kriya Yoga are superior by far; they are more systematic and accessible to the man of our time. Kriya Yoga performed the most important need of mankind, awakening Kundalini in a soft and natural".
The teacher Danilo Hernández
He began the practice of yoga self-taught at the age of 16 years. He later made numerous studies in different countries, notably his training with André Van Lysebeth in Switzerland.
Disciple of Swami Satyananda and Swami Niranjanananda.
Dedicated to the teaching of Yoga from the year 1975.
Professor graduated from the "Sivananda Yoga Vedanta Forest Academy" in Quebec, Canada, in 1975.
Co-founder with Enrique Moya, of the Center for Yoga significal in Madrid in 1976.
Co-founder with Enrique Moya of the Yoga "Yantra" from Malaga Center in 1980.
Qualified teacher of the A.E.P.Y. (Spanish Association of Yoga practitioners) 1983.
A founding member of the A.P.P.Y.M. (Association professional teachers of Yoga in Madrid) 1985.
Introducer of Yoga for the 3rd age in the Municipal sports centre of Chamartín, Madrid.
Introducer of the teaching of Yoga in the "Nicolás Salmerón" Cultural Centre of Chamartín, Madrid.
Since 1984, it remains linked to the Bihar School of Yoga of Munger, India, where regularly go to deepen and improve his studies.
In 1987, he was initiated to the tradition of Sannyas by her master Paramahamsa Satyananda (who received the name of Swami Digambarananda Saraswati).
Recognized as a master of Yoga (Yogacharya) in 1993 by the "International Yoga Fellowship Movement" and "Bihar School of Yoga", Munger, India.
Founder of "Bindu" School of Yoga of Chamartín in Madrid, 2002.
Author of the book Keys to the Yoga - theory and practice, Publishing the March Hare, where are synthesized and ordered the teachings of Yoga with a clear and narrative style.
Swami Digambar regularly runs yoga courses in other Spanish cities and in South America
Classes will be held at:
BINDU. Yoga school in Chamartín
C / Pérez Ayuso, 11
28002 Madrid
Phone.: 91 413 82 38 - E-mail: escuela@yogabindu.net
More information: http://www.yogabindu.net/escuela-yoga-madrid-chamartin/cursos-de-yoga/sadhana-sintesis-curso-de-formacion-de-yoga/