Book / Yoga for children
Manual práctico y sencillo para practicar el yoga con nuestros hijos, escrito por Ramiro Calle. Editado por Kairós. Precio: 14,00 euros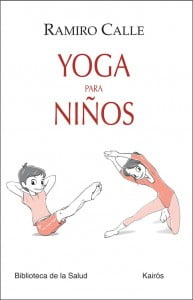 En una época en la que nuestros hijos viven constantemente bombardeados de "ruido", con problemas de concentración, disfunciones en el sueño, hiperactividad, etcétera, el yoga demuestra ser una herramienta maravillosa para desarrollar la atención, la relajación y la buena forma física.
This book, beautifully illustrated, and profuse it has been conceived and designed - at the request of many parents - by Calle Ramiro. Es un manual práctico y sencillo para practicar el yoga con nuestros hijos, a partir de los seis años de edad.
Ramiro Calle es autor de más de doscientas obras. Pionero del yoga en España, dirige el centro de yoga Shadak desde 1971. Ha sido profesor de Yoga en la Universidad Autónoma de Madrid y en las Aulas de la Tercera Edad. Ha publicado cuatro de sus obras más relevantes con la Editorial Kairós, entre ellas su sugerente y reveladora Autobiografía Espiritual.