The star of the mats is born
Taste practice comfortably at home, without limitations of movement! This is the single mat of great size that exists in the market. So... we have made the leap to UNN2x! (If you like it, advantage: you can receive it at home with a 20% discount for being Yoga online reader).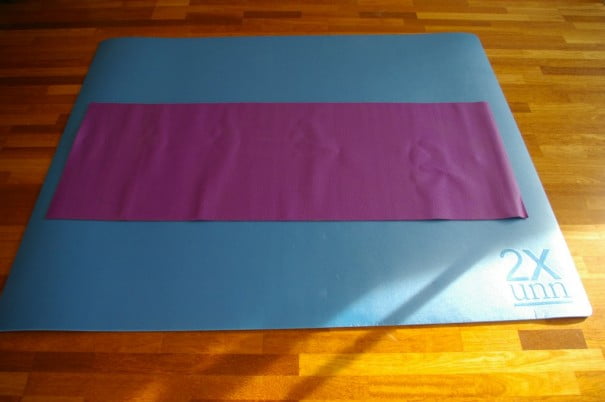 Why are the yoga mats so small? Perhaps the ancient Indian Yogis learned the art of moving every muscle in the body in so little site bound by the shortage of space in their homes. And in the current yoga centers, not to mention, that you know that you have to pay meter box room, which is very expensive. But at home, why walk us with narrowness?
The testimony of Yoga in network
Part of the resistance (ay!) we have yoga enthusiasts to practice regularly at home stems from the limitations 'of the land'. The carpet in the living room just wrinkled the second salute to the Sun and drills you knees. And finally you desenrollas your beloved 'portable' mat, but moves and 'you sales' as soon as put you a little Verve to the standing poses.
One day sent me home a very large blue roller which, to hold it, surprisingly He weighed less than my usual pad. I deployed it in a moment... and fell in love. So large was the Super mat UNN2x. Very handy for very light; thick but firm (what terrible are the mats Wardroom for the balance!); the feet are rooted without sliding. You extend it on a hard and icy floor tiles... and you're happy. Now you can really spread you relaxed while penetrate you the cold until the sternum!
And for practicing yoga in pairs, to teach your children or even crawl... simply with your baby is a joy.
Okay, you need to have enough space at home... Or perhaps you can take advantage of pull to get rid of a few tackles and finally join the useful minimalism.
Meet UNN2x
The typical yoga mats are designed to maximize the number of practitioners in the classes, but are not suitable for practice at home. UNN2x is specifically designed for the practice of yoga, pilates and stretching in our home.
Sure, the UNN2x mat is the best mat and high quality of great dimensions that we find in all the national territory. It is twice as large, thick and light than a standard mat.
Unlike most of the mats, their designers have wanted that the outside local manufacturing to ensure the entire process quality they were looking for. "After much work, we can say with pride that we design and manufacture our mat at the national level: more control, better materials, minimal environmental impact and, in short, a unique product", says Unnite, the company responsible for.
Its large size (1,50 x 1 cm, 95 cm) allow freedom of movement without limitations. At the same time, protects us from what surrounds us and protects carpets and floors of parquet or laminate flooring. "One of the points where we put the focus to make it is that it did not contain toxic materials and first quality. But if used as a 'carpet' and pisa with marked soled shoes, stops furniture over, attaches with bracelets, etc. may be brand antibacterial finish. For this reason it is recommended your use without footwear", says the manufacturer.
UNN2x allows you to convert any room in our 'particular yoga studio', comfortable and practical, since its dimensions fit perfectly into most living rooms or bedrooms. Just move the table to one side or change of site the sofa, place UNN2x and ready. We can also wrap it to be stored in a closet or flat.
The UNN2x mat is designed to, on the one hand, guarantee freedom of movement due to its large size and, on the other, ensure the comfort in due exercise to its high quality material and its thickness. It is also studied to facilitate cleaning; simply use a damp cloth with soapy water. It is also made of a material antibacterial.
Features and warranty
For satisfaction, the manufacturer of UNN2x offers a money-back guarantee for 30 days with no commitment, no questions asked.
Material of high quality (Premium)
Rounded corners, better grip
Perfect for any surface
Friendly without PVC and latex
20% discount to readers of Yoga in network

The UNN2x price is €85, but for being Yoga network reader you have a 20% discount. You only have to type "YOGAENRED" in the shopping cart code.

More information: http://www.unnite.com info@unnite.com
Did you like this article?
Subscribe to our RSS so you don't miss anything