The painter of yoga
Joaquín. G. Weil interview to the Italian painter based in Malaga, Valerio Arduino Gentile, on his recent trip to India, where he made impressive portrait of yoga teachers running the hard asanas. A journey where, as in life itself, there were achievements, difficulties and discoveries and disappointments.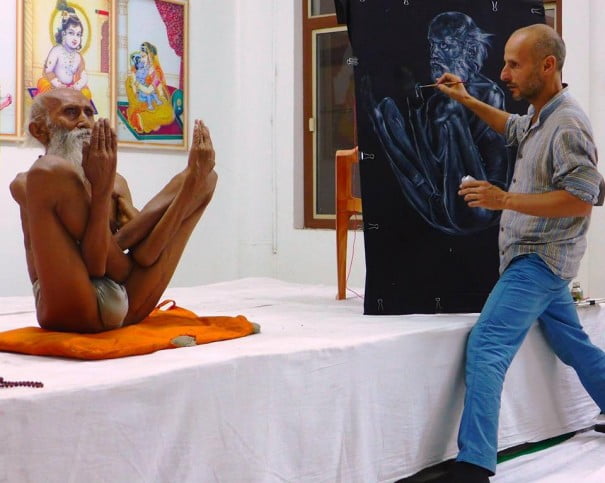 Valerio, you've already drawn some mandalas and yantras and other symbols of yoga and meditation, but you decided, at a given moment, a yogic journey and artistic by the India. How and when to start this adventure?
Project of the journey began long ago, when in an exhibition that I did in Naples, an American who worked in Bollywood, suggested me to go to Bombay where could introduce me in this world to do portraits and other works of art. Seemed like a good chance to learn about India, a country that was interested in me because of my regular practice of yoga. I bought the plane ticket, but rail delays on the way Naples, I missed the flight. The company Trenitalia I compensated with only four euros. He had spent much of my savings in that lost flight. So I accepted a job as a portraitist in Dubai, as intermediate to India...
How you did in Dubai?
There I began to paint portraits of wealthy people. In my spare time, in that world of skyscrapers and highways only you could connect with nature at the beaches, where he spent the greater part of my leisure time. One day I took a subway to the farthest station ticket, thinking that it would lead me to the desert. But that metro led me straight to a polluted industrial area. At that moment I decided to continue the trip to India.
Reach India suffered the typical shock of so many travellers in your first encounter with the subcontinent?
Except the airport, Bombay was a horror. Such pollution was for me unbreathable. He walked through the streets with a bandana covering my face with two turns. A few days later I ran away towards Goa. To take the train, I cried for the miserable life of pollution in which live many thousands or millions of people.
I guess then that Goa would seem a paradise to you...
Goa filled my aspirations of peace and nature. But soon thought that everything that only worth if you could somehow continue with my two great passions: art and yoga. The owner of the hotel where I was staying, who was a staunch Catholic, he insisted on to paint for him free the last supper, only in Exchange for a couple of weeks of stay. Every morning he haggled the details with me. One day, walking on the beach, I saw a man whose porte seemed yogic and asked if knew a teacher. I drove for kilometres of movement along the beach until a distant yoga Center, whose teacher was on the eve of travel. I talked to him and asked him for another "yoga teacher", put that he was going. He said that you look at it on the internet... I decided to go to the North, the Ganges...
Finally you find what you were looking for there? What were models of impressive drawings that you did?
They were Guru-ji and Baba-ji of Rishikesh.
But Guri-jis and Baba-jis there in Rishikesh a hundred....
Yes, but they all knew them as Guru-ji and Baba-ji. I never knew their names.
I understand... Seeing them in these difficult positions, one wonders how could endure the perched pitches that require as detailed drawings.
Baba-JI had sixty-eight years and more than one hundred Guru-ji. On occasion I proposed them undo positions, while I drew their faces or hands, so they are not faint. But I discovered, to my surprise, that pose without making a difficult position Yoga was for them boring and tired. Then I read in a book from the library of the ashram that those positions of yoga, which is difficult at the beginning, give a great power who practice them.
How long were you drawing them on these yogic asanas?
I can't say it with certainty. Both they and I lost the notion of time.
I've seen other photos in a procession of porters carrying in a row in their carts by hand your pictures through the streets.
Yes, that was one "performance". The porters did not want to do the work, because they believed that it was a kind of transgression, so I had to pay them twice. It was indeed a violation of the Indian caste system. My idea was that ten porters, belonging to a lower caste, along the sacred Ganges yoga icons from the place where he lived Guru-ji, where lived Baba-ji. As he was not very sure of the reaction of the authorities, did one day before leaving me to Nepal.
And the authorities reacted...
Halfway the stopped us a police patrol which led me to the barracks. There they made me pass the captain's office. It was an official imposing with stars, decorations, and a few big moustaches. I feared the worst. But, to my surprise, he asked me, I almost demanded, to paint her portrait. I had seen an article about me in a local newspaper.
You've become a celebrity from Rishikesh in so little time...
About me published two articles in a newspaper in hindi. Also a television was interested in my work shortly before I left. Not everything was so easy. I had difficulties with the managers of the ashram of Guru-ji, which did not find (currency for them) interest in my work.
I have seen that your yoga practice has evolved during this time. I wonder if any wisdom or skill calo in you to base draw the great Yogis or if you also received lessons from those teachers there.
The teaching of yoga is very different in India, unless it is adapted to Westerners. The teachers there tend to be more severe. Guru-ji taught only in hindi. One day, as I did not understand anything, rather than follow his class, I began to practice other exercises and Guru-ji hit me while I naturally unprepared. Then he wanted to continue to hit me but I dodged it and I left to return to the ashram. Then I tried with Swami-ji and other masters, but the prospect of receiving more punches prevented me to relax, so I went to the Himalayas, to the sources of the Ganges.
And finally came the peace...
Not so much... In some ashrams there it up exasperated me the commercial effort as explicit squeeze tourists arriving with spiritual aspirations. I accompanied an Italian yoga teacher. He guided me towards baths or baths of sacred waters. Me concerned that the settlement gate and as we entered only had men. My companion was the only woman in hundreds of meters away and it was beautiful. When we arrived at the pond, we discover with horror that there had been a dispute about issues of money in which a man had been injured. With which the waters of the pond were tinged with blood...
Your story seems to me that it won't encourage many spiritual tourists to visit the birthplace of yoga...
I can say that the entire journey helped me; certainly not left me indifferent. I suppose that, like so many travelers or pilgrims arriving to the Himalayas or the India, I had to discover that true peace has everyone who find it within himself and then pass it on to other people. In the same way that attend us as much as gurus, teachers, or teachers, each of which finally has to practice and behave himself. The foreign trip is also an inner journey. I came back to Europe with new ideas, a better and more consistent practice of yoga and a good collection of unique pictures that portray in action several genuine masters of this ancient science.
The Facebook of Valerio you can see more photos of his trip to India:
https://www.facebook.com/valerio.gentile.716?fref=ts
Who is

Joaquín García Weil graduated in philosophy, yoga teacher and Yoga room Málaga director. Practice Yoga for 20 years and teaches it since makes eleven. He is a student of Swami Rudradev (leading disciple of Iyengar), with whom he has learned in Yoga Study Center, Rishikesh, India. He has also studied with Dr. Vagish Sastri de Benarés, among other masters.