New reissue of the Yogi
The spiritual story of our regular collaborator Ramiro Calle, Yogi, It has reissued for the seventh time in the Editorial arcopress Western, bringing together the three volumes forming the previous trilogy.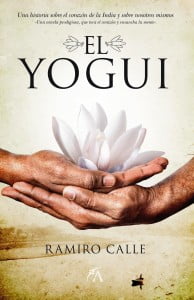 Varanasi, the Holy City of the India, see birth - or reincarnated - to Devendrenath, in the bosom of a brahmin family, traditionally more privileged caste. His childhood with his brothers Gupta and Mashi runs quiet, protected by his widower father, but soon begins to encourage in your heart the desire to respond to the big issues: who am I really? What is the meaning of human life? Is it possible to have the happiness on this earth? Impelled by the need to know, you will begin a journey that will take you to become Ananda - which means joy, joy - a wandering Yogi whose mission is to seek own bliss and help of others; learning and teaching. His haphazard journey, Ananda will encounter with a gallery of outstanding personalities, such as Lilavati, you will know the delights of love and meat, or Swami Vicharananda, his teacher and mentor, who will leave a deep mark on your mood and will help you find your true destination.
Originally published in Argentina and three different deliveries, gathered here in a single volume, the adventures of Ananda Yogi had such a success that led to many young people at the beginning of the 1990's to travel to the India to find and know the character in which Calle Ramiro was inspired.
The author says: "The Yogi is my most beloved work, my best book from among the more than one hundred I've written and, no doubt, a wealth of ancient teachings of great wisdom to conquer inner peace".
A story exciting, intense and great amenity on the life and adventures of the main character, embarked on an unusual quest for knowledge and inner happiness. Its vicissitudes get arouse the sympathy and interest of the reader from the first page. Through this narrative, which filled more than 400 pages, the reader meets many mystical teachings, a perennial and valuable legacy.