Learn how to teach a class, essential to train you as a teacher
Having a tutor who is aware of the individual progress and make the students to practice their own teaching are two substantial pedagogical tools, as we explain in the international school of Yoga.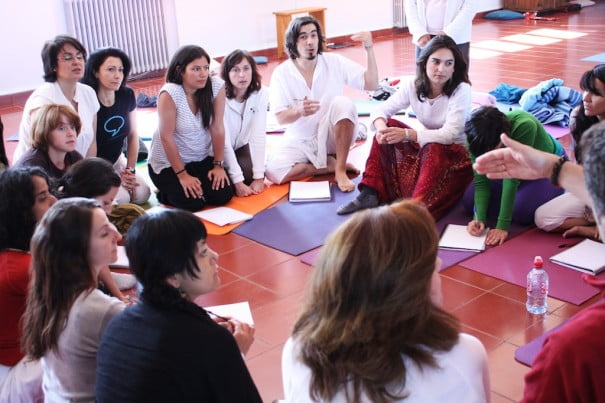 To strengthen its training of trainers (first level) and teachers (second level), the International School of Yoga has reinforced These two powerful pedagogical resources. First, the figure of the tutor, who linked more to the student with the school, training and practice.
As a general school tutor, Adriana Germano is the charge of: meet all type of doubts, thoughts and comments; coordinate work and put in common; implement improvements in training. In addition, thanks to the figure of the tutor, students have a more continuous assessment in terms of its development and pedagogy, allowing you to learn more about each one, their desires and needs.
Pedagogical practice
The international school of Yoga will feature a special class (every Monday from 18:00 to 19:00) dedicated to teaching practice, both for the students of the first level (instructors) as of the second level (teachers). The class is completely free for all them students enrolled in them classes daily of the school and also for all them students of it training, being to its time part of the practices of the course.
He says Manuel Luque, Coordinator of the training of teachers: "We want to highlight the importance of attending this class, since it is an excellent opportunity to observe how the peers of the student work to undertake a real class".
It is considered essential that students can teach and lead themselves some of those classes. The second level of training (teachers) students are required to do so at least once during the course, and it is advisable to do so individually (though during the first months can prepare the class with another partner).
The students of the first level (instructors) can teach this class individually (if ready) or between multiple partners. The school offers always all your helps.
An essential part of this class is the final, in which students who have been taught the class receive constructive opinion of their peers and exchange information.
Tutorials on pedagogy
These tutorials are dedicated to the practice teaching and to resolve doubts about instructions and series. They are a great help to advance and can even prepare Monday classes and, of course, the pedagogy of the course (Friday from 18:00 to 20:00).
It is very important to regular tutoring assistance, so it is recommended that the student program is to participate in them.
There are also tutorials on group, two meetings of the entire group of students of the hours to be arranged. The aim is that the guardian receive group feedback on certain aspects of the course, ideas or concerns, and, in general, those issues that can improve the development of the course and the well-being of all.

Headquarters:
Calle de Fuencarral, 134
(input by * Albuquerque *)-28010 Madrid
Tel.: 914 16 68 81 - 648 07 88 64
www.escueladeyoga.com

www.escueladeyogaonline.com

Madrid - Marbella - Elche - Mallorca - Santiago - Cadiz - Latin America